FIND AN OBITUARY
Service information is posted on our website only with approval from the family.
If you are seeking information not listed below, please contact us.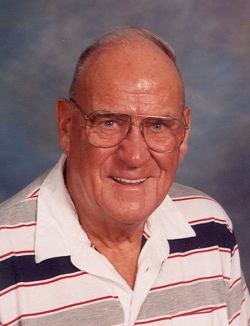 Edward John Gulliksen
04/16/1918 — 09/01/2005
From Kennewick, WA, US | Born in Oak Park, Illinois
Edward John Gulliksen
Edward J. Gulliksen was born in Oak Park, IL on April 16, 1918 to Ole and Pearl Gulliksen and died September 1, 2005, in Richland, WA.
He was always interested in sports - especially baseball. He played sandlot baseball and was an avid Chicago Cubs Fan!
He attended Austin High School then worked at Crane Company before entering the Navy in 1942. He served on the aircraft carrier, USS Antietam during World War II. After discharge from the service, Ed returned to Crane Company where he worked beside his uncles Ingolf and Harold.
Ed met his wife, Nina, when her family traveled to Chicago for the wedding of his sister, Ann, and her brother, Keith. The families met again six months later in Enterprise, OR for Nina and Ed's wedding on August 15, 1946. They moved to Chicago where they lived until returning to Enterprise, OR in 1949.
The Gulliksens moved to Richland, WA in December, 1951 where Ed worked at Safeway until 1955 when he went to work at Hanford for General Electric and ITT/FSS. After a brief layoff, he went to work for Exxon Nuclear in security and retired in the spring of 1984.
Ed played softball all of his life until he decided to become an umpire in 1967. He was a member of the KPR and the Tri-City Softball Umpire Association. The highlight of his umpire career, which spanned 5 decades, was umpiring at the Girls 12 and Under National Fastpitch Tournament in 1986. He had the joy and privilege of umpiring several of his granddaughters' games.
He was a member of the VFW for many years. He joined VFW Post 7952 in 1981. He proudly served as chaplain for that post as well as chaplain for District 17. He was also a member of the VFW Honor Guard. He was honored to be Co-Grand Marshall of the West Richland Veteran's Day Parade in 2004 with his close friend, Cliff Dykeman.
Ed was a member of Redeemer Lutheran Church since 1952. He enjoyed taping church services for shut-ins.
He was preceded in death by his parents, Ole & Pearl Gulliksen and his granddaughters, Michelle and Lisa DeHart.
Ed is survived by his loving wife of 59 years, Nina; children, Donna Andy Sutherland, Pasco, WA, Kari Steve MacInnes, Crystal Lake, IL, Jim Diana Gulliksen, Adrian, MI, Linda Al DeHart, Kennewick, WA; grandchildren, Morgan, Andrea and Becky Sutherland, Angela and Courtney MacInnes, and Kimberly Matt Rosner, Dan Gulliksen, Matt Sorvino, Brad Namore, and Derek Muterspaugh, Kevin, Kris, Mike Christa and Erik DeHart, and Laura Shiflett; great-grandchildren, Tony, Brittany, Jonathan, Katie, Gregory, Kiersten, Kelly, Kimberly and Madison; sister Ann Keith Miller, North Riverside, IL and brother Harold Marty Gulliksen, Buffalo Grove, IL; and many loving nieces and nephews.
Graveside services will be at 1:00 p.m. Wednesday, September 7, 2005, in Sunset Memorial Gardens followed by memorial services at 2:00 p.m. at Redeemer Lutheran Church.
Visitation will be at Einan's Funeral Home from 1:00 to 5:00 p.m. Sunday and from 5:00 to 8:00 p.m. Tuesday.
Memorial contributions may be made in Ed's memory to Redeemer Lutheran Church Building Fund, 520 Thayer Dr. Richland, WA 99352 or to the charity of your choice.
Nina – Please know that we are thinking of you in your time of loss. I know that a smile comes to your face when you recall your many years together — and a special smile in knowing that Ed was so close to his Lord and Savior. He was a warm, caring individual and we too will miss him when we visit Redeemer.
Gene & Doreen
Nina, Donna and all of Ed's family.
You are all in our thoughts and prayers and our heartfelt Sympahty goes out to each of you.
TJ, Patricia, Marie, Michael, LeaAnn, Jade and Kristen
Dear Nina, We are sorry to lose Ed. We will miss him. Ed was always friendly, cheerful, and helpful to those around him. He was so happy and proud to be called as Chaplain for the V.F.W. and was proud to serve with the Honor Guard. He had a great sense of humor, and lots of vitality. He served his church and community faithfully and with love. He will be missed by many. I was glad to see you in church this morning. What a beautiful family you have. You are an inspiration to me. Nina, you are a strong, beautiful lady in Christ Jesus. We pray for God's comfort for you and for your family. We send our warmest love. Jim and Nancy
Donna- Pat and I send our sympathies to you, Andy and the Kids. I'll miss seeing your Dad at the Spudnut shop and the baseball games. Your dad was a good man and the community will miss him greatly. Our prayers are for you and your family.
Daryl & Pat
Ed, you will be missed. It is rare to find a man with the sense of humor, interest in the welfare of others, energetic pursuit of life and loving attitude to all that you had. God bless you, my friend. I salute you.
My condolences to Nina, Kari, Steve and the rest of the Gulliksen family on the loss of Ed.
I worked for several years with Nina at Einan's Funeral Home in the early 70s and became good friends with Steve and Kari and got to know Ed as well. Ed, Steve and myself all shared a common avocation of sports officiating.
Ed was a great guy and I know he will be missed, but thought of fondly, by his family and many friends.
Take care.
Kari, sorry to see that you lost your Dad…both of my parents are gone….I remember your Dad and Mom both from when we were in Blue Birds and Camp Fire together…. and from the times we used to spend at each others houses have been wondering where you were, sorry once again about you Dad……….Elaine