FIND AN OBITUARY
Service information is posted on our website only with approval from the family.
If you are seeking information not listed below, please contact us.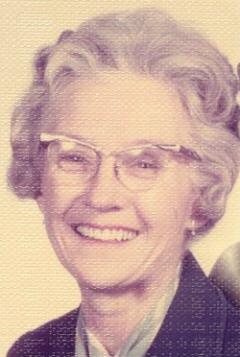 Eleanor "Tappe" Porter
05/03/1910 — 09/19/2005
From Richland, WA, US | Born in St. Francis, Kansas
Eleanor "Tappe" Porter
Eleanor Tapp Porter, 95, went home to be with the Lord, with her family by her side, on Monday, September 19, 2005. She was affectionately know as 'Tappe' by her friends, a nickname that originated with her maiden name and the sound her heals made 'tapping' quickly across the floor during years of office work. Tappe knew how to be a friend. She is lovingly remembered by family and friends as someone who puts you before herself. One friend said, "She is the best combination of a spiritual person and a practical person that I ever knew." She loved the Lord Jesus, was devoted to her family, was an avid reader, a skilled seamstress and was keenly interested in the world around her. Tappe was born on May 3, 1910, in St. Francis, Kansas, to Joseph Franklin Tapp, from Ohio, and Emma Maude Jones Tapp, from Indiana. She was educated in the public schools of St. Francis, graduating as Salutatorian in 1927 from St. Francis High School. In December, 1928, Tappe joined her two brothers who were living in New York City, attended night classes at Miller School of Business, employed by day at American Tel & Tel Telephone & Telegraph in the Statistical Department. She came back home to Kansas in 1929 with her brothers and worked in the welfare office for seven years as a secretary. In 1941 she moved to Denver, Colorado, attending Barnes School of Commerce and went to work for the Dupont owned company of Remington Arms providing secretarial support. In June of 1944 Tappe was transferred out to Dupont Richland Hanford. On September 29, 1945, Eleanor Tapp and William Webster Porter, Jr. were married and they had one son, William Webster Porter III. Tappe and her husband were members of Central United Protestant Church since March 6, 1949. She served as a long time Coordinator of the Prayer Line Ministry at CUP. Over the years she took part in many civic activities including: volunteering for Contact Tele Ministries, work at Mental Health, completed the Parent Effectiveness Training Class, was a 75 year member of PEO Sisterhood Philanthropic Education Organization, promoting education for women worldwide. Tappe is preceded in death by her parents, and by Louis Evans Tapp, Joseph Argyle Tapp, Alberta Tapp Johnson, Henry Oliver Tapp and her beloved husband who died in 2001. She is survived by her son, William Porter III and wife, Tammy, granddaughter Angela Marie Porter, and grandson, William Webster Porter IV. Memorial services will be held at 4:00 PM Saturday, September 24, 2005 at Central United Protestant Church, Richland. A private interment was held at Sunset Memorial Gardens in Richland. Memorial contributions may be made to either Central United Protestant Church or to the American Red Cross for Hurricane Katrina relief.
My deepest sympathy goes to you in the loss of your beloved mother and grandmother.
One time when I was in a lot of pain, Tappe prayed for me and the pain went away. She amazed me by always remembering my name after that.
The last time we prayed together was Sunday September 4th. She didn't feel well enough to come to a nearby Chapel service so I brought communion to her afterwards. We enjoyed a precious time of remembering Jesus' death for us and praying together.
I know her memorial service will be special and wish I could come, but I am already committed to being in another part of the state Saturday.
Tappe did more for us by talking to God on our behalf than we will ever know this side of heaven.
I am sorry for your loss and ours.
Beth Carothers