FIND AN OBITUARY
Service information is posted on our website only with approval from the family.
If you are seeking information not listed below, please contact us.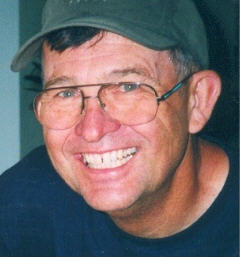 Randall "Randy" Ray Carville
10/21/1946 — 02/13/2006
From Benton, City, WA, US | Born in El Campo, Texas
Randall "Randy" Ray Carville
Randy Carville went to be with his Lord and Savior on Monday, February 13, 2006, after a long and heroic fight with cancer. He was 59 years old. His faith in God was his source of strength as he passed through the valley of death, and now he is living in the Royal City, feasting at Jesus' table forevermore.
A book could be filled with the exciting adventures of Randy's life. The first chapter would start with his birth on October 21st, 1946, in EI Campo, TX to Ray and Donna Carville. Next would come the many escapades of Randy and his five siblings: stories of quicksand, alligators, shark fishing, hunting, and making fishing tackle for the family business. There would be a chapter all about marrying his true love, Kathleene, who was his devoted wife for 38 years. There was never a dull moment in their marriage which began on October 21st, 1967. From scoping out business opportunities in British Honduras, to the big road trip from Texas to Alaska and back, there was adventure around every bend in the road. Randy and Kathleene raised twin daughters on their family farm in Benton City, Washington, where they turned a patch of desert into a green and thriving farm with hundreds of animals.
Then there's the trucking chapter. Randy and his wife drove an eighteen wheeler coast to coast for ten years through rain, snow, and wind. They always found a way to visit their six grandchildren during these years, and Randy, nicknamed ''the Living Legend'', made the time to build tree houses, teepees, bonfires, and create a myriad of exciting quests with them. Randy is survived by his wife, his daughter and her husband, Elizabeth Anne and Ken Cecil, of Wenatchee, WA; his daughter and her husband, Cheryl and Pete Williamson, Bellingham, WA; six grandchildren, Malachi, Baxter, Isabel Cecil and Kristian, Noah, Naomi Williamson; two brothers, Royce Janice Carville of Grand Junction, CO, Robin Becky Carville of Victoria, TX; three sisters, Renee Jim Yamin of Houston, TX, Denise Randy Smidt of Yorktown, TX, Starr Herschel Vansickle of Victoria, TX. He is further survived by nieces, nephews, other relatives and many friends. In addition to his mother, Donna, he was preceded in his death by his unborn child, Josie.
The family would like to extend our thanks to our friends at Columbia Foursquare Church for all their help as well as to Tri-Cities Chaplaincy Hospice. A memorial service will be held at 2 pm on Saturday, February 18th at Columbia Foursquare Church at 700 Comstock St. in Richland, WA.
Memorial contributions may be made to Tri-Cities Chaplaincy Hospice House, 2108 W. Entiat, Kennewick, WA 99336.
I AM SO SORRY FOR YOUR LOST I KNOW THAT RANDY WAS A VERY GOOD MAN. I LIVED NEXT DOOR TO HIM AND THE FAMILY, I LOVED GOING TO VISIT THEM. I LEARNED ALOT, HE SHOWED ME HOW TO KILL A CHICKEN I NEVER SEEN IT DONE UNTIL HE SHOWED ME HOW. I WILL NEVER FORGET THAT. ALL MY LOVE AND PRAYERS
STEPHANIE BAKER
Mrs. Carville
I remember Randy and his "toothy" smile. The last time I saw him ,there was that smile. How comforting it must be to know He is with Jesus.
Our prayers are with you and yours.
Kathleen and Girls,
Laurie and I send our deepest sympathies to you and your families. I know that Randy is walking the streets of gold grinning from ear to ear as he often did. I know that our family was blessed by having been apart of Randy's life. Many times I still tell the stories of Robert removing the washers from your lawn hoses and Randy egging him on to come out and ride a pig. May our Lord and Savior bring you peace in this time and joy in knowing that you will all be together again someday.
Tim
I remember all the times Randy and his dad would come by the Sports Hub with their Worm Jigs…and dad "teaching" the boys how to "box"…God Bless and we love ya'll.
We have a lot of great memories of Randy and Kathleene during our Victoria College years. Randy was always full of life and had a big smile.
Kathleene take care and may God bless you and your family.
Dearest Robin, Becky and family, My thoughts are with you and I will offer up prayers for your brother and his family. May God grant you peace and one day to be reunited with him. Thinking of you, Maria
Dear katherne, and girls and family i havent seen you guys for quite a while and sadden to hear of Randys passing, , i remember the times we went to your house for bible study and had a lot of good times reading the word. Iam lindas mother joy she lived down the road from you, that may help you remember me. cant beleive how the years have gone by. someday we will all be together and it wont be long time is passing fast and the lord is coming soon. and that ia a confort. with my sympathy take care and God bless.
Kathleen and Family, our thoughts and prayers are with you and your loved ones. Where has the time gone to? It was just yesterday we were all at OLV.
My brother John sent me the notice of Randy's death. I was so sorry to hear of it. Please know that the entire Carville family and especially Kathleene are in my thoughts and prayers.
Randy, you are so missed and had fun on our camping trips with the mortimers and all fun sniper hunting we did. God Bless your family. Teresa Kathleen and Fimily. Take care
IT IS ALWAYS A SAD LOSS OF A SCHOOL MATE AND HS FOOTBALL TEAM MEMBER. RANDY WAS ALWAYS EASY GOING AND I LIKED HIM. YOU WILL BE IN MY PRAYERS. SINCERELY, TIM BUNDICK.