FIND AN OBITUARY
Service information is posted on our website only with approval from the family.
If you are seeking information not listed below, please contact us.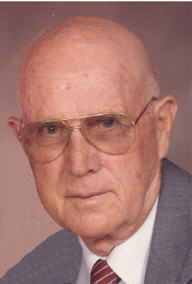 Vern Swapp Olson
06/10/1914 — 05/22/2006
From Richland, WA, US | Born in Glendale, Utah
Vern Swapp Olson
Vern Swapp Olson, age 91, of Richland, passed away in his home surrounded by his family and returned to his Father in Heaven on Monday, May 22, 2006. Vern was the 3rd born out of 5 children to Andrew Warren Olson and Serepta Luticia Swapp Olson, in a tent on June 10, 1914, in Glendale, Utah. On June 11, 1937, in St. George, Utah, Vern married Lenna Pratt of Kanab, Utah; later they were sealed in the Salt Lake City Temple for time and all eternity. The Olsons moved their young family from Utah to Richland in 1944. Vern was a devoted son, brother, husband, father, grandfather, great-grandfather, uncle, and friend. He was an active member of the Church of Jesus Christ of Latter Day Saints. He joined the Hanford Patrol in 1944 and worked his way up to Captain, where he retired in 1978.
Vern joins his wife of 66 years in heaven and leaves behind 4 children; Robert Vern Bob & Carol Ann Powell Olson of Park City, Utah; Warren William Bill & Jan Flora Olson of West Richland, Lenna Colleen & Gary Jensen of Richland, and Linda Marie & Geff McAllister of Atlanta, Georgia. In addition, he had 22 grandchildren, 29 great-grandchildren, and numerous nieces and nephews.
Vern and Lenna traveled all over the United States and extensively throughout the Southwest enjoying the landmarks and culture of Pioneer and Indian history. They loved traveling throughout the beautiful landscape that reminded them of their childhoods. They returned frequently to Kane County, many times bringing their children, grandchildren, and great-grandchildren to share their memories and experiences and their devotion to what they considered to be the most beautiful place in the world. Vern loved the outdoors and never met a country road he didn't want to explore. Many of his favorite times were spent in his jeep scouting unfamiliar territory. His family understood that you could never keep Vern in one place for more than two weeks and keep him happy.
Vern was a man of great integrity, who lived his life based on the strengths and teachings of his parents and passed those values onto his family by his example. He is dearly loved and will be greatly missed. He touched and helped change others' lives in simple, selfless ways that will not be forgotten. Vern was a man of few words with great insight, compassion, and empathy.
The viewing will be Thursday, May 25, at Einan's Funeral Home, Richland, Washington, from 5-8pm. Additional information can be found and comments can be shared at Einan's Funeral Home website www.einansfuneralhome.com.
A funeral service will be held at the Church of Jesus Christ of Latter Day Saints Stake Center on Thayer Drive in Richland, Friday, May 26 at 10:00 AM. Interment will follow at Sunset Memorial Gardens.
This isn't late because I don't have any memories but because I didn't know this existed. I have so many memories of Grandpa that I don't know where to begin. One that I remember fondly is the trip into the great out of doors with he and Grandma. He attempted to teach me how to fly fish and when that didn't work he let me follow him into the stream to watch him fish with his regular setup and pole. There was a minute when I felt like I was going to be washed downstream but I hung on because I just wanted to be close to Grandpa. We finally went exploring and we came upon a deep hole that was full of very little fish. Grandpa teased me by telling me that he would take me by the ankles and use me as the fishing pole to catch some of those little fish. When I saw his smile, I knew he was joking. Our adventures were very special. I really love Grandpa and it has something to do with my father, Robert V. olson.
Grandpa – We will all miss you so much… but I know that you are happy now that you are with Grandma again. I will always remember Sundays at Grandma and Grandpa's house, playing in the basement and eating Grandma's filled cookies! I feel better knowing that you are both watching over us all. I love you!
Bill
Grandpa – I love you! You are bigger than life and your chores are done…give grandma a big hug for all of us!
Dana Ann
Celebrate his long life and his journey to his wife in heaven.
OUR PRAYERS ARE WITH THE FAMILY KNOWING THAT HIS LIFE WILL BE CELEBRATED AND WILL CONTINUE TO LIFE IN THEIR HEARTS.
You will always be my hero. Thanks for waiting for me to say good-bye. I am so proud to say you are my father!
I just don't quite know who to call at 6:00 now.
Papa, Thank Grandma for me. I hope you are the one to come and get me years from now. Jake says thank you.
My deepest condolenses to all the family. May the Lord bless you in your time of need.