FIND AN OBITUARY
Service information is posted on our website only with approval from the family.
If you are seeking information not listed below, please contact us.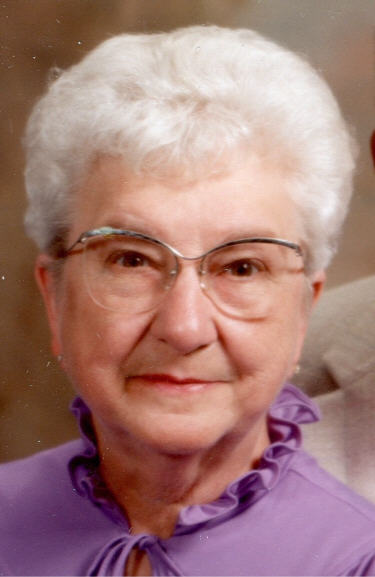 Marjorie Heinen Stocker
09/16/1920 — 07/04/2006
From Richland, WA, US | Born in Williston
Marjorie Heinen Stocker
Marjorie Marge Dolores Heinen Stocker, age 85, died in the arms of her loving family at Kadlec Hospital, Richland, Washington, in the early morning of July 4, 2006. Marjorie was born in Williston, North Dakota, to Anthony John and Priscilla Josephine Heinen on September 16, 1920. Her parents later moved to St. Cloud, Minnesota, where Marjorie attended school, later graduating from St. Benedict College in St. Joseph, Minnesota, in 1942, with a degree in Home Economics. She worked at Glacier National Park during the summer after graduation and later moved to Washington, DC, where she worked for a short time before enlisting in the United States Navy during WWII. After basic training, she was stationed in the Medical Corps at Farragut Naval Hospital, Idaho, where she met her husband, Ralph Ken Stocker of Kennewick, Washington. They were married on June 30, 1945, in Couer d'Alene, Idaho. After Ken and Marge's discharge from the service, they moved to Richland, Washington, to join Ken's family, who had moved to the Tri-Cities after Ken joined the Marines. Marge worked for General Electric in the Payroll Department until she left to raise her family. In 1966, she returned to work at Battelle Northwest as a Reference Librarian, later retiring from the Washington Public Power Supply System as a Supervisor in Records Management. After her retirement from the Supply System, Marge worked for several years at the BookNook in Richland, Washington. Our mother loved books so her job at the Booknook was a great joy to her. Our mother instilled her love of books and her love of knowledge, in general, in all of us.
Our mother was a wonderful loving mother, mother-in-law, sister, Nana, and Great Nana who loved her family unconditionally and always put her family first. We always knew we were the center of her universe, and she loved us more than life itself.
Marge was preceded in death by husband of 60 years, Ken, who died five months prior on January 30, 2006. She was also preceded in death by her parents Anthony and Priscilla Heinen, stepfather Lawrence Heinen, brother Lawrence Heinen, and sister Lois Stommes.
Marge is survived by daughter Rebecca Becky and husband George Adams of Kelso, Washington; daughter Helen and husband Bob Burke of Kennewick, Washington; daughter Antoinette Toni and husband Mick Winborg of Richland, Washington; brothers Terence and wife Marcy Heinen of Avon, Minnesota, and Theodore Heinen and wife Rosie of St. Cloud, Minnesota; and her sister and best friend, Elsa, and husband Robert Martinson of Richland, Washington, as well as many nieces and nephews. She is also survived by the joys of her life: granddaughter Alexis Lexi Winborg of Richland, Washington, grandson Michael Wright of San Diego, California; granddaughter Jennifer and husband Kris Boisoneau of Seattle, Washington; and great-granddaughter Stella Boisoneau of Seattle, Washington.
Our mother may be gone from this earth, but our memories of her will live on forever. We will miss her wonderful sense of humor and the love she gave freely to all of us.
Please join our family in a celebration of her life at her home on Saturday, July 8th, from 1:00 to 5:00 p.m.
In lieu of flowers, memorial contributions may be made to The Hospice of the Chaplaincy, 2108 W. Entiat, Kennewick, WA 99336.
I express my sincere sympathy to all of you and your families who are feeling such great loss at this time. I have not met any of you personally, but I work for hospice and know the loss you must be feeling.
This may be a somewhat strange letter for me to be writing, but I hope you will understand my curiousity. I was first drawn to your mother's funeral notice in the Tri-City Herald this morning by her maiden name. Heinen is not a terribly common name, but it is also my husband's grandmother's name, so I was interested to read on. I am sure you are related to us somewhere along the line. We do a lot of family history work and my husband's family is all from the same county and some from the same town in Minnesota that she is from. Most of their lives were spent in Cold Spring, which is very close to Avon, St Cloud and St Joseph, where many of his Heinen relatives are buried.
If you are interested at all, please contact us at the e-mail address above or by phone at 783-6480. Again I express my sorrow at the loss of your mother.
Sally Meyer