FIND AN OBITUARY
Service information is posted on our website only with approval from the family.
If you are seeking information not listed below, please contact us.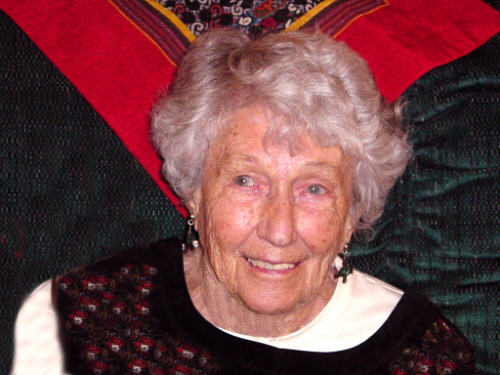 Marjorie S. Fox
03/05/1910 — 06/01/2007
From Richland, WA, US | Born in American Falls, Idaho
Marjorie S. Fox
Marjorie S. Fox obituary March 5, 1910 – June 1, 2007
Hers was a life lived to the fullest.  Actually, fuller than full.  At 89, she took in a foreign exchange student –fixing delicious, healthy meals full of vegetables and anything else green.  At 90 she was buying a house and remodeling it.  At 93, she was riding a jet ski at Priest Lake, smiling and jumping over the waves.  She did not readily give in to sickness or to the shoulds and oughts of life.  She set her own course and remained true to it for 97 years. And she did it all with class, elegance, grace, charm, wit, passion and an ability to make it all seem effortless.

Who was this person?  She was born Marjorie Spalding in a little farmhouse outside of American Falls, Idaho, on March 5, 1910.  While her dad took the buggy to go get the doctor, her mom silently moved through labor, delivering Marge before the doctor returned.  She was the second of four daughters born to Willard and Ethel Spalding.  Perhaps it was the harsh realities of her father's attempts at dry farming a barren patch of ground – or the burning down of their house and all belongings at a young age, or attempting to survive on selling watermelons at a penny a pound, but, whatever it was, Marge and her sisters were instilled with a powerful sense of determination and fortitude that served them the rest of their lives.

Another trait that came out of these early years was a strong sense of loyalty and community.  Whatever there was was shared with all. Everyone worked to save money to send someone off to college. As each sister went to college, she would send back her earnings for the next in line to go to college. Clothes were all made by their mom and the daughters, food was grown and eaten, everything used and reused – all pitching in to help.

Marjorie's turn at college came, and she graduated from UCLA at age 19 having skipped two grades earlier on  As Marge started her first teaching job out in the middle of the Mojave Desert in a small town called Holtville, she met a handsome young man at a town dance.  His name was John Fox and he approached her to ask her hand for a dance.  When he saw that he was 17th on her dance card, he turned on his heel and wouldn't try again to dance with this charming and winsome young woman for many weeks.  But, try again he did, and dance they did, and 42 years, and two children later, they had spent a lifetime together  -- from Holtville to Trona to New York and then to Richland in 1950, where John was a metallurgical engineer working with General Electric and Marjorie a school teacher.  It was an interesting time together – he a Barry Goldwater conservative Republican – she a far left liberal Democrat.  Dinner discussions were never boring. Their two children John McGregor Fox RHS- '58 – and Betsy Fox Vance RHS – '63 mostly enjoyed the 'sparkly' political discussions and pretty much followed in their parents' political steps.

Throughout the years, Marge and John had much fun contrasted to their 'discussions' of Nixon vs. Humphrey, Ford vs. Carter, Reagan vs. Mondale – these weren't always so fun…  building, waterskiing and relaxing with three other families on the dock they all built together on the Columbia River behind their homes.  Rhoda and Milt Lewis, Jack and Virginia Heffner and Phil and Alice Fuqua were huge parts of Marge and John's first few decades in Richland.  Later, Marge and John and their 2 kids would take many trips to Priest Lake where they would camp, fish, swim, eat huckleberries and just enjoy life.  Much later, after their kids were grown up, they would travel to different places around the world.

After John died in 1980, Marjorie met the second love of her life – Mike Mickelson.  They were married and spent 14 wonderful years together, again traveling around the world to many ports and often to Hawaii, a very special place to them both.

Throughout her life, Marge gave of herself, her time, her energies, her talents and her visions.   Many of her former students would later remark that she was one of the few people who make a huge difference in their life.  She didn't just teach academic subjects – she taught the whole child – getting to know him or her and their own learning styles, personalities and adapting her teaching to fit them.  She taught at Sacajewea, Spalding, Marcus Whitman and Jason Lee – always on the cutting edge of progressive and relevant educational concepts and practices.

Justice was more than a concept to Marge. She worked tirelessly to help balance inequities she saw – getting in the trenches to walk it – not just sit back and discuss it.  Becoming involved with the Pasco Redevelopment, hoping to further better the lot of people, counseling young women at Planned Parenthood, helping them to set attainable goals and education, heading into open-heart surgery talking to the nurses surrounding her, telling them to value their important jobs, to push for more money and thanking them for their kindness and competence, taking in a Vietnamese family and teaching them English, giving them money to get set up, sending some to college, always, always encouraging young people she met to believe in their own gifts and go for a fulfilling life.

Reading and nature were as important to Marge as breathing.  She loved the desert and the Columbia River. A quote from one of her books about the river….

" Swimming, a pallid word for such a total, all over experience – Surround Sound- just big booming speakers – Surround River, -- a big booming splash as you dive in, water enclosing you with bubbles all about. Welling up until your face breaks the surface and you smell the muddy banks. Stroking against the current, - strong and exhaultant, water flowing in a cool stream past your shoulders, arms, sides, back and legs. Turning over and floating you see a distant airplane as insubstantial as the puffy white clouds beside it. The shore on the other side of the river, as far away as tomorrow, or yesterday. Its trees painted on and will never change. Peace. At one with the earth and the sky. "Oh Shenandoah I long to see you, -- away, you rolling river." The lyricist might have evoked a more profound memory if he had said, "I long to feel you", even if people did look at him oddly. As the summer goes by your stomach gets flatter, your shoulders go back, your gaze grows clearer and your head is held high. Your river has granted you health to last all winter. Swimming in the river, unchained, unanchored – is as close to walking in space, or glory, as you are likely to get."
Besides reading, nature, deserts and water, Marge loved lively parties, hosting them nearly every weekend in the summer. She was a fervent bridge player, gardener and traveler. Her meals were stunning – always delicious, creative and beautiful to look at. Her home was open to all, for food, a place to stay, a cup of tea or a warm and encouraging word – or, more often a whole lot of very funny and brilliant words of wisdom and calm. Marge was honored to be included in the book " Who's Who of American University Women."
Marge believed in the power of community and working together. To that end, she spent many years involved with the Shalom United Church of Christ, organizing garage sales, spurring people on to build a kitchen, financially supporting that endeavor, bringing in silk trees to brighten up the church and participating in countless book discussion groups, play reading groups and dinner groups. Many long-lasting friendships were made through her experiences at the church.
She remained vital up until her mid-nineties. As she started to slow down, her mind still enjoyed listening to the New Yorker and the Atlantic magazines on tape –digesting the material and eager to talk with her grandsons about the latest political situation or happening that was going on at the time. Although she came from the world of 1910, she readily accepted change and all of the new ideas her teenage grandsons brought to her. She had an intellectual curiosity that was always discovering, questioning and learning. Marge still loved singing and classical music – something she had learned from her mother, a classical opera singer.
Marjorie was preceded in death by her two husbands, John M. Fox and Mike Mickelson, her parents, Ethel and Willard Spalding and her three sisters, Virginia Rettinger, Lisbeth Reed and Sybil Watkins.
She leaves behind many. Those in her immediate family include her son, John McGregor Fox Marci and her daughter, Betsy Fox Vance. Additionally, her 5 grandchildren, Garrett and Jordan Vance, Kelly Fox, Ann Pete Mounsey and John McGregor Fox, Jr. Becca. Additionally, five great grandchildren, Lily Fox, Grace, Mary Sarah and Peter Mounsey, and Scarlett and Wilem Fox continue on.
She had many great friends, but two, Dean and Audrey Hall continued a long and loyal friendship throughout – and especially so, during these last few difficult years. Also, Kenny Wright was a good friend to Marge and helped her in many ways. The family would like to thank Marge's caregivers over the years for the diligent and wonderful, loving care – most especially Charlotte, Maria and Wendy. A special thanks go to Joan Crain who, with her loving heart and gentle soul, helped so much in the final days.
Marge's memorial will be held at Shalom United Church of Christ at 505 McMurray St. in Richland at 2:00pm on Wednesday, June 20. In lieu of flowers, please make contributions to the Marge Fox Memorial fund at any Bank of America for a living memorial that will be placed along the waterfront. Einan's funeral home is in charge of arrangements, and e-mails can be delivered online via their website.
And finally, one more quote from Marge's book. She was talking about the ending of all the dock/swimming/waterskiing years on the Columbia River – as the kids all grew up and went off to college. She wrote –" I stood on the dike gazing down at the river. Gone were the gleeful cries of children, the smell of hamburgers cooking, the shouts of a skier coming in for a landing. The river rolled on, indifferent, unknowing, uncaring. And then I thought, of course, of course the river rolls on – that's what rivers do. If we want immortality then we must supply the words and music ourselves." Mom, you certainly did write your own words and music – and those exquisite words and resounding music shall live on in our souls forever.
Aloha, Makalapua Marjorie.
My thoughts and best wishes are with the family & many friends of Marge Fox.
I am grateful to have gotten to know her in person over the last few years, to learn first hand what she valued, and to know some of the good she accomplished.
Sue
Dear Betsy and family,
The tribute in the paper was so kind and loving and gave me a glimpse of a very rich life led by your mom. What a loving tribute to your mother! I always enjoyed hearing stories from Mark about Gramma Margie. I wish I had met her, but from the fond remembrances and stories shared, there is a feeling of knowing her spirit. I know you will miss your mother terribly. I've also hear what a good daughter you were to her. Sometime I would like to sit with you at a Richland Players play while you sit in her sponsored chair. I am so very sorry for your loss. You are all in my thoughts and prayers. Connie Hull Mark's mom
Betsy,
Our thoughts are with you and your family during this time. Both Mari and I have such wonderful memories of the years that we shared with Marj and Mike and our families. Marj holds and will always hold a special place in our hearts.
With love, Maren and Mari
Marge entertained my childhood games often, letting me hold her up with some toy weapon and then giving me a little gift like a drink umbrella. She is definately one of my best female role models. She loved my mom so much. They shared a strong bond. She reminded me often of how I sounded like my mom. It made me feel very good. I love all of her family that I've met and am happy to have shared a piece of life's journey with them.
Dear Marj, Such grace! Such vigor! Such vigilance! Thank you for sharing time and spirit with me. Those Tuesday night supper chats resound in my mind daily and inspire me to be open to the humor in chaos. And no Presidential debate will happen without my recalling your liberal cheers.
You will be missed, and cherished always.
Love, Sandra
I am comforted because I am one of the lucky ones who's life was touched by this very special women. I remain grateful still having known her . I will miss her warmth humor . I will miss her.
My Dearest Mother,
It is almost a year and a half since you died — and not a day goes by that I don't see your smile and hear your always positive, uplifting words go through my heart and mind. I miss you so — your wit, your kindness, your brilliance, your pragmatism. You would love it now — the colors are changing, crispness in the air — your season. I hope they have this where you are. Love and miss you so, Mom. Betsy
Mrs. Fox:
you were my second grade teacher…I'll never forget your reading of "The Emperor Has No Clothes."
Some of my best memories with Marj is when we use to go to lunch, sometimes after making a dump run or some such thing. One time my husband and I took Marj and her raked leaves to the dump, and we forgot to bring a bill. My husband said, we are just helping Grandma with a little yard work. Anyone who knows Marj, knows she is no "Grandma" and she about fainted when he said that. She never let him live that down.
Although I did not know your mother personally, after reading of her life's events, including the fact that she lived in Trona many decades ago, I have a great deal of admiration for such a strong woman. I too lived in Trona many years ago, and can't imagine the fortitude it would have taken to live there before 1960. My prayers are with your family.