FIND AN OBITUARY
Service information is posted on our website only with approval from the family.
If you are seeking information not listed below, please contact us.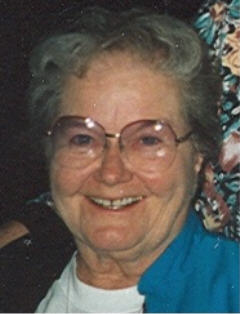 Marian DeWitt Hartley
07/16/1924 — 07/04/2007
From Kennewick, WA, US | Born in Terra Alta, West Virginia
Marian DeWitt Hartley
Marian Hartley, 82, passed away Wednesday, July 4, 2007, at Kennewick General Hospital, after a long battle with Alzheimer's. She was born in Terra Alta, West Virginia on July 16, 1924. She grew up and attended school there and married Lewis "Bud" Hartley on June 10, 1943.
Together they traveled to Richland, WA in 1948 where they have resided ever since. They had two daughters and Marian was a "stay-at-home" mom as were so many in those days. She did go to work outside the home in the late 1960s and worked a short time for ITT Services and then retired from Exxon Nuclear in 1984. She was a senior technician working in the Emission Spectrometry Laboratory. She had fond memories of her working days and made many close friends from Exxon. Following retirement, Marian and Bud spent many wonderful years traveling in their RV, at their cabin outside Cle Elum, WA, or their getaway in Naches, WA. They made many great friends and were always thankful for having that time together to enjoy life.
As her disease progressed, Bud became Marian's care giver. Although she couldn't say so, we know she felt so blessed and grateful to have had such a loving husband and friend. She was a wonderful wife, sister, mom, gram, and great-grandma Mick, and we will all miss her so much. Her daughters and granddaughters have lasting memories of the cabin, camping/fishing excursions, and many "sing-a-longs", as she loved music and singing. She was the "life of the party" and enjoyed life to the fullest as long as she could. She loved the outdoors and her passion was fishing. Of course, the fishing stories were never ending!
Marian is survived by her daughters Glenda Ackerman Fred, of Kennewick, Diane Hartley of Richland; her granddaughters, Dionne Anderson Todd Spitzer of Los Angeles, CA, Michelle Breier Scott of Vancouver, WA, and three great-grandchildren, Tyler, McKinsey and Kennedy Breier. Also, her sister Jean Morey of Richland and long time family friend, Angie McCullough, who has supported the family in so many ways.
Marian was preceded in death by her husband, Bud, in February of this year; her parents, Clarence DeWitt and Merle Russell; brothers, Clarence DeWitt, Jr., Don DeWitt, James DeWitt, and Bob Dewitt.
A service will be held for Marian on Tuesday, July 10, 2007 at 10:00 am at Central United Protestant Church, 1124 Stevens Drive, Richland and followed by a short graveside service at Sunset Memorial Gardens, also in Richland.
In lieu of flowers, contributions may be made to The Neurological Resource Center, 712 Swift Blvd. Suite 5, Richland, WA 99352.
The family would like to extend their sincere thanks and appreciation to Callaway Gardens in Kennewick and also Eagle Assisted Living in Richland for the exceptional care given to Marian the last two years.
Marian was family even though we weren't related. She gave me my first bath, and put up with all of us kids' carrying on, and she had such a sense of humor and a wonderful disposition. She also made the best apple butter ever, hands down. Stories are still told about what a crack shot she was! And, truly, she was a genuine nightingale — still had "it" well into her '70's!! I will never forget the last time we made music and she sang and played her guitar. Some of my best memories are of Marian's beautiful voice. When my mom passed away, Marian's and Bud's presence offered real comfort. I will never forget the wonderful times our families had together. Marian was truly one in a million, Thinking of you all, sending love, and grateful to have been able to grow up with the Hartley family. Love, Karlen Rekonen Kane
Marian was family even though we weren't related. She gave me my first bath, and put up with all of us kids' carrying on, and she had such a sense of humor and a wonderful disposition. She also made the best apple butter ever, hands down. Stories are still told about what a crack shot she was! And, truly, she was a genuine nightingale — still had "it" well into her '70's!! I will never forget the last time we made music and she sang and played her guitar. Some of my best memories are of Marian's beautiful voice. When my mom passed away, Marian's and Bud's presence offered real comfort. I will never forget the wonderful times our families had together. Marian was truly one in a million, Thinking of you all, sending love, and grateful to have been able to grow up with the Hartley family. Love, Karlen Rekonen Kane
Our condolences to the family of Marian & Bud. They were very fun friends in our square dancing days back in mid-60s. We lived in nearby "ranch house" neighborhood. Since we knew where the orchard was, Bud talked me into ordering directly from the grower in Mesa,AZ..but with UPS they cost the same as here in store,ha. Even tho we belonged to CUP church, we didn't see each other, due our frailities. There was no doubt that Marian was a proud ex-W.Virginian.God Bless