FIND AN OBITUARY
Service information is posted on our website only with approval from the family.
If you are seeking information not listed below, please contact us.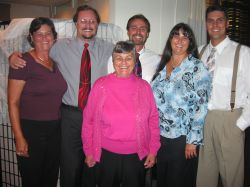 Audrey Florine Schumacher
06/16/1931 — 10/19/2007
From Benton, City, WA, US | Born in Moxee City, Washington
Audrey Florine Schumacher
Audrey Florine Schumacher, 76, of Benton City, WA was born June 16, 1931 in Moxee City, WA and died Friday, October 19, 2007 Benton City, WA.
Audrey was a resident of Richland from 1962-1973 and a member of Christ The King Church. She lived in Benton City for the next 34 years and was a member of St. Francis Xavier Cabrini Church.
She retired from the Benton City School District after 20 years working as a teacher's aide.
She was a member of YLI and the Altar Society. She volunteered at Kadlec Medical Center and sewed and crocheted for the Armed Forces.
Audrey was the first of seventeen children born to Peter and Celia Steinbock. Her childhood held memories of a hard-working and loving family on their farm in Prosser, WA. She married Willie Schumacher on June 5, 1954 and began raising her family. Her proudest moments were shared in the lives of her children and grandchildren. She loved the time spent with her grandchildren, especially the family reunions at North Cove. She was known for her sewing, pie baking, canning, volunteer work, and religious faith service.
She is survived by her children and their spouses: Ann and Mike Czebotar, Richard and Laurel Schumacher, James and Donna Schumacher, Lori and Michael Irwin, Edward and Toni Schumacher; grandchildren: Jason Czebotar, Rachel Schumacher, David Schumacher, Marilyn Schumacher, Steven Schumacher, William Schumacher, James Irwin, Jenae Irwin, Chloe Schumacher, Sophia Schumacher, Shannon Foster, Jason Grahmann; great grandchildren: Ashleigh and Logan Foster, Leanna and Gracie Grahmann; and her siblings: Beatrice Fields, Buelah Flory, Donna Bast, Rita Goodman, Mary LaFortune, Cecilia Poe, Verna Davin, Dorothy Sanchez, Elizabeth Scott, John Steinbock, Steven Steinbock, Thomas Steinbock, Mark Steinbock, Peter Steinbock.
Audrey was preceded in death by her husband, W. W. Bill Schumacher, her parents, Peter and Celia Steinbock, sisters, Florence Patnode and Inez O'Niel, and granddaughter, Heather Youngblood-Schumacher.
Viewing will be Sunday, October 21, 2007 at Einan's Funeral Home 4:00-6:00pm. Recitation of the Holy Rosary will be Sunday, October 21, 2007 at Einan's Funeral Home 6:00pm. The funeral Mass will be Monday, October 22, 2007 at Christ the King Catholic Church 11:00am.
At her request, a reception to remember and celebrate Audrey's life will be held at the Christ the King reception hall in lieu of a graveside service.
Donations to The Chaplaincy/Tri-City Hospice, 2108 W. Entiat Ave. Kennewick, WA 99336, may be made in Audrey's memory.
Audrey was a terrific lady. Her many contributions in service to Kadlec Auxiliary will be missed tremendously. We will miss her cheerful outlook and her wonderful pies. She was always willing to lend a helpful hand, no matter what was needed.
Carol
Deae Ann, Mike & Jason:
My sincere sympathy to you and your family. Friends and family will sustain you at this time.
Dearest Schumacher Family: God has been waiting for a good piece of pie! I have never know a more giving and caring person than Audrey. Her dedication to you – her children and grandchildren – is what true love is all about. Her strong faith and belief in God has floated her to heaven to be reunited with Willie and all her family that preceded her. Please know that I love all of you and Audrey will always be in my prayers.
God Bless You.
Hugs & Kisses,
MarcellaSchumacherBurkhart
I will miss you Aunt Audrey very much. But now you are in a better place that has no pain. Now you can be with Uncle Willie ans I know that he has been waiting for you and watching over you to this day. To all of my cousins I'm so sorry for your loss. One thing that I will miss the most is the pies that audrey made.
love ya lots
Shanna
Dear Ann,Jim,Rick,Lori,Eddie and all your families,
I have been thinking of all the good memories with your Mom, She was so very special and she cared so much for all of you. She will be truly missed. She had great pleasure in sewing and cooking for everyone. She not only made good Pie but,When I think of her cooking I think of Chicken, it was the best. We love you all and you will be in our Prayers.
Love Dick and Aunt Mary
Audrey Shumacher:
We will miss you very much. You were an inspiration to me and I have been wearing the vestments with great pride. May you enjoy the beatific vision of our Lord.
Peace in Christ;
Fr. Rob Irwin
Ontario, OR 97914
My Family and I would like to extend our sincerest condolences to all of the family of Mrs. Schumacher. Our memories of her are fond, and we will miss her exuberence and everglowing personality. She was a regular customer of ours who always shared her love for her family in photos, and her general love for life. I am a cancer survivor, and when she found out she had cancer, she told us that she was completely at peace with herself and her life. Truely an inspirational women. All of the wonderful things she done for so many people, including our troops is astounding. Her homemade pies will always be remembered by us. We are grateful to have known her.
Kevin & Kathy Davey
RV Village Resort
We do want to give the Lord's Blessing upon the morning family of this women! Who also took part in being a teacher at a local school-what a neat opportunity-to work with children and Teens! Although there are some of you who say why did this happen? Yes you do have every reason in the World to be sad in this time of loss-but there is a time when the Lord takes us home to be with Him-Her work here on Earth was finished and again we will see her in Heaven!!!!!!
"For I know the thoughts that I have for you says the Lord, Thoughts of good and not of evil to give you a future and a hope!"
Jeremiah 29:11
To the family of Audrey–
We are so sorry for your loss, and are keeping you all in our prayers. My husband and I have known Audrey for many, many years through St. Francis Cabrini parish. I actually knew Audrey as a child. I can remember thinking back then of how beautiful she was, especially for being a mother of such a large family!! As I grew to know her over the years, I, like many others saw what a treasure she was to our town and parish. She was so faithful to her family, church, and community, and I can't imagine the loss you, her family are going through. I will always remember Audrey for her wonderful smile and little laugh that she so freely shared and for her lovely vibrato voice heard every Sunday singing her praises to the Lord. It was wonderful teaching CCD with her for so many years–she had such a gift working with children with her firm, but loving ways. May her strong faith be a comfort to you all at this time, and may the Lord bless you as you grieve in the loss of your mother, grandmother, sister, and aunt who was such a wonderful blessing.
Sincerely,
Jerry and Karen
Allen Conway
How rare of a person you were Aunt Audrey. In this day and age to see a woman who held together such a family, marriage and model of faith. You are an example to so many! Along with all that, you created so many memories for so many. You embraced God, family, friends and even those you had never met. Thank you for the beautiful Homecoming and Prom dresses you made for me growing up, and thank you for the beautiful baby blankets you made for my children. There are so many pieces of you left all over this world and we cherish them all. To her children and grandchildren…I offer my love, thoughts and prayers. I know you will honor her memory as you have your father/grandfather's. Take comfort in knowing that she is in a better place with Uncle Willie, her parents, siblings, Grandma Heintz, Grandpa Schumacher, Heather….and the list goes on how excited they all must be to have her cooking for them again!!. We will be with her and them again someday. God bless you all.
Brenda, Clint, Chase and Baylee
Our sincere sympathy to you and your family. Your family are in our prayers
Dearest Mom: I miss you so deep in my heart, and you've only been gone a little while. You where a beautiful woman; who had a heart of gold and truly wore Angel's wings. You taught us so much in life and now you'll teach us in your death. May God enjoy your pies and cookies that we will miss, and May he continue to hold you in the palm of his hand. Give Dad our love and kiss Heather for me. Until we all meet again! I love you, Mom… Your daughterinlaw, Donna
Rick and Jim,
I am sorry to hear of the death of your mother. Mike and Donna Horstman wrote and gave me the message. I would like to offer you my care and support at this time. I have family funeral services in Yakima to attend Monday and Tuesday, or I would have been at Christ the King to say farewll to your mom, and hello to you. You are in my thoughts and prayers,
Kathy
Very sorry to learn of our old neighbors passing. Please accept our deepest sympathy for the loss of a very wonderful lady. We will miss her like all of you do.
She was a very good friend.