FIND AN OBITUARY
Service information is posted on our website only with approval from the family.
If you are seeking information not listed below, please contact us.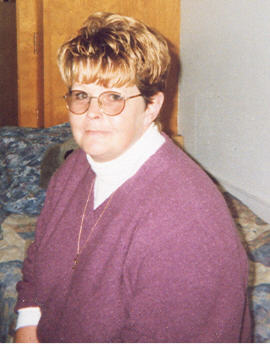 Vera Lynn Lewis
05/13/1958 — 10/22/2007
From Richland, WA, US | Born in Pasco, WA
Vera Lynn Lewis
Vera Lynn Lewis Rapp
Our angel Vera who blessed us on earth has been called to duty and stand guard with her Lord and Savior on October 22, 2007. Vera our dearest sweet punky, was a beloved wife, mother mommy, sister, daughter, grandmother, protector, and friend. Vera is survived by her husband Kenneth Lewis, children Elizabeth Krueger Martinez, Patricia Patty Ramirez, Joshua Ramirez, Jamie Sandoval, Juan Johnny Ramirez, Kimberly Lambach, Tracy Melton, Stephen Lewis, mother Elizabeth Rapp, sisters Gail, Bonnie, Barbara, brother John Rapp, and grandchildren Griffen, Alexis, Calvin, Grace, and Daniel. .
To us our beloved Vera was the most unselfish person anyone could have ever known, never asking for anything for herself, but only giving to others unconditionally. She was simple, never one to complicate life. You will be remembered by all your children for all the little things in life we did together as a family and that's what counts; spending summers together camping, the summer nights on the beach with the big bonfires and fireworks, the warm winter days getting ready for Thanksgiving Day and Christmas, the nights we stayed up baking food and lots of cookies and decorating them, poking a little hole in a Christmas present and asking to open one present before Christmas and after days of begging you would give in. Thank you for all your wonderful talents that you passed on to us such as making new crafts, but most of all for giving us your loving heart that never stops loving and your artistic hand. Thanks for giving us the traits to be just like you!
Your love will be so greatly missed, as well as your big hugs and kisses good night. Also, we will miss all the long talks that we had with you. We will miss your timed phone calls to all of us. You were always in our corner no matter if we were wrong or right, you were always 100% on our side. We will always remember all the good that you have demonstrated and taught all of us by your example. We love you. She will be missed by all her family and friends.
Good night and pleasant dreams. See you in heaven and don't let the bed bugs bite you. We love you, good night.
Viewing will be held at Einan's Funeral Home in Richland, WA on Friday October 26, 2007 from 3:00pm-8:00pm. Funeral Services will be held on Saturday October 27, 2007 at 1:00pm at the New Hope Missionary Baptist Church in Pasco, WA. with a graveside to follow at Riverview Heights Cemetery in Kennewick, WA.
to the family of vera, i justwanted to send my deepest sympathy. i worked with vera at the zillah am-pm and can honestly say she was the nicest kindest person i ever met. again my deepest sympathy…
I Love You Vera
Vera you brought me so much joy that no else could give. You are mu best buddy and I will forever love and miss you. I am so greatful that God brought you into my life. I truly wish that it was longer but I will cherish every time that I got to see your beautiful eys smile, even in all your pain. I told you that I would take your pain if I could and you told me I could not put that on you I love you too much. I all ready miss hearing I love you and not a day went by without you telling me. No more pain and sorrow for you Praise GOD. Good bye Punkie
To vera's children im so sorry to hear of the loss. I remember we used to work together and we had some fun times. she truely will be missed the loss is so devistating to me but i know she is looking down from heaven, she is now in the hands god our creator . im so glad to have known her so sorry for the loss .
Sorry for your loss.
Ken and family, our prayers are with you now and in the future. Vera was a precious soul and she will be missed by you and all who knew her. She is in her heavenly reward with the Lord. He will also be your comfort.
I love you
I love you very much tell Uncle John I love him to.
i love u mom with all my heart and will always miss u everyday. u will never be forgotten in my heart.
love ur son
jamie
Mommy, I still can't believe you are gone its so hard to be without you. I look at my phone every day expecting you to call, but nothing what do I do? Its so hard to be without you. I miss you so much. You where my best friend. I am so scared without you. Please dreams see you in heaven don't let the bugs bite you. I LOVE YOU. I LOVE YOU. I will never forget you I promise and the kids will always know that you where thier GRANDMA.
Mommy I really miss you.