FIND AN OBITUARY
Service information is posted on our website only with approval from the family.
If you are seeking information not listed below, please contact us.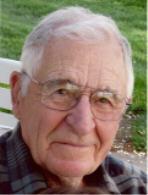 Alfred C. Miller
06/02/1914 — 03/18/2008
From Pasco, WA, US | Born in Enterprise, Kansas
Alfred C. Miller
Alfred C.Miller , 93, left this life to begin his new life with his Lord and Savior, Jesus Christ, on March 18, 2008. Born June 2, 1914, on a farm near Enterprise, Kansas , the 5th of 12 children to Fred and Rhea Miller. Al graduated from Abilene High School in 1932. He moved to Hailey, Idaho, in 1935 and held several jobs including work in a grocery store, hardware store and in the construction of Sun Valley. He met his future wife, Inez Gunderson, who was teaching in Hailey at that time, and they were later married in 1942.
He was drafted into the Army Air Force in 1941 and stationed at Moffett Field and Chico,CA where he played baseball and football for the Army Air Force team and was involved in setting up 3 Air Corp supply units . He served during World War II as a Master Sergeant and was stationed for 2 years in Australia, New Guinea and Manila. After his honorable discharge in Nov. of 1945, he moved to Richland where Inez was teaching school and they have remained in the area since then.
Al began working at the Hanford Project for Dupont and retired in 1978 as a manager of office equipment for Rockwell International.
He had many interests including fishing, hunting, golf golfed his age twice at 89,bowling, and in his earlier years baseball. In his later years, he was lovingly known as "Tomato Man Al". People came from miles around to buy fresh tomatoes at his garden stand.
He was a member of Richland Lutheran Church for over 60 years, where he served faithfully in many capacities.
Al is survived by his loving wife of 65 years, Inez; son Ron Miller Jeanie and daughters Barbara Marshlain Bruce and Kathy Muhlbeier Ken; grandchildren Jon MillerTami, Lauri HaugenTom, Bryan MillerKalen, Angela and Amy Marshlain; step- grandchildren Jason MuhlbeierJennifer and Joshua Muhlbeier; and 6 great grandchildren and 3 step-great grandchildren; brother John Miller,and sisters Dorothy Sandow and Rhea Rubino .
Al will be remembered for the love he showed to his family and friends, for his warm and generous personality, for his strong work ethic and for his passion for gardening and raising tomatoes.
A graveside service will be held with family followed by a memorial service at Richland Lutheran Church at 2 pm on Saturday, March 22. In lieu of flowers, memorial contributions may be made to Richland Lutheran Church or Richland Lutheran Church Foundation at 901 Van Giesen, Richland, WA 99352.
John 11:25-26 ''I am the resurrection and the life. He who believes in me will live, even though he dies; and whoever lives and believes in me will never die.''
Our sympathy to the Miller family. Al was a great guy! We remember so many wonderful times our family spent at Camp RichLu in the ELM cabin. What a wonderful gift that was. Also worked with Al at RichLu on several projects. In later years when we were out on the river in our boat we always had to check to see how the watermelon crop was coming. May God bless you in this Easter season.
Our Thoughts & Prayers are with you at this difficult time.
Dear Miller Family,
I would like to express my sincere condolences to you for the loss of Mr. Miller. Losing a family member to death can cause a lot of pain and heartache, however, there is something that comfort us during these times. The comforting thoughts found in God's Word the Bible gives us hope regarding our dead loved ones. Notice what the bible says at John 5:28-29 "The hour is coming in which all those in the memorial tombs will hear his voice and come out, those who did good things to a resurrection of life." So the God of all comfort, Jehovah, promises to bring back our dead loved ones by means of this resurrection. What a comforting thought to know that you too have the hope of seeing your loved one, Mr. Miller, again in the near future.
With Sympathy,
Lila Fogg
We want the Miller family to know that Al will be missed by so many! The chats with him at his vegetable stand will be some of our fondest summer memories. Just seeing what he did with a garden was such an inspiration to people many years his junior! Summer will be less sunny without Al and his tomatoes.
Inez and family, we are so saddened to hear of your Al's passing. Our thoughts and prayers for you through this difficult time. We never expected that of this healthy looking guy, even though he semed to work extra hard in his tomato patch! Don enjoyed his long visits with Al and Inez when picking up many tomatoes from Al later in the season when Marti's were all gone, or if we were to take some to relatives in Seattle!. Don's folks Jake&Ella Meyers also enjoyed Al&Inez as friends at their Richland Lutheran Church. Sorry we were not able to get to his memorial service — it had to be a special one! We will really miss Al, and hope to keep in touch with Inez. Our Hugs and Prayers,
Don&Marti Meyers