FIND AN OBITUARY
Service information is posted on our website only with approval from the family.
If you are seeking information not listed below, please contact us.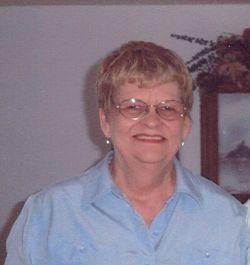 Beverly Jean Syverson
09/21/1942 — 03/14/2008
From Tri-Cities, WA, US | Born in Ramona, South Dakota
Beverly Jean Syverson
After a year-long battle with cancer, Beverly Jean Syverson passed away peacefully into the hands of our Lord Jesus, on March 14, 2008, surrounded by those who loved her.
Beverly was born on September 21, 1942 to Martin and Laura Nelson in Ramona, South Dakota, the youngest of six children. She has lived in the Tri-Cities since 1993.
In 1957 Beverly was married to Francis Crosgrove. Together they had 5 children, Terry, Tamera, Todd, Toinette, and Timothy. They spent many years in Carlos, Minnesota raising a family and operating a business.
In 1977 Beverly married Frederick Syverson and became step-mom to Dawn and Todd. Beverly and Frederick moved to North Dakota, where they owned and operated a clothing store and then a popular bar and lounge. In 1983 they moved to southern California where Beverly worked in property management. In 1986 they moved to northern California, where they stayed until settling in the Tri-Cities. In 1994 Beverly, together with her daughter, Toinette, started Classic Monograms, a successful embroidery business in downtown Kennewick.
Beverly enjoyed bowling the Friday night league at Go Bowl in Pasco, she also enjoyed many nights of playing pinochle at the Pasco Eagles, Bingo, and occasionally when she felt lucky, a little fun at a local casino, usually winning. She also enjoyed traveling, seeing the country, and visiting family and friends.
Beverly is survived by: her husband, Frederick, her children and step-children, Terry and Tammy Crosgrove with their children, Alicia, Stephanie, and Sara Crosgrove and Josh and Jenny Steidl, Tamera and James Frank with their children Tara Mindt and Levi and Matthew Frank, Todd and Donna Crosgrove with their children Heather Crosgrove and Kayla and Jenna Mattocks, Dawn and Brian Rubner with their sons Darian and Triston, Todd and Sue Syverson with their cliildren Jason Syverson and Molly and Ryan Walker, Toinette and Gregory Banks with their children Kaylin and Kelsi Roback and Alyson Banks, Timothy Crosgrove and his son Conner Crosgrove, and five great-grandchildren. Beverly was preceded in death by her parents, her brother Melvin Nelson, her sister Lorraine Krouse, and her grand-daughter, Alyssa Frank.
Beverly was a loving, strong, independent woman, with a great sense for business. Until we are joined again in Heaven, she will be missed by all who loved her, and we will all carry with us her wonderful sense of humor and love for life.
The family would like to extend our thanks and appreciation to the staff of Tri-Cities Cancer Center for the long year of care and service given to Beverly. We would also like to thank the staff of Hospice at the Chaplaincy for their help during this difficult time. They made everything so much easier and less painful.
Funeral Services and viewing will be held at Einan's Funeral Home in Richland on Monday, March 17, 2008, at 3:00 p.m. with viewing from 11:00 a.m. to 3:00 p.m.
In lieu of flowers, donations may be made to Hospice at the Chaplaincy, 2108 W. Entiat Ave. Kennewick, WA 99336.
Our hearts go out to all of you. Bev was a friend beyond words as well as our girls "other mother".
We had more fun with Fred and Bev than any other couple we know of. Camping, cheating at pinochle — on and on!
Knew Fred and Bev about a year before we realized Bev and I were both Nelson girls before we married. Guess that explains the instant bond.
God be with all of you, and if any of you need anything, please call. We will always be there for you. Bev will be greatly missed. Hang in there Fred!
All our Love,
Jerry & E-Dee
Please know that you are all in our thoughts and prayers. Bev was a very special person to me as she was my other mom. She was always there to help us whenever we needed her. She helped Chellee and me through some very difficult times and I'll be forever grateful to her and Fred for that.
Bev had a laugh that made you want to laugh with her and I'll never forget how hard she laughed when we all boiled lobster for the first time and Chellee, Toni and I were horrified at how the lobster sounded when they hit the boiling water!! She was such a great person and she will be missed by all who knew her.
Love and Hugs,
Darin, Jerali, Kyler & Kohl
Our hearts ache and mourn for all of you for the loss of such a wonderful woman.  Bev was a blessing to all who knew her – to know her was to love her. She was always loving, always kind, and always had a hug to give. She held a very special place in my heart – and always will.I am so sorry to hear of her passing, but I know that Heaven brought one more angel home.  And because of it, is a whole lot brighter.She will always be with those who love her.I pray for you all and hope that you take comfort in God and one another.All our love,Chellee, Jim, Hailee & Ashlee