FIND AN OBITUARY
Service information is posted on our website only with approval from the family.
If you are seeking information not listed below, please contact us.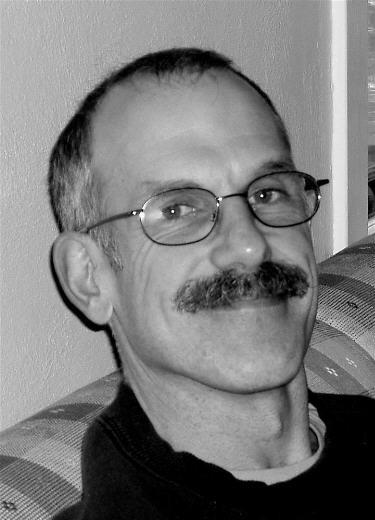 Bryan John Cook
06/02/1962 — 03/16/2008
From Richland, WA, US | Born in Dekalb, Illinois
Bryan John Cook
For those who knew Bryan Cook, we share this open letter to God……
Dear God, Thank you for being such a faithful and caring Father and for welcoming our husband and father, brother and son, Bryan, into your loving arms on Sunday, March 16, 2008. Since giving his heart to you years ago we are at peace knowing that he is "home" with you now.
You knew of him, even before he was born in De Kalb, IL on June 2, 1962, and you watched him grow up into a fine young man. His formative years in West Bend, WI were happy, normal times and he had many wonderful boyhood adventures and memories, as the only son and eldest, with his mother, Joan deceased and sister, Jen, and his father, John deceased, stepmom Diane and sisters, Beth, Allison and twins Samantha and Sara. Then, when he spread his wings and joined the Coast Guard to serve our country, he experienced many new places, from Key West, FL to Kodiak, AK. While college life in Milwaukee, WI became a challenge, you knew to send him to Oregon State University, where he completed his degree in Analytical Chemistry and met the love of his life, Marijke Kempees.
Oh, how you blessed the union of their 18 year marriage and you placed wonderful children into their care. Bryan was so proud to be the father of Kelsey, his first born son. Lord, each child thereafter that joined Bryan's family became a blessing and a challenge to him. He delighted in his daughter, Dierdre, when she arrived from Korea; he gained much understanding and insight into his son, Seth, who came with many pre-natal challenges, and he grew to capture and understand the essence of his youngest son, Justin, whose birth history also involved special needs. You were also with him with the addition of and loss of his other daughter, Monique. You gave him the ability to appreciate each and every one of them for their uniqueness and special qualities and he so wanted to be accountable to you for their upbringing. You know that their hearts are missing him and we ask you to continue to ease the pain of his passing in their young lives.
Lord, Bryan was a "memory builder" and saw to it that his children had good memories to carry them through life, as well as structure and guidance. He leaned on you, Lord, for wisdom and direction. He will be remembered for many qualities: his intellect and pursuit of knowledge, his strong work ethic, his data collecting and analyzing, his ability to write the most beautiful words of love to his wife, his creative approach to projects around the house, his desire to serve others and you, his "Consequences Jar" that the children grew to know very well, his ferver for health and exercise and taking care of his physical body, his desire to extend our home to others in need especially as a foster parent with the State of Washington, his wisdom and maturity, and especially his willingness to pray for his family and desire to grow towards more intimate, loving relationships with others. You've called home a loyal and trustworthy young man who lived each day with integrity and provided well for his family. He took his responsibilities seriously and wanted, always, to be more and be better. We trust he is realizing all that in your loving care.
Lord, while he was in Richland he was blessed with steady employment, mostly as a Chemist at Battelle PNL. Most recently you guided him to a total career change opportunity. He stepped out in faith and was accepted into the Nursing Program at WSU. He was well on his way to becoming an RN, with only one semester of schooling left. This was a wise career choice for him and he loved the new challenges before him. Because he was not able to complete this we are hoping others, who want to provide financial assistance, will help continue the dream. Memorial contributions in Bryan Cook's name can be sent to WSU Tri-Cities,Bryan Cook Scholarship Fund, 2710 University Drive, Richland, WA 99354, so that another student may complete what he was not able to finish.
Lord, it is so important that others know about you, our magnificent Creator; how perfectly you made Bryan Cook and how you guided him in his life. We can continue now in the knowledge that Bryan is with you, rejoicing in all your Majesty and Splendor. What a comfort it is to know that he is in your loving care and arms. May your Mercy and Love be known by all who knew Bryan and may the gift of your Salvation, which Bryan accepted years ago also be an accepted gift to those who remain behind. You are an awesome God and we thank you for the privilege of knowing and loving Bryan.
We stand in wonder at your grace, His loving wife and children.
For those who desire, you are welcome to attend a Celebration of Life Service for Bryan on Saturday, April 5th, 2008, at 1:00 p.m. at Central United Protestant Church, in Richland. Come; help build more memories for his children, and share in the process of healing from the loss of his young life.
Marijke, Kelsey, Dierdre, Seth and Justin –
You are all loved very much as was Bryan.
It has been my honor for all these years to know your wonderful family.
Bryan was a great man and would have been a wonderful nurse. We all need more Bryan's in our lives.
Marijke – you will continue to lead your family with Bryan watching over you.
Kelsey, Dierdre, Seth and Justin –
Continue each day being the extraordinary individuals that you are. May you live by the example that your Dad showed you in the years that you had together.
Prayers are with you ~
Denise
Dear Marijka,
We were shocked to read about Bryan. We are so saddened about your loss. Bryan was such a great guy. Our prayers are with you all. Sheila and Rob Eades
A very touching and loving memorial that befits Bryan well.
Dear Marijke and family,
I want to express my deepest sympathy. Please take comfort in knowing you are in my thoughts and prayers. God Bless … Laura True
Marijke, our thoughts and prayers are with you and the kids at this time. May you find peace in your faith and know you are loved by so many in our community.
My family and I were shocked and saddened to hear of his passing.
He was a very kind man, every memory i have of him, no matter how long ago, is a good one.
Warmth and God bless,
Tyler Bampton