FIND AN OBITUARY
Service information is posted on our website only with approval from the family.
If you are seeking information not listed below, please contact us.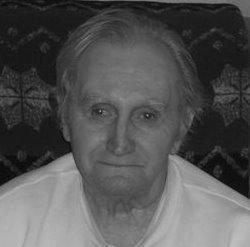 George "Whit" W. Whitten
08/02/1927 — 03/28/2008
From Kennewick, WA, US | Born in Readfield, Maine
George "Whit" W. Whitten
George W. "Whit" Whitten passed away March 28, 2008 in Kennewick. Whit was born August 2, 1927 to George and Nellie Whitten in Readfield, Maine. He was raised by his grandparents Fred and Lydia Turner and attended Readfield schools and Kents Hill Academy. At the age of 17, Whit left school to join the Merchant Marines and served in the South Pacific during World War II. Upon leaving the service, Whit landed in San Francisco, CA where he bought an old Harley Davidson motorcycle and rode it all the way home to Maine. In 1949, he met his future wife, Evelyn Conley, when he literally swept her off her feet on the dance floor. Married in June 1950, Whit and Evelyn raised three children in Monmouth, Maine. Whit worked many different jobs, mainly in the automotive repair industry, and was active in the community as a Boy Scout Master, in Little League, and in helping his neighbors. He enjoyed hunting, fishing, archery, playing cards, square-dancing and camping with his family. In 1970, the Whittens moved to Washington State where Whit worked as an auto mechanic in the Seattle area until his retirement. He and Evelyn raised, trained and showed purebred St. Bernard dogs. Whit was very proud of their accomplishments and enjoyed his "Saints" very much over the next twenty years. After moving to the Tri-Cities in 1989, Whit enjoyed making new friends, babysitting his grandchildren, swimming in his pool and riding around on his lawn tractor. For a while he delivered Meals on Wheels to people in Benton City. Whit never met a stranger and was always willing to help those in need. He had a great, quirky sense of humor and enjoyed nothing better than telling his stories and talking to anyone who would listen.
Whit is survived by his wife of 57 years, Evelyn, of Kennewick; his son Glenn Whitten Irene of Renton, WA; daughter Vicki Glasford Darrel of Richland, WA; grandchildren Rhonda, Tina, David, Jill and Lisa; and great-grandsons Cody and Tyler. He was preceded in death by his daughter Shawnee.
The family would like to express their deep gratitude to the staff at Kennewick General Hospital, Dial-A-Ride, Dr. Qayyum Nazar, Dr. Yasmin Chaudhry, and especially to the staff at Rosie's Adult Family Home in Kennewick, which he called home for the last six years. We thank each of you for the loving care and kindness given to Whit. In lieu of flowers, memorial contributions may be made to the Boy Scouts of America, Benton-Franklin Humane Society, or the charity of your choice.
A service of remembrance and celebration of Whit's life will be held Saturday, April 5, 2008, at 2:00 p.m. at Einan's Funeral Home in Richland.
Whit was a loving and friendly guy; a "colorful character" who will be greatly missed by his family and friends.
Jack and I are very sorry to hear your news. Our thoughts are with you during this difficult time. Uncle Whit was truly a "unique' individual. He always made me smile.
Grandpa Whitten, you were a strong man with such a passion for new experiences in your life and the lives of others. You will really be missed. You had such a sharp memory and a great sense of humor. I love you and have you in my prayers.
My most sincere sympathies to Evelyn and family in the loss of a wonderful man – husband, father and friend. Whit was truly a sweet and loving 'father' for me when I most needed a strong male influence in my life as a young teen. Whit, Evelyn and Vicki were the best neighbors to my family when we most needed them! All invited me, my sisters and Mom to be part of their family and I will be forever grateful for their love. May you all cherish the memories, as I do, of Whit's humor, hugs and love! I love you all… bless you in this difficult time of loss. love, Lisa
To the Family of Walter Leo Whitten
From the Kennewick Chapter Daughters of the American Revolution
There are no words to express the sorrow of losing a loved one. It is a pain that only time will heal. While we did not know Walter personally, as DAR members, we honor his commitment to our country and his service in its defense. The DAR strongly supports our nations' military, and we recognize the personal sacrifice that each member gives, as well as their families.
To that end, we offer you our heartfelt condolences, and prayers of comfort. We thank you for Walter's service, and his sacrifice to our country.
May God bless you and comfort you as you remember just how very special Walter was to his family, and his country.
In grateful remembrance,
The members of the Kennewick Chapter DAR