FIND AN OBITUARY
Service information is posted on our website only with approval from the family.
If you are seeking information not listed below, please contact us.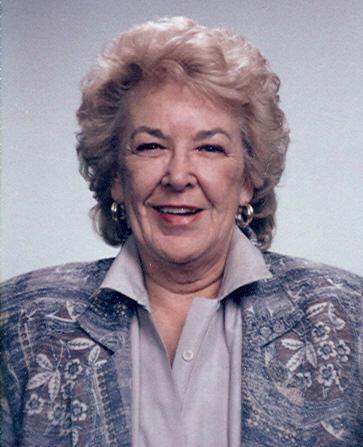 Barbara Lorraine Doyle
03/28/1932 — 04/23/2008
From Richland, WA, US | Born in Salt Lake City, Utah
Barbara Lorraine Doyle
Barbara Lorraine Barron was born March 28, 1932 to her parents Albert and Vivian Barron in Salt Lake City, Utah. Barbara moved to Richland with her parents in 1945 and attended Richland Columbia High School, graduating in 1950. While attending high school, she helped raise her younger brother Blaine and worked in her parents' restaurant, The Old Dutch Mill, which was located near the mouth of the Yakima River. In 1951, she married her high school sweetheart, James Jimmy Doyle and began working for General Electric while he attended Washington State College. In 1952, she began the adventure of raising five adventurous and totally different, loving children. As the kids began to attend school, she became very active in the Lewis & Clark PTA. Along with organizing the annual school carnival and other functions; she served as president for a number of years. Later, she received the PTA Golden Acorn award in appreciation for her many contributions to the organization. While raising her young family, she also served as leader of her daughters' Blue Bird troops. Barbara's wit and sense of humor was constant and often merciless. Her connection with her children, in her presence or out was, as one of the kids once said, "Spooky". She was most happy when her family was together. While some parents look forward to relaxing summer vacations, she and Jim would load up the station wagon with their kids, a few of their friends and, along with one or two other families, head for Diamond Lake for a week of fun and bedlam. Those memories will never be forgotten. In 1969, she began her career as office manager of the Benton-Franklin Community Action Committee. She later joined Battelle-Northwest PNNL as an employment specialist and spent a number of years traveling to various Colleges and Universities around the country as a recruiter. Barbara was also Battelle's representative to the Northwest Placement Association, where she served one year as President. She retired from Battelle in 1989 as a financial specialist. While raising her children, the house was constantly filled with noise, laughter, and love. She always welcomed her kids' friends into her home and many considered her their second "mom". Barbara took great pride in her family and was extremely proud of the fact that all five of her children graduated from college and have successful careers. As a grandmother, she was devoted to her eleven grandchildren, taking great joy in spoiling each of them individually. After retirement, she enjoyed traveling with Jim or a group of her buddies – Leavenworth will never be the same! She was also active in the Meadow Springs Bridge Club. Anyone who was blessed to know Barbara knew that she spent most of her time helping others. She was fiercely devoted to her family and taught her children and grandchildren to be strong, self-reliant, and to strive for high goals. Her greatest gift was an unwavering love and devotion to each one of us who is left behind. Gone from our sight but never from our hearts, we are her husband of 57 years, Jim Doyle; daughter Kelleen Doyle of Richland; son James Laura Doyle of Renton; daughter Shawna Paul Boolen of Richland; daughter Darcy Doyle-Hupf of Seattle; son Timothy Mary Doyle of Richland; her sister JoAnn Earl Skow; and brothers Blaine Barron and Gene Barron. Grandchildren: Carri Slaugenhaupt; Shawn Doyle; Erin and Connor Boolen; Lindsey, Taylor, Vincent, and Jaybry, Breanna, Skye deceased Hupf; and Collin and Shayne Doyle. Barbara was preceded in death by her parents Albert and Vivian Barron. We would like to express our appreciation to the Seattle Cancer Care Alliance, the Tri-City Cancer Center and the wonderful staff at the Tri-City Hospice. In lieu of flowers, donations may be made to the Tri-City Cancer Center and the Tri-City Hospice.
A memorial service will be held at 3:00 PM Tuesday, April 29th at Cathedral of Joy, 1153 Gage Blvd., Richland, WA.
Shawna, My prayers are with you and your family in your time of sorrow.
Dear Doyle Family,
Barbara and I worked together in the 80's at Battelle. She was a real lady, a good mentor, a good friend and could always make me laugh. I will miss her and will keep the family in my prayers.
Dear Jim, Kelly, Jim, Shawna, Darcy, Tim, Paul, Laura, Mary et al.
Please know my loving thoughts are with you all at this time. Barbara was so strong and courageous in fighting her long battle with cancer. I admired and had so much respect for her, especially her brave and positive spirit. I will miss her–she was just a wonderful woman and had the greatest sense of humor.
Love,
Margo
My deepest sympathy to Barbara's family. I was very sad to see this obituary.
I worked for Barbara at PNNL from 1982 to 1986 and just wanted to let her family know that she had such an effect on me that she pretty much totally changed my life. She knew me as Pat Costello or DiBenedetto back then.
Barbara was sort of a mentor and a roll model for me. I learned so much from her about strength, integrity, friendship, and independence. Heck, the first car I ever owned on my own was due to Barbara who sold me her mother's old car after her mom died because she said I should have a car of my own and not depend on my husband for transportation. She was right as usual and that was my first taste of independence as a woman, and I sailed from there!
I will never forget the "big booth" meetings Barbara would instigate, which were get togethers at Dennys with Barb, Marilyn, Gayle, Sherri, Diana and other gals that all worked together. Fond memories for sure.
For me, I have thought of Barbara often in the years since I'd met her, and I've always credited her with giving me the strength to do the things I needed to do that ultimately helped me to be self sufficient and successful. I still think and speak of her from time to time and will always remember her fondly. Thank you.
Pat Higginson Edmonton, AB
To Barbaras's family,
All my condolences to each of you. I know how much she loves her family, she seemed to have so much pride, especially for those beautiful grandchildren! I know she will be greatly missed by all, she was a terrific "second mom" to my brother Paul. What a great blessing to have such a strong, loving mother.
Susan Boolen Foster
Thank you for the wonderful obituary and for the beautiful picture of Aunt Barbara. It helps me to grieve her passing; it's been impossible to imagine her really gone. I'll never forget her laugh, so big! Also,her look, which made me feel loved and also like I better watch my p's and q's..that she was in charge. What an amazing combination! She was an important person in my life as a child, and I felt her presence as I grew up, although I saw her rarely. I hope I fill such a space in my family's heart. A favorite memory, which is documented over several photos, is her blowing and snuffling on Samuel's belly, when he was a crabby little baby. It was her first meeting with him, he was crying as he so often was, and I was disappointed that Aunt Barbara wasn't getting to see how special, how beautiful he was. But she got down beside himhe was on a blanket on his backand snuffled, blew and nibbled his belly, all with a lot of noise. His face lit up, delighted and maybe even a little scared. She was on my mom's carpet, hands and knees and relentless in her growly loving. If I remember right, I think this was his first laugh. My heart is with you all, I wish you all peace. How blessed we were to know her.
Doyle Family
I'll always have a special place in my heart for Barb. The days at Diamond Lake will never be forgotten, I liked that Barb was tough on me, but always more than fair. As a matter of fact, I love salads to this day because of Barb, she told me if I didn't eat them I would get rickets.
My condolences to the entire family.
Dear Jim and Children,
Barbara was one of my favorite cousins – 15 years older I loved to go into her room while visiting Aunt Viv – she let me play with her special dolls and watch her do "teenage girl things". I was the flower girl at her wedding – only four at the time, but remember how special it was wearing a beautiful pink dress made by her mom. Remember babysitting at the house on Cullum – having a great time watching her put on makeup and helping with her hair as she got ready. I look back and can see that she was so involved with life, not only her husband and children benefited from her wonderful energy, friends and the community did as well.
Am sad to say that there were many things I didn't know about my cousin and the later years until reading the obituary, but what a wonderful tribute. She has a special place in my heart and I will smile as I remember her sense of humor, good nature and wonderful smile.
With fondness and love,
Susan Bayley Ledingham
To The Doyle Family,
We would like to express our condolences in regard to Barbara. We have known the family for several years. Paul always had good things to say about Barb. We spent some fun times together watching our Grandson Connor play baseball. And, of course being a part of many of the birthday parties for both Connor and Erin, the beautiful granddaughter we all so enjoy.
There are never words to express such a loss. So just take our lack of such as to mean you all have our prayers and concern.
Richard & La Verne Boolen
Dear Doyle family,
My condolences go out to each and every one of you. My memories of Barbara go back to the early to mid 1970's where she and her wonderful family resided in the old south part of Richland. I recall coming by each school morning to walk the 5 miles to Carmichael with Shawna and I was very impressed how Barbara looked day in and day out. She was always dressed to the nines, hair all done up pretty, and make up applied just right. She too was getting ready for her work day after getting the five children ready for each of their school days and activities. She had it all, a loving husband, five successful children, a rewarding career, an all American homes and of course later in life, her pride and joy, all of her grand children. She was proud of all of you.
I still wonder though, how she remembered how many buzzes were needed for each family member when they were wanted in the kitchen back on Cullum Street. Judi Ell Dahl
To the Doyle family.
My heart goes out to you for the loss of such a wonderful woman. I didn't know the family, but I knew Barb from Meadow Springs bridge. She
was a wonderful friend and I will miss her so much.
We emailed after she got sick and couldn't play bridge any more. Once in a while I would ask her how she was doing and she would write an email to me. For the most part her expression was "keep the jokes coming" and I did.
The last time I heard from "her" it was her daughter writing it as she wasn't able to come to the computer.
I knew then it wouldn't be long.
She has been and will continue to be in my prayers.
Peggy Jewett
Dear Jim, Jim Jr., Kelly, Shawna, Darcy and Tim,
My thoughts have been with all of you since I heard the news. Lots of memories came flooding back. Your first house in Richland, Diamond Lake, Diane and I staying at your house, a lot!, fishing with Jim Jr. and many more.
Barbara had such an awesome spirit and I'm so happy that I was able to see her in 2005 at my dad's service. It had been many years since and she hadn't changed a bit. We talked quite a lot that day. It was so good to see her. I knew through the family that she had been sick for awhile, but you wouldn't know it. I'll remember her just like that. I'm sure her battle was nothing less than courageous. I know she was always one of my mom's favorites. Her sense of humor, her laugh and fierce zest for life will always make me smile when I think of her. Take care all of you and know that my family's thoughts are with you all.
Love,
David
Kelly,
Our thoughts and prayers are with you and your family. I only met your mother a couple of times and always thought, "what a beautiful lady". I think that all those stars we see up in the sky are our loved ones. So just look up in the sky and she will always be looking over you.
Love,
Niki & Joel Solis