FIND AN OBITUARY
Service information is posted on our website only with approval from the family.
If you are seeking information not listed below, please contact us.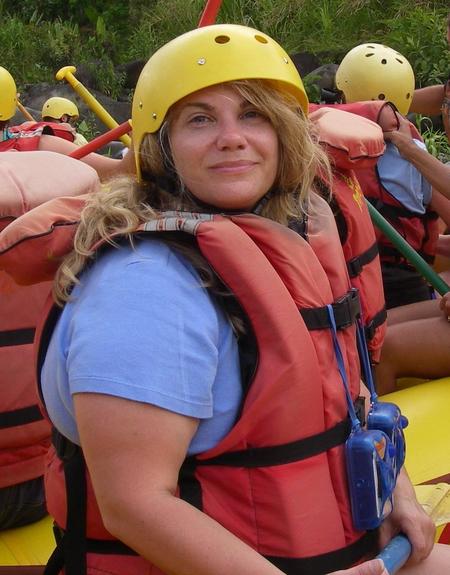 Jackie Kay Lepinski
11/04/1969 — 04/28/2008
From Richland, WA, US | Born in Richland, Washington
Jackie Kay Lepinski
When someone we love passes away, we ache, but we go on. Our dear departed would want us to heal, after they are gone. Grief is a normal way to mend. The anguish and pain in our hearts; we need time to remember and time to mourn, before the recovery starts. Let's draw together to recuperate, as we go through this period of sorrow; let's help each other, with tender care to find a brighter tomorrow.
Jackie Kay Lepinski went to be with her Lord on Monday, April 28, at Kadlec Medical Center in Richland, Washington. She was surrounded by her loving family and friends.
She was born in Richland WA on November 4, 1969, to Chester and Sandy Lepinski.
Jackie worked for Lockheed Martin for twenty years. She started in 1987 as a high school student and ended up in the Human Resource Department as a HR Specialist.
Jackie enjoyed many things in life. She grew up doing competitive roller skating until she was 12. She became very involved in the Tri-City Americans hockey team. She even went on a long road trip to Canada one time to support the team. Her latest enjoyment was cruising. She had been to Alaska, Hawaii, Caribbean, Panama Canal, and Mexico. Her next adventure was to go to Fiji. While cruising she had a chance to swim with the dolphins and go white water rafting.
She is survived by her parents Chester and Sandra Richland, brother Brian Richland, and sister Brenda Everett. She is also survived by her many friends.
The family would like to extend our gratitude to the dedicated and caring professionals in the Intensive Care Unit at Kadlec Medical Center. These were the most incredible set of nurses. Each one of her nurses took very special care of her Keith, Randy, Lisa, Kara, Gene, and Joy. Thank you for making her last days as peaceful as could be.
There will be a celebration of her life from 3:00-5:00 PM Friday, May 2nd, at Central United Protestant Church, Richland.
The family has requested that instead of sending flowers please make a donation to the American Lung Association or the Kadlec Medical Foundation for further research on Acute Interstitial Pneumonia.
Tomorrow will be one year. I still miss you like it was yesterday. Here is a saying that my friend just gave to me to help me through tomorrow.
When someone you love becomes a memory,
the memory becomes a treasure
Love you lots sis.
Paul & I want to let you know that we pray that God will give you peace in your hearts, knowing that Jackie is with the Lord and very happy. Her memories will be with you all till you meet her again.
Love Paul & Helen
Brenda ~Although I never got to meet your sister I can tell she was amazing. I am sure the pain is so hard, I can only imagine what it would feel to loose one of my sisters. I can tell from all the loving words how much she will be missed and how much she blessed your lives. My prayers are with your family and friends during this difficult time.
In Him,
Julie
Although I never got to meet you I love your sister Brenda and the stories she shared of the fun you both had in MEX. I can tell from all the loving words how much you will be missed and how much you blessed others with your life. My prayers are with your family and friends during this difficult time.
In Him,
Julie
Bren~
I know how much you loved and adored Jakcie. You will always be a great sister. You and your family are in my prayers daily. I can't wait to give you a big huge hug. Jackie was a neat gal. I really enjoyed stamping with her and having her at my baby shower. She was a fun girl!! Love you lots!
To my beautiful baby daughter. I loved our trips to Seattle to visit your sister and go shopping. Boy could we shop and your sister hated it.
The cruises that we took and shared those wonderful fantastic rooms will always stay with me. You got me interested in cruising and loving life. I think my most favorite cruise with you was the Hawaii cruise. I loved to watch you when you were learning the Hawaiian dances and your dad wearing the coconut bra.
I will never forget your fantastic pancakes that you made every Sunday morning for the family.
I will be waiting to see you again in Heaven. You are missed so very much.
Love Mommy.
Mr. and Mrs. Lepinski, Brenda and Brian
I can not even imagine the horrible pain you are suffering. Jackie was a wonderful friend to my mom for many years. Unfortunately I never had the opportunity to spend a lot of time with her, but I am happy that I at least had the chance to meet her and all of you. It is very obvious that she touched many lives and will be greatly missed. On behalf of my family I send my deepest condolences and want you to know our prayers are with you during this difficult time. May God comfort you all.
Tim, Michelle, Kyle, Connor and Cameron O'Byrne
Jackie was also so helpful and cheerful no matter how large/small the problem or request.
Our family wishes you peace and strength. Brenda loved to share about her trips with Jackie. Our condolences – Jennifer, Jennifer Jr. & Taylor Benson
My little girl. What will I do now that you aren't here? We had so much fun moving you to your new place after spending so many years living with us. Your face was like the morning sunrise after you got everything in its place. To bad that I had the clock off center by one inch other than that we did it up well. To live there only one week and then the next week sick was not even fair.
Thanks for the many cruises we had with each other. They were the best time for me and your mother. Seams like you and her always got the best room. The last one will never be lost as you were on the ship's CD three times. Love you line dancing and the rum drinking by the swimming pool. Then there were the trips to the Oregon coast with the motor home. Why did you always get the whole back bedroom and we had to sleep on the couch in front. The last two years you took us to a nice motel where we walked the beach and did things like blowing glass balls along with the glass plates. WOW we were some artist.
Yes you were the baby of the family but you had the love for other people in your heart from day one. You took pride in everything you did and wanted it to be the best. You did that and then some. You were there to help you mother and me anytime we needed it. Birthdays and all the holidays you never forgot us.
Now we know that you are an angel of God. I hope he sends you back here to watch over people that need it. Yes I will be looking forward to seeing you in Heaven. Yes Coco had her pups last Friday and we are keeping one. Her name is Sissy after you
Your loving Dad
To my Uncle Chet and family,
The loss of a child is difficult to anyone, but, when it's YOUR child it has to be the ULTIMATE pain that forever stays in your heart. My words cannot describe my sadness that I feel for you all. I'm ashamed that I lost contact with my cousins. Know that my heart is with you all.
My beautiful baby sister. I will miss you and our extra long phone calls every night. At least we got to go to Mexico together and I watched as you danced on the table. Should never have introduced you to those mudslides. I will never forget you and love you forever. Sissy
Natures first green is gold,
Her hardest hue to hold.
Her early leafs a flower;
But only so an hour.
Then leaf subsides to leaf
So Eden sank to grief,
So dawn goes down to day,
Nothing gold can stay.
– Jackie was gold. She will be forever missed, And never forgotten.
Chet, Sandy and Family: I am so sorry for your loss.
Teresa Hall
Jackie was great for patience, thoughtfulness, and sharing. In the short time I knew her she gave me information that I will always treasure. I will use it and pass it on to others. Even in her sometimes stressful position as a human resources representative her patience and compassion showed. I am so sorry for your loss and very thankful that I got to know Jackie. She was one of LMIT's greatest "human resources."
You will be missed. The Lord has an Angel by his side. Our prayers to the family we are with you.
Cousin Sandy, Chet, and family–I cannot say how sorry I am for your loss. My thoughts and prayers are with you all at this most difficult time.
My condolences go out to all of you. I was blessed to not only have Jackie as a co-worker sitting right around the corner from me for the last 5 years, but I was honored to have her as my "date" to our Christmas party. Boy she didn't want to go without a date and I told her it would be fun to have a girl's night. She bought two dresses because she couldn't decide what to wear and she looked so beautiful that night. We danced and smiled all night and she was truly the belle of the ball. In January I was in Vegas and who should I run into but Jackie with her huge smile. You could see her smile from miles away. I will never forget Jackie and I blessed for having her in my life and I will dance again with her in heaven one day.
Dear Mr. & Mrs. Lepinski, Brenda, and Brian,
Your daughter, and sister, Jackie was a lovely young woman with a radiant smile and a sweet manner. Jackie will be greatly missed by all who were fortunate to have known her.
With heartfelt sympathy.
Michele Boston
Sorry for your loss, my thoughts and prayers are with you and family.
We only met in person once but I will always remember the many phone calls your sister took while we rambled through our daily commute. Your sister Brenda and I have a lot of fun on the road, your phone calls that prompted laughter will be missed. From what I have heard and will continue to learn, you are an amazing, caring person. Although life here on earth has ended, your spirit will continue to live on, and when the afterlife reunion starts – Oiye! Until then, be at peace kind spirit.
I was shocked to hear about Jackie this past week. I had the pleasure of working with Jackie at Boeing. She was great! We just never know when God will call us to our "new home". My prayers go out to her family. I have no doubt that she is watching over us all with that big beautiful smile.
Chet, Sandy, Brenda and Brian: Jackie was the best friend a person could ask for. She was always there for me. We had some great times together. I'll never forget watching the scary movie with her at my house, then she had to go home. Neither one of us wanted to open the door for her to go out. We laughed a lot together and shared some tears together. I always called her "My Little Angel" as it seemed she always knew when to call me or come by. I know God needed another angel and he got the best with Jackie. Remember to call me when you need something. I will always be here for all of you. Jackie will be missed and loved forever in my heart. Our beloved angel will always be with us. I love you all.
You will always have your wonderful daughter. She has simply changed her address.
Brenda,
I am so sorry for you and your families loss, She was a very special person. Again I am very Sorry…..Love You
To a Most Special Family and dear friends of the Skinners,
How do you explain that "God" doesn't do these things. These are things that can happen to anyone the key is to have faith that only God is the great Physician and that through faith and trust in Him can come the miracle of life. Do not blame but proclaim Him as your Saviour and understand that we are all here but for a time some longer than others. His plan for us is not totally known to us but as we trust in his plan for us we come to find relief that what ever it is our time on earth is not the end. We will all be together again in a much more beautiful and peaceful place. We do the best we can here and Jackie is a wonderful example of that. She is a sweet spirit who has done wonderful things for her family and friends and will continue to do so as the days go on and we remember her. I prayed that God's plan for her would be to stay here with us, being human I am a little selfish when it comes to having the good hearted, sweet spiritied people stay and continue to be a wonderful example to those don't believe……but He has other plans for us sometimes and we must trust that his plans are for the good of all….and again, as believers we will see in time what his plans are for us all. Knowing this all makes times such as these a little easier to handle. I am so happy that Jackie got to do so many of the things she did in the last few years, the crusises, zipping thru the rain forest, losing the weight and getting in shape she could out do most of us in the gym and spending wonderful time on special trips with family. I will miss her but know that she will be there to greet me when my time comes. God bless you all and keep you strong during this most difficult time.
Sis I miss you so much. I still hope that this is a bad dream that I will wake up from and your bright shinny smile will be there. Today Some of the rcu members raced there boats in your honor. There was even a pink boat there with your name on the canopy of the boat. Though you jumped the gun you ran the daylights out of the boat and almost lapped a boat. Thanks for being my sis. you will never be forgotten. Though I hope its a long time till we meet again. I know your on a new journey and that we will be together as brother and sis again.
Love your Brother
Chet, Sandy, Brian and Brenda:
We only had the pleasure of meeting Jackie one time – at a race at Two Rivers Park – but knowing your family the way I do, I have no doubt that she was a super wonderful person. I know that you all are missing Jackie and you always will. But you'll see her again…and she'll be waiting for you with all of the same love she's always had for you all.
All our best…
-Nellie & Dawn
Our thoughts and prayers are with you during this tough time. I can't imagine losing a child or a sibling…please know we are thinking of you all.
The Hutton Family
Pauline Roberts, Bill Hutton & Karla Short
we are sorry for you loss and have great sympathy for your family at these times.and the best of wishes to the family
Dear Chet, Sandy, Brian and Brenda
God has Jackie with him now and she is with both sets of her grandparents and 2 small angel cousins in heaven. God had a plan for her, yet it is so hard to bear the pain of losing your own child. My family had spent one Christmas in earlier days, and I had spent one summer with Jackie, Sandy and Chet during one summer vacation in their motorhome. Jackie had just been in Mesa, AZ., for a brief visit in Feb. helping her parents in their park Model in Good Life RV Resort. I saw the happiness and sparkle in her eyes, as we shared some quiet time together. Jackie was loved by so many and I am honored to be her Aunt, and as an Honorable Pallbearer. She will be missed always.
Phil and DorisLepinskiSaldana
Rice, MN 56367
We only met in person once but I will always remember the many phone calls your sister took while we rambled through our daily commute. Your sister Brenda and I have a lot of fun on the road, your phone calls that prompted laughter will be missed. From what I have heard and will continue to learn, you are an amazing, caring person. Although life here on earth has ended, your spirit will continue to live on, and when the afterlife reunion starts – Oiye! Until then, be at peace kind spirit.
So sorry for your loss. Jackie and I worked together at Boeing in the Federal Bldg, and later at Lockheed Martin on Stevens Dr. She was a sweet girl and we enjoyed many lunches together while she talked about her most recent cruise, her family, her puppies, and the fantastic Christmas displays in your front yard. She will be sorely missed.
Dear Sandy and Chet,
God sent you a precious gift in Jackie. He let you enjoy many years together with an abundance of wonderful memories. We don't know why God called her home so soon but He must have wanted this precious one, Jackie, with Him. May God give you strength as you go through this struggle. Hold dear all of those precious memories and know that she is waiting for you. Remember her warm rich smile and loving heart. God loves you and knows what you are feeling for He sent us Jesus who died for each of us. God bless you as He holds you in His hands.
Love Lynn and Karen
Chet and Sandi
I was so sorry to hear about Jackie's passing. I know that there is nothing a person can say to make things better for you at this time, but know that my thoughts and prayers are with you and your family.
My Deepest Sympathy
Paula Alvarez
I am so glad I got to meet the rest of the Lepinski family after working with Chet for 18 years and hearing about the adventures of Jackie, Brenda and Brian. Enjoy all the memories you have had with Jackie.
Sandy,Chet,Brenda ,Brian
Your Sad News e-mail was the most special Tribute to Jackie that we have ever seen.
We always knew your all a very special family.
Words cannot condole to your family how sorry and sad we are for your family.
We know that sweet jackie went to God and her wonderful smile and flashing eyes. Jackie is and was a class act in every way.
We will miss her so very much.
I will always think of Jackie in her quite way and wonderful sense of humor as being so much fun.When i look at Gods wonder of La Conner pictures of flowers i will always remeber our special day of seeing the tulips and Daffi .I think we bought out all their flowers that Fun day.
Your a very specia; family and dear friends .
We sending our prayers and Love to you all.
Were sorry we can't come for Jackies Memorial but will plan a day trip to visit your family in early June.
We made a donation in Jackies name to a special family that needed Medical help.
We love you
The Sayler Family
Lepinski Family,
My deepest sympathy for you all at this time. I've worked with Brenda for many years and met Jackie only once, but felt that I knew her well for as much as Brenda would talk about her. So fond and protective of her little sis, I really admire the closeness that Jackie and Brenda shared. Please know that my thoughts are with you.
For my Aunt, Uncle, Brian and Brenda,
I don't know what to say. Words are never enough. I do know that she is happy and in no pain, sitting and talking with her grandparents and meeting the person for whom she was named.
You are in our prayers.
Love
Richard, Katrina, Brandon, Max and Colten
You and your family are in our prays in this time of saddness.Hugs . Im here for you when you need me! Love Joan
Dear Lepinski Family;
My family shares in your loss, and we will pray for your strength as you continue your journey here. Before I signed this, I took the time to read all the messages people had left. Never knowing Jackie or the rest, I know she was loved, cared deeply, laughed loud,and wasmy favorite a dancer. Sisters are a wonderful gift, and it will hurt deeply when I have to feel it in my family. It sounds like the Lepinski's shared many great times together, and I bet you will continue to do so with a little extra sunshine from above.
God Bless you all,
To a special Family,
Our hearts are saddened by your tragic loss and, then again, lifted when we hear all of the stories you share about Jackie. She was special in her own way as all of our children are. Take care and know we are here for you all.
I feel privileged to have gotten to know your family these past few years. In this day of computers and electronic gizmos, so many families hardly know one another, but not your family! I've marveled to see how your family interacts, spends time together, and loves each other so greatly. Although I didn't know Jackie well, it was obvious that she was a sweet and loving person and daughter whose greatest joy was spending time with her family. I know she'll be missed in immeasurable ways, but how wonderful it is to know that even though you cannot see her now, she is still with you and that one day you'll hold her in your arms again. God bless you all,
Scott
Dear Chet, Sandy, Brian and Brenda, We remember Jackie as a young girl when we lived in Richland and how kind, generous and caring she was. Our fondest memories is when she and Brenda gave our kids there first kittens,and how great she was with our kids Steven and Gina always playing with them and making time for them. After reading many of the stories shared here we learned that she had grown to be an amazing woman. We want to express our sincere condolences and know that we will be praying for you and your family. We love you. Gene and Grace
There is never anything easy or correct to say when a tragedy like this happens. We can pray, cry, get angry, ask for answers to questions we may never understand, but mostly, pray for those closest to Jackie for comfort and closure. Watching the Lepinski family enjoy life together over the past 12 years, we know that the memories made will never die. Chet and Sandy raised three wonderful children, did what every parent should do and can be proud of every accomplishment they had, and in that fact, and with the help of GOD, will find closure and peace in days to come. That will be our prayer for your family…….
Mike and Joanne
Very kind and happy person. She will be missed very much!
Sandy and Chet
I was so sorry to hear of Jackie's passing – though it was long ago since I have seen any of your family – I remember her as a spunky, fun, lively and wonderful girl. She was always laughing and the girls loved her so much. Our sincere condolences on behalf of our family.
Chat, Sandy and Family,
We are never guaranteed tomorrow and must always live for today. We must never let a day pass without telling those close to us how much they are loved, and the love we give returns ten fold. It sounds like Jackie lived by those golden rules and loved her family and friends deeply and was never afraid to show it. She lived life with all the passion of a wise woman and with all the wonderment of a childs heart. Jackie will be missed dearly, but cherised with wonderful memories of a beautiful smile, lessons taught, and laughter shared. May we all live a beautiful life to make our loved ones proud as they awaite us at the finish line.
Chet, &Family Sorry to hear of your loss of your daughter and loved one.I will say many prayers for her and pray that she has everlasting peace with God at her side All the best to all Mark
Sissy,
Yesterday it was exactly 4 months since you died. I still wonder how you are doing, where you are, and if you are happy and ok. All of us try to take it one day at a time, but it is a constant struggle to understand why this had to happen to you. I would have given anything for it to be me instead of you.
Mom and Mickey are becoming my rocks and savior to try and understand all of this. I am not sure what I would do without either of them. Although it is still incredibly hard for both of them as well. Mickey gave mom and dad this beautiful stone angle. Brian tore out that horrible hedge and laid down some rock and put that angle there that way mom and dad can see it ever time they take out the dogs.
You never got to meet Sissy Puggle, but she is so beautiful just like you. That is why the family decided to keep her. Hey I was the birthing coach and got to pull off the icky stuff so that Sissy could take her first breath. Although they need to teach her better, because she chews up everything.
I also just keep wondering when you can come and visit me just to let me know you are ok and happy. I know that you were never really a pushy person, but could you please just explain to God that it is in your best interest to come and visit me.
I really miss our nightly talks. Now I have to make sure that I call mom and dad each night just to talk to someone. Mickey came over to Seattle a couple of weeks ago for a few days of classes. I took her to Buca de Beppo. Hey I even introduced her to Gorgonzola cheese. She loved it.
Well I better let you go for know, but I will write again soon.
Loves and Kisses
Bootie
A message from my sis to you all.
I see the countless CHRISTMAS TREES around the world below
with tiny lights like HEAVEN'S STARS reflecting on the snow.
The sight is so SPECTACULAR please wipe away that tear
for I am spending CHRISTMAS WITH JESUS CHRIST this year.
I hear the many CHRISTMAS SONGS that people hold so dear
but the SOUND OF MUSIC can't compare with the CHRISTMAS CHOIR up here.
I have no words to tell you of the JOY their voices bring
for it is beyond description to HEAR THE ANGELS SING.
I know HOW MUCH YOU MISS ME, I see the pain inside your heart
for I am spending CHRISTMAS WITH JESUS CHRIST this year.
I can't tell you of the SPLENDOR or the PEACE here in this place
Can you just imagine CHRISTMAS WITH OUR SAVIOR face to face
I'll ask him to LIFT YOUR SPIRIT as I tell him of your love
so then PRAY FOR ONE ANOTHER as you lift your eyes above.
Please let your HEARTS BE JOYFUL and let your SPIRIT SING
for I am spending CHRISTMAS IN HEAVEN and I'm walking WITH THE KING
You don't know me but I've heard alot about you from the R/C boating and Unlimiteds circut..I'm sorry for your loss..David G.
I worked at BCSR, "Pubs" Dept, with Jackie during the early 1990s, for only a short while, but Jackie was a doll–certainly memorable for her devotion to the Tri-Cities Americans. She was a great co-worker too. My condolences to you, her family. Sincerely…………judith
Brenda and family, How can words express the sadness I feel for your loss. Keep the memories alive and know she will always be your hearts. Blessings, Yona