FIND AN OBITUARY
Service information is posted on our website only with approval from the family.
If you are seeking information not listed below, please contact us.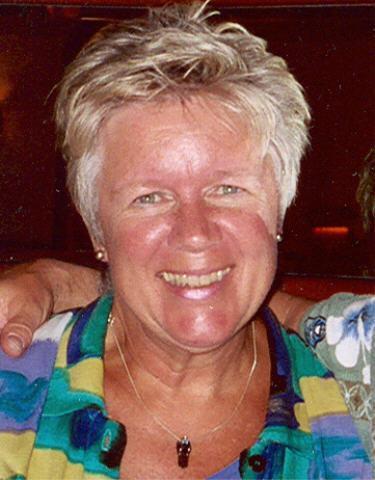 Joanne Lillian Caprio
01/19/1945 — 04/22/2008
From Richland, WA, US | Born in Vancouver, BC Canada
Joanne Lillian Caprio
After fighting her cancer by every means possible, Joanne Caprio, loving wife, mother, grandmother, daughter, sister, and aunt, passed away on April 22, 2008 in Richland, WA, at the age of 63, with her family by her side.
Joanne was born in 1945 in Vancouver, B.C Canada to Ronald and Violet Stewart. In her youth she loved doing crafts, playing grass hockey, snow skiing, and enjoyed singing in the church choir.
During a sixth month vacation in Europe with her girlfriends she met her future husband, Jerry. They were married on August 16, 1966 in Basel, Switzerland, and honeymooned throughout Europe. Upon returning to the United States they resided in New Jersey and Kwajalein, Marshall Islands, before moving to Richland in 1972.
Joanne took her role as mother and homemaker very seriously. Not only was she a fantastic mother, raising two wonderful and caring children, she also took care of everything that makes a house a home.
In 1976 she became a partner in CRC, a rental housing business, and took the role of managing numerous rental units. When the houses were not rented, she made sure the yards were kept in pristine condition, most of the time doing the work herself. She served as a board member of the Columbia Basin Apartment Association and was also a representative to the Washington Apartment Association.
Joanne became a United States Citizen in 1994 which she was very proud of and also retained her Canadian citizenship.
Joanne loved the outdoors, especially working in her garden. She took pride in her yard and loved the colors of spring, planting many bulbs and annuals that would blossom throughout spring, summer, and fall.
She is survived by her loving husband of 41 years, Jerry; her daughter Lisa Robinson and husband, Brian; son Glenn Caprio and wife, Christina; grandchildren Hailey and Gianna Caprio, and Kaitlyn and Tyler Robinson; mother Violet Stewart; sister Sheila Sinclair, and sister-in-law Mary May and husband, Stan; three nieces and a nephew, as well as many dear friends.
Joanne was preceded in death by her father, Ronald Walter Stewart, and in-laws Edith and Mario Caprio.
An outdoor memorial service will be held on Saturday, April 26, 2008 at 2:00 p.m. at Sunset Memorial Gardens Niche Wall, next to Einan's Funeral Home, on the Richland Bypass Highway. There will be a celebration of life held following the service at the Richland Red Lion Hanford House, downstairs in the Vernita Room, from 3:00 – 7:00 p.m. If you have stories or pictures to share, please bring them. Memorial contributions may be made to The Chaplaincy Tri-Cities Hospice House, 2108 W. Entiat, Kennewick, WA 99336.
Dear Jerry, Lisa, Glenn & family,
My heart is filled with saness and a loss beyond measure. Joanne and I met at an aerobics class. We became close friends during the four years we lived in Richland, enjoying mutual interests such as skiing, gardening, cooking, crafts, eating, and most of all, having fun. Over the years, we continued to stay in touch after we left the Richland area in 1984.
I am so thankful that she came into my life, and I will miss her terribly.
Love, Shirley
My friendship with Joanne goes back nearly fifty years. Even in the years when we were obnoxious teenagers Jo was always the sweet one. That never changed. I am so grateful that a few years ago we reconnected at our 40th high school reunion. She will forever be in my heart as a person that I truly admire. She had great courage.
Jerry, Lisa, Glenn and Christina, we are so sorry about your loss and pray that this time of reflection can be filled with so many fun and fantastic memories of Joanne. Knowing your love of the islands, we will set a special lei adrift in the Pacific this weekend in memory of Joanne. Your family is one of the reasons we live here in Hawaii afterall. We love you!
I never had the honor of meeting Joanne. I have had the honor of friendship with Christina. I imagine the wonderful family that Glenn, Christina, Hailey, & Gianna are is a testament to what a special woman Joanne was and will live on as in the hearts of her beautiful granddaughters. The entire Caprio Family is in my thoughts.
The LaViolette Family – Cheyene, Gary, Max, & Emma
Lisa, you and your family are in my thoughts and prayers.
Lisa & Family~~There are no words that can express how deeply saddened I am by the loss of Joanne…I grew to love her like my own mother through Lisa–her is a shining example of what Joanne was. Lisa shared so many things with us that we all felt like we knew her & Joanne personally. I know the loss is tremendous, please take heart in knowing that she is no longer suffering and is safe & happy in God's Garden looking down as one of his angels.
~Love always~Jennifer
Lisa & Family…We are so sorry for your loss. May you endure these days of loss and arrive at a place of peace and understanding. May the memories grow within you and bring you strength. May God bless and keep you during this difficult time. With Sympathy…
Jerry,
You and your family are very present in our thoughts and prayers during this difficult time. We know that there is some comfort in the many positive memories that you have of Joanne and knowing that she will always be looking out after you and your family. God Bless.
Jerry & family,
I was so sorry to hear that Joanne had died. I shall miss her very much. To me she was "The rhubarb lady". She shared her garden produce with me, reminding me of my own lovely garden left at home in England. Over tea, properly brewed in a teapot, we chatted about family, our travels & future holiday plans. Joanne was great company & a good friend. I wish I had known her longer. I shall be thinking of you all in the days, weeks & months to come.
Margaret
Jerry, Lisa & Glenn, and Mrs. Stewart – My deepest sympathy to you and your families. Thank you for sharing Joanne with me the years I lived in Richland. She was a true friend, and I loved her as a sister, even after leaving Richland. She truly supported me and provided me with guidance in so many ways as I learned how to become a single parent that had to work. I remember her coming to my house each day while Brent had the mumps and chickenpox so I could go to work! I'll always cherish our many conversations we had in her kitchen. I especially remember the one we had over coffee one day shortly after her sink became chipped. Years later, that was still referred to as the "domino effect" with any project we did since it seemed as though before long almost everything in her kitchen had been replaced, all due to replacing the chipped sink. I'm certain Jerry still remembers that very expensive cup of coffee, too!!
Joanne will be missed by everyone whose life she touched. May God give you continued strength to go through this very difficult loss. All my love to you.
Grandma Jo was a very sweet & kindhearted woman, who didn't deserve to suffer like she did. Before my dad and Lisa got married, she treated me like I was her granddaughter and had been my whole life.I'm glad she's not suffering anymore, but if I could bring her back healthy, I would.I wondered in her last weeks, "What did she do to deserve to be so ill?" I know she did nothing. She was one of the most wonderful people I had ever met. Even the first time we met, I knew she was going to be a very beautiful peron I'd always want to be around.I miss her and I loved her alot.
Dear Jerry, Lisa, Glenn & Mrs. Stewart:
Our heartfelt and deepest sympathies are with you at this time.
I will always remember Jo from our school days and most recently in Palm Desert and last December in Vancouver.
I will always be grateful to Barb for bringing us together again after so many years. It was as if it was meant to be.
Our blessings to all of you,
Sincerely,
Cheryl & Ted Turton
I'm very sorry for your loss Jerry, Glenn, Lisa, and family. Who would have thought that mom and Jo would have decided to take their journey together. I take comfort in that and I'm sure you do too. They were great women, and we will miss them both so dearly. Do you think they are having tea or playing cards?
All our love,
Brenda Comstock and the Schumacher family
Uncle Jerry, Lisa, Glenn and Christina,
I know there are no words that will ease your sorrow at this time but I thought that I would share my fondest memory of Aunt Jo with you. Although I was only 11 years old at the time and don't remember a lot about Expo '86 I do remember being at the United Nations Pavilion with my mom Sheila, Aunto Jo, Lisa, Glenn and Grandma and preparing a small speech to record about "What peace means to you". No doubt this was a very serious matter to those in the United Nations however we had great difficulty getting through our small speech without busting out laughing. To this day, I'm not sure what was so funny and took 15 takes to try and accomplish before being asked to leave but I can say with certainty that our 1 minute recording never made it to the big screen in the pavilion but it was definitely memorable.
I'm sorry that I won't be able to travel down for the service but will be thinking about you.
Much love,
Jennifer
Dear Jerry, Lisa, Glenn, Brian and Christina,
Over the past several days I have been searching for the perfect words to ease some of your heart felt pain and I realize that "perfect" in our world was taken on April 22nd, 2008. The perfect wife, mother, daughter, sister, grandmother, aunt and friend — no one will ever fill her shoes but I feel blessed that Tony and I were a part of Joanne's incredible life — a life she cherrished. She touched so many people and will be remembered always for her never ending words of wisdom and a smile that would lighten up an evening sky. Thank you all for sharing her with us. You are always in our thoughts and prayers.
Linda and Tony
Jerry, Lisa, Glen, & Vi,
I've been sitting here all morning trying to find the right words to say but words can't express how saddened we are by Joanne's passing. We are so grateful for the memories we share with you – all the trips, the meals, the card games, the fun, the laughter. Joanne was a special lady – always gracious – always welcoming. We were all very lucky to have her in our lives.
Love,
Eileen & Steve
Jerry, Lisa, Glen, & Vi,
I've been sitting here all morning trying to find the right words to say but words can't express how saddened we are by Joanne's passing. We are so grateful for the memories we share with you – the trips, the meals, the card games, the fun, the laughter. She was a special lady – always gracious – always welcoming. We were all lucky to have her in our lives.
Love,
Eileen & Steve
I believed Joanne had at least one scary memory about me. I had a driving permit in 1984 and while all of us were working on a rental house; Joanne had to go get something at her house. She asked me if I wanted to go with her so I asked her if I could practice driving. After taking off, she asked me to make a left turn and I did but I was on the wrong lane because I was not used to how to drive in the U.S. We, Thai people, drive just like people in England do. Anyway, I made a few wrong turns here and there all the way. Imagined what Joanne's face looked like. She was so scared and nervous. "What are you doing and where are you going? She asked and I said "I don't know". Thanks goodness we were safe. That was the last time she rode with me in a car.
We had several trips together inside and outside the U.S. I always had so much fun having Joanne and Jerry around on any trips!!! Two of the most memorable trips were at the Denali Park in Alaska, and in New Zealand and Australia. At the Denali Park, Joanne and I had so much wine in one night waiting for northern lights to appear. How pretty and exciting!! It was a great moment to see them with good friends. The trip in New Zealand and Australia was also very exciting and nerve breaking. At one place in Australia, we found out that the trip might have ended there because our travel agent did not pay the tour company we were with. Well! at a dinner on the top of a mountain, we ordered expensive food and drinks and had a blast for the last time. It was the last chance to enjoy the trip… so what, just have fun eating and drinking. But, we were lucky that the problem was solved on the following day.
I enjoyed visiting Joanne and Jerry last March at their condo in Kona, Hawai. I was so glad to see her again last Sunday, April 20th. Jerry woke her up and said "Tym's here" She opened her eyes and said "Hi Tym". I told her that I brought her some flowers, and she tried to open her eyes again and said "They are gorgeous". I believe that Joanne is in a good and happy place. I am happy to be part of her life as a friend and I do miss her.
TO KNOW JOANNE WAS TO LOVE HER.TO SAY SHE WILL BE MISSED IS A GROSS UNDERSTATEMENT! SHE WAS NOT ONLY A GREAT FRIEND BUT WE FELT LIKE SHE WAS PART OF OUR FAMILY.THE LORD TOOK HER MUCH TOO SOON.WE'LL TREASURE THE MEMORIES OF THE MANY GOOD TIMES WE HAD TOGETHER.
Jerry, Glen, Lisa, & Vi,
I have been sitting here all morning trying to find the right words to say but words can't express how saddened we are by Joanne's passing. We are so grateful for the memories we share with you – all the trips, the meals, the card games, the fun, the laughter. Joanne was a special lady – always gracious – always welcoming. We were all lucky to have her in our lives.
Love,
Eileen & Steve
When Joanne smiled, the whole room lit up … and that was so often!
From the night she met Jerry at the BIG APPLE in Mallorca throughout our European travels, we thought the "DAYS OF WINE & ROSES" would never end. Looking back at these and other wonderful times together in Newark, Vancouver, San Diego and Palm Springs will always bring back memories of Joanne's most special smile.
Our hearts are with Jerry, Lisa, Glenn, Vi, Sheila and their families now.
It was not long ago when Joanne, Joann West my sister and I met in Issaquah for lunch. Joanne was going this way sort of and stopped by to see her old friends. The last time she saw me, I had two babies on my lap. Those babies are now 40 and 38! But we picked up right where we left off and how we all laughed. We didn't want the lunch to end and stayed in touch through e-mails and continued to make each other laugh, even through the tough times. Joanne fought a valiant fight but it was time to go home. And may we all meet again some day, and have lunch! And laugh. You will always live on in our memories and by all those you touched. And to Joanne's family, thanks for sharing her with us.
Jerry, Lisa, Glenn & the whole family,
Now we can all say that Joanne is truly Cancer Free! She is freer than all of us of life's biggest and smallest problems. I will never forget how this whole family fought together so lovingly and valiantly against terrible odds. However, in the game of life, God always wins and he won the best prize of all! From a neighbor to a "please watch my girls" to Stretch & Sew to visits to Hackettstown to Quajaliene to NY city sightseeing, to visiting me after my brain surgery to our last get-together in Issaqua, WA, Joanne has left so many enduring memories. I loved her & all of you & miss her terribly.
Love,
Joann
Dear Jerry, Lisa, Glenn, Chirstina and Brian
I am so very sorry for your loss. Joanne was such a special friend. I will always cherish our times together, the trips to all the nurseries in town looking for just the right plants for our gardens. She loved gardening as much as I do. Joanne was always willing to go to lunch or explore the shops and wineries in the area with me. But what I remember most is that from the time she was diagnosed with cancer her outlook was always positive and full of hope. She never once felt sorry for herself. She lived her life fully.
Now that I've been diagnosed with caner myself I appriciate much more just how extraordinary Joanne was. She will be my source of strength and courage. I feel blessed to have had her in my life.
I met Jo through Mary Lou Schumacher. Jo had the gift of never knowing a stranger. Each time Jo and I happened upon one another she made me feel special; valuable.
I can't imagine the grief her loved ones are experiencing; but I know she left behind a blanket of love to wrap around and comfort them. That would be Jo's way. My sincere and deep condolences to her family.
Jerry, Lisa, and Glenn, I can barely find the words to express how sorry I am that we've lost Jo. She was the most incredible friend one could have, and I feel so blessed that she was such a special one to me for 50 years. I met Jo when we were 13, and we were inseparable throughout our high-school years, a time when many friendships were short-lived. She was such a lovely, good hearted person with a wonderful sense of fun, and anyone who met her was drawn in immediately. Jo was a woman who personified strength, grace and charm, and it's impossible not to feel that the world is a shade darker now that she's gone, but we need to look inside and find that the sunshine of her memory will always be in our hearts.
With love, and my deepest sympathy to you all,
Joanne Kennedy
Jerry, Lisa, Glenn and families,
Our condolences to all of you with the loss off Joanne. She was a remarkable person. I have known her since Tom had worked at Vitro Engineering. The Vitro Wives group was so much fun and we always did something each month. I will miss her sweet smile coming through my checkstand at Albertsons. She will be missed by all.
God Bless all of you.