FIND AN OBITUARY
Service information is posted on our website only with approval from the family.
If you are seeking information not listed below, please contact us.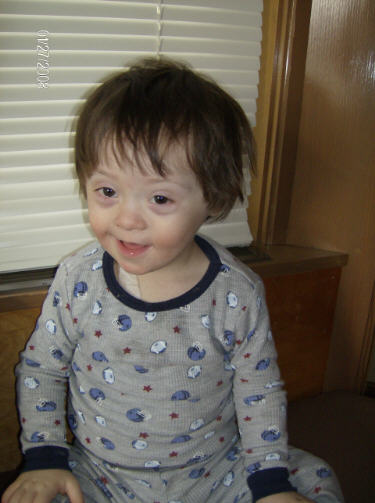 Jonathan Moses Feser
10/23/2005 — 04/03/2008
From Richland, WA, US | Born in Tacoma, Washington
Jonathan Moses Feser
Jonathan Moses Feser age 2 of Richland, WA died from pneumonia in his mommy and daddy's arms Thursday evening April 3rd. . Jonathan was currently at Seattle Children's Hospital after receiving a bone marrow transplant for Aplastic Anemia. Jonathan was born in Tacoma, WA on October 23, 2005. He was placed with his overjoyed parents for adoption at one day of age. Jonathan was a "surprise" gift from God and truly an extraordinary addition his family. He was a delight and a joy from his from his first day till his last day.
Jonathan was created more lovable because he was chromosomally enhanced Down Syndrome. He loved music and dancing, going bye-bye, and getting into his sibling's belongings. He loved when his mommy sang him Third Day songs, when his daddy would rough house with him, and when his big sister rocked him to sleep. Jonathan made everyone who met him smile. He was God's brave little soldier who fought a hard fight this past year against Aplastic Anemia. He was cared for by skilled and loving medical staff at Kadlec Hospital in Richland, the Oncology department at Sacred Heart Children's Hospital in Spokane; as well as the SCCA and PICU unit at Seattle Children's Hospital. Jonathan was loved and embraced by his church family "The Reach" of West Richland.
Jonathan is survived by his parents Mike and Julee Feser, and grandparents Clarence and Pat Feser, Bob and Judy Tibbatts, and Earl and Lucy Larsen. Twenty siblings were blessed to call him brother; adults Daliana, Lindsay, Cody, Tasha, Jake, Kayla, and siblings still at home Hope, Michael, Haimanot, Roza, Tigist, Yasab, Meseret, Miriam, Anna, Josiah, Berhanu, Maggie, MyHao and Solomon. Jonathan was brother-in-law to Holly, Rob and Sean; and uncle to Maryn, Skylar, Silas, Lauren, and Robert. He is preceded in death by big sister Gayge and nephew Aiden.
Einan's Funeral Home is in charge of arrangements. Visiting hours and viewing will be Monday April 7th from 5-8 PM, and Tuesday by appointment. A memorial service celebrating his life will be held at West Side Church, 615 Wright in Richland on Tuesday April 8th at 4:00 PM. A potluck meal for all friends and family will follow the service.
'' I prayed for this child, and the Lord has granted me what I asked of Him. So now I give him to the Lord. For his whole life he will be given over to the Lord'' 1 Samuel 1:27-28
Dear Julee and Mike,
I read about little Jonathan in the Walla Walla paper. I have never even met him, but he sounds like an extraordinary blessing. I am sure he was exactly in the right family too. Julee, I will never forget ten years ago when you told me that God was calling you to adopt and you wanted me to pray that Mike would feel the same call. That prayer was answered to the blessing of Jonathan and all the other children who call you mom and dad. May God comfort you in this huge loss knowing that Jonathan is in his heavenly Father's arms.
Love,
Sharon Gordon
Feser Family,
We will miss Jonathan. He was such a sweet little boy. Your family is in our thoughts and prayers.
The Busto family
We have been following this journey and are so saddened at your loss. However, we rejoice because Jonathan is in no pain and is dancing at the feet of Jesus!
Hugs and Prayers,
Jenn & Yan
Julee, You have all been in my prayers over the past months. I am so sorry about little Jonathan. However, he is feeling much better now, in the arms of his Savior! I will continue to pray for you and your family!
I'm so, so sorry for your loss. My prayers are with you and your family.
Denise
Dear Julee and Mike. I am so sorry for your loss of precious Jonathan…Please know you are lifted in prayer in my house daily. May you find the Lord's peace in the day's that lay ahead. We love you. Rita and Family
May God surround you and your family with His love and peace, during this time and always.
Dear Julee and Mike,
We love ALL of you and are so sorry for your loss. Jonathon made us smile in every picture and story you sent us. You are in our prayers and your faith is an inspiration to us always. May God wrap His loving arms around you and put His peace upon you through the coming days. With love, Kim Jackson and family
Jullee, I am so sorry for your loss. I have been praying for you, along with the other admomys.
He is so beautiful and your words about him are perfect. He is touching lives for good even in his death. Jonathan lives on with the Father and also in our hearts. God bless you at this time with peace and comfort.
Love,
Dolores
Dear Julee and family,
I am so sorry for your loss. I know he was such a blessing to your family. I pray that you continue to have God's peace during this time.
What a precious little guy you are to all. Our hearts will miss you here but you will be sought out when we all get to that wonderful home with Our Father. Love you the Jones family in Indisna
What words can I say? Jonnie- you are home, free, and whole. Jonnie's family- my heart braeks with you. I have long help this sweet boy up, and I am so sorry he is gone for now. Would you, one day, when we get to heaven, introduce us? Love & prayers- Anita
Mike & Julee,
Our deepest sympathy in the loss of little Jonathan. We weep with you in this time of weeping, but know that God's ways are perfect. Praise the Lord that little Jonathan is now with Him and free of the suffering of this world.
Julee, Mike and family,
These past few weeks of Jonathan's journey have literally brought me on my knees before the Lord. Jonathan was a very special little one. I loved his huge smile on his Christmas card.
I know our God will wrap your family in His love and carry you through.
Bethel
Praying for your family as you say good-bye to your precious Jonathan. May God bring peace to your hearts knowing Jonathan is in his arms.
Barbara…also a TSC family
So sorry to hear of your loss, may the Lord give you and your family strength
We have followed your story prayerfully from afar. Our Love, Hugs, and Prayers we send to you all.
What a beautiful boy, with a beautiful family. May the Lord hold you close … He is most certainly holding Jonathon and enjoying his delightful smile.
Blessings,
Berny, Sherri
Grace, Ellen, Meron, Anna, Edilam, Miriam, Lideta, Isaac, and Bereket Slomp
Our Deepest sympathies to your family. There can't be anything harder than losing a child. Till you meet again…..
Your family is in our thoughts and prayers.
With love,
Rich and Karyn Hinz and family
How precious, how heart wrenching….oh the joyous laughing and playing between him and Jesus this very moment. My prayers are with your entire family.
To the loving family of Jonathan…
My friend who is on the adoption site shared Jonathan's loving obituary with me. I worked with special needs adults for 25 years so it touched me deeply!
My wonderful niece who had retardation passed away in 2006 and her father played a song at her services that is also appropriate for Jonathan and his family.
Please listen to "You're Still You" sung by Josh Groban. It will give your love, "words" and will give your heart, "light"! It gives me so much peace, too, in the moments I can't bare thinking that Michelle is no longer with us!
God truly bless you with Jonathan's presence and blessed Jonathan with a family who truly loved and accepted him. What more can we ask for?
God bless you and your beautiful family!
Marlene
I am so sorry for your loss. Your family will be in my thoughts and prayers. I wish you all peace as you fondly celebrate the time you had on this earth with Jonathan. God bless all of you.
My prayers are with your family during this time of loss. I'm sorry your precious Jonathan couldn't stay with you any longer. I know the pain of saying goodbye to a child before you are ready. Jonathan is in the arms of our Savior. He's finally HOME!
TSC family
I'm so sorry. I follow you on Reeces Rainbow and I have 2 year old identical twin boys both with Down Syndrome so I can imagine your loss with sweet Jonathan. May God comfort you in this time of grief and I'll pray that little Jonathan will sit upon Jesus' lap and look down on mom and dad and shine his love from above. God Bless you.
Stacy
I have followed your special story of your beloved Jonathan's life and struggles
through my daughter, Sharyl with my granddaughters from China. As an RN I have struggled to see sweet little ones suffer so badly but as a Christian I believe God has had a very, very wonderful plan for his child, Jonathan. I have to believe that he couldn't spare to have him gone from him any longer. What a very wonderful blessing you got to share!
My prayers are with your family!
Betty Bennett
Thank you for being Jonathan's precious, loving, caring family during his short stay on Earth. God's rewards are very great. Thank you Lord Jesus Christ for blessing the Fesers with peace, strength and joy in You.
Dear Julee, Mike and family,
I'm very sorry to hear of the loss of your little sweet boy. I'm thankful for your his earthly family to love him into the arms of Jesus.
Blessings,
TSC Family,
Nancy and Tim Yates and family
Dear Mike, Julee and Family,
What an honor to have met and become acquainted with Jonathan through your online letters. Thank you, Julee. You've hugely ministered to me through your journals. How blessed you all have been to have had each other for Jonathan's short stay here. What a precious, sweet boy. What a precious, sweet family. We love you and are holding you all up in prayer.
Mike & Julee, My heart goes out to you and your family. I hope that knowing Jonathan is resting in the arms of Jesus gives you peace and comfort in this sad time.
God Bless,
Karen
Dear Feser Family,
Our prayers will cover your dear family over the next coming days. May you feel the 'Comforter'. Jonathan has joined our son Nolan James Newton 16 monthsas they rest 'safe in the arms of Jesus'.
Love in Christ,
The Newton Family
Dear Friends. I am so sad to read about Jonathan and the joy he brought each of you. We too have 20 children and to miss one is huge and can only be walked through with Jesus. I am so thankful that you know Him. I will be praying for you and your family as you go through the next days and months…In Him, margaret scott
Julee,
How blessed Jonathan was to have such a sweet and devoted Mommy and family for every day of his little life.
Marian, an AAI mom
Dear Mike and Julee,
We are so sorry to hear about the loss in your family. Our thoughts and prayers are with all of you.
Sending our love to you all,
Scott, Hilda and kids
May God richly bless your hearts with His peace and comfort at this tremendous loss. We feel sad that you lost this bright light in your lives. We also have a Shepherd's Crook adopted child and have prayed for you and cared for you since we heard of your needs. It is a precious thing to know that God has welcomed him and that He is at HOME with His FOREVER FATHER!! With our prayers for comfort,
Joyce and Eddie
Dear Julee, Mike and Family:
Jonathan truly was a blessing from God, he brought us all together again and I will forever be thankful for the all too few and too short of days that we were able to spend together. This I will thank God for and this I will forever hold Jonathan in my heart as a very special messenger from God. I will never forget having the privilege of seeing his smile and hearing his music.
Jonathan was such a gift. I am thankful to God that I got to meet him and love him as a friend. I remember seeing him last Christmas expecting him to be sick but he was full of life and energy just as if he was completely healthy. I look forward to seeing him again in heaven. I am praying for Jesus' comfort to flow into everyone's life that is mourning Jonathan's departure. Jesus weeps with you and Jesus hopes with you.
We are another TSC family. Our hearts are saddened by your son's death, but we are rejoicing with you in knowing he is now with the Savior. God bless you all in this loss.
Sincerely,
The Jack Family
Dear Shepherd's Crook friends:
We know our Heavenly Father is rejoicing as He enjoys your son with his new and perfect body. May you all feel the warmth of Your Heavenly Father's embrace, and feel the comfort of His love in your time of sorrow. God bless. . .
With tears and prayers,
The Duecks
Julee, Mike & Family,
Saw your interview, about Jonathan, on the local t.v. station. Sorry to learn of your loss of Jonathan!
Julee, GOD has given you & Mike a special charge in this world and you have done good!
May GOD continue to bless you & the Family!
Mike and Julie, What a darling little boy Jonathan was! I loved the picture of him. We are so sorry for your loss and know you look forward to having him perfect and well in heaven one day. Our thoughts and prayers are with you, Ruth and Len
Dear Julee, Mike and family,
We have watched your family grow in love and numbers, your encouragement helped us travel to China to bring home our lovely girls, we are now praying for you all as you journey through this together. May God continue to cradle your family in His unsurpassing love and comfort.
In His Love
The Black Family
GOD SAID
"For a little while I'll lend you a child of mine for you to cherish while he lives, and mourn for when he is dead. Look after him for me! It may be six or seven years before I will call him home.
Will you care for him?
He'll bring you love, joy and happiness and should his stay be brief, you'll have a whole host of memories as solace from your grief."
I cannot promise he will stay, since all from the earth returns to dust, but there are lessons taught below that I want this child to learn.
Will you love him?
I've looked the whole world over in my search for teachers true, and from the masses that crowd life's lane at last I've chosen you.
Now will you give him all your love and not think your labor in vain and turn against me when I come to take him back home again.
I fancied that I heard you say to me:
"Dear Lord your will be done, for all the joy your child shall bring the risk of grief we'll run. We'll shelter him with tenderness. We'll love him while we may, and the happiness we've known forever grateful stay. But should the angels call him much sooner than planned, we'll brave the bitter grief that comes and try to understand."
"I'll lend you for a little while a child of mine, God said, for you to cherish while he lives, and mourn for when he's dead."
Blessing to you and your extended family during your loss of your little one.. My prayers are with you..
Great Empathy as a mother of 5 and grandmother of 6.. Julieanne
The Hehn family is with you now as we remember the joy and beautiful smiles of Jonathan. He was truly a blessing and will be missed by all.
Love,
Julie, Rich and all the rest of the Hehns
Julee and Mike, As you were blessed to be Jonathan's parents, he was blessed to be your son on earth. In your arms his short life brought joy and sweetness to countless people. He and you fought his illness so hard it is so hard to imagine he is gone from us. Thank you for sharing his life with so many.
It saddens me that he was taken so young, but I know he is with his Heavenly Father once more. We mourn his loss but celebrate his life.
God's peace to you, and all your family members. Jonathan and you will remain in our prayers.
Always, Gayle Kohler and family
Dear Mike, Julee and family:
We are so sorry to hear of the loss of your precious little boy Jonathan and grieve for you the void that his absence will create. Yet we see the incredible gift in your being allowed by God's hand to share in the joy of his life for these past two years and in how you have wholeheartedly embraced the path that HE has set before you to influence so many precious children for His glory! All through the day as I have prayed for you, the words that always come to my heart in ending have been ones that were sang regularly in the small church I attended as a youth–The Doxology: "Praise God, from whom all blessings flow; Praise Him, all creatures here below; Praise Him above, ye heav'nly host; Praise Father, Son, and Holy Ghost. Amen." Please know that you are in our thoughts and prayers. Teresa and Daniel Ojcius and family
What a blessing it was to have met Jonathan at the airport on your way to Seattle. It has been a privilege to share in his life through your beautiful journals and through prayer. Your family is in our prayers.
What an extraordinary child! Now he is in Heaven in peace and singing praises! May God comfort your family.
Our prayers are with Julee, Mike and family. May the peace of the Lord continue to guide you through, until you are all reunited in Heaven. May each moment of sadness be met with twice as much joy.
Psalm 30:5
Weeping may last for the night,
But a shout of joy comes in the morning.
Your sister in Christ and in adoption,
Lee, mom of 11
Julie and family, I pray for your comfort in our Father's loving arms as you remember Jonathan's sweet life with fondness.
AAI Adoptive Parent, Suzanne Vedder
Many many blessings to you, the Feser family. We know how much he meant to all of you. May God bless you and grant you peace as Jonathon begins his new journey!
The Senter Family
Dear Julee, Mike, and family
All of Sacred Heart Peds Oncology staffe send you prayers to comfort you during your time of sadness.
Jonathan was a very special boy who touched many lives and hearts. He was loved by all the nurses and staff at Sacred Heart Peds Oncology.
Our love goes out to you all,
April Bell, RN
Dear Julee
I remember spending sometime with you and some of your children when you came by to Adoption Ministry to get the paperworks for Jonathan. I still remember being with the children and saw how well-behaved they were. We were at the attorney's office and also, at the hospital where Jonathan was delivered.
I thank God for placing Jonathan in such a wonderful family as yours. You made his life there on earth such a blessed one. Many hugs, Trix
Julee and Mike,
I wanted to offer my condolences to you with the loss of Jonathan's homegoing. Mercy Me's song "I Can Only Imagine" is a powerful on that always speaks to me also. May you continue to feel blessed by God through songs like that to help you during your time of loss.
I am from the ChristianAdopt list in case you could not figure it out. I know the group is praying for you and here for you during this time.
God bless,
Kelly
I had followed Jonnie's story a while back on CarePages and thorugh a friend at Christian Adopt. Mike and Julee, my heart just goes out to you. May the Maker of our hearts heal yours, and He who asked that the children come unto Him hold yours closely. I cry with you. Love & God bless- Anita
Julee & Mike & family, God knew what He was doing entrusting Jonathan to your care. You are AMAZING people!! I know God has a special place in His heart for all of you. I'm in awe of your love and how you give so generously of yourselves, a true testimony to agape love giving without expecting anything in return. Our troubled world is blessed by people like you! I know God's comfort and encouragement will be there for you all as you miss not having Jonathan with you.
Dear Julee & Mike and family,
We want you to know that your West Side Church family who are in Israel right now has been praying for you at the loss of Jonathan. Our hearts go out to you. We pray that you are comforted that Jonathan is in the arms of Jesus.
Dear Feser family,
I am so sorry to hear of the loss of dear sweet Jonathan. I work with Maggie at Jason Lee and had the wonderful privledge to meet Jonathan once. What a sweet, precious little boy. I know he blessed your whole family more than any words can begin to describe. Our hearts are aching for all of you and your loss. Know that we love you all and will be praying for healing of your broken hearts.
I hope your memories of Jonathan will bless you forever.
With love,
Kendra Koopman and the Jason Lee Lifeskills staff.
Our thoughts and prayers are with you.
My heart is breaking for you. May the love God has for you in Christ give you strength and comfort as you say a temporary goodbye to your little boy. Praise the Lord for Eternal Life!