FIND AN OBITUARY
Service information is posted on our website only with approval from the family.
If you are seeking information not listed below, please contact us.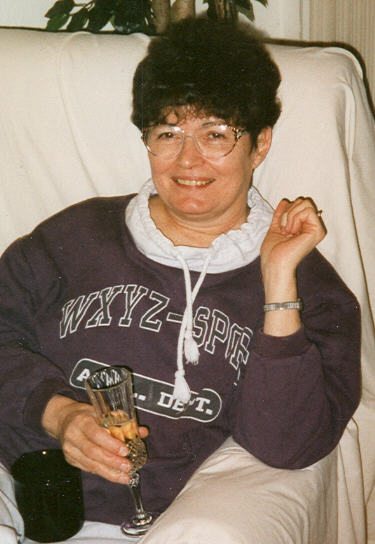 Mary Louise Schumacher
08/02/1940 — 04/22/2008
From West, Richland, WA, US | Born in Toppenish, Washington
Mary Louise Schumacher
Mary Lou Schumacher, 67, of West Richland, passed away April 22, 2008 at her home. She was born in Toppenish, Washington on August 2, 1940 to William and Alma Beaudry. She graduated from Prosser High School in 1958. After attending college, she moved to the Tri-Cities where she met the love of her life, Blaise Schumacher. They married in October of 1968. After three years of marriage, Mary Lou quit working to start their family. Being a wife, mother and grandmother was Mary Lou's greatest joy. She showered her family with an unconditional and unselfish love. Mary Lou's family was her life. Her generous spirit will be missed by all who knew her. Mary Lou is survived by her husband Blaise; her children Michael Schumacher of Richland and Brenda Comstock Clint of West Richland; grandchildren Morgen and Jacob Schumacher, Zackary Reed, Chase and Baylee Comstock; siblings Darlene Meara, Dolores Suhadolnik, Margaret Hopperstad and Larry Beaudry; and numerous nieces and nephews.
Recitation of the Holy Rosary will be held at Christ the King Catholic Church in Richland on Saturday, April 26th at 7:00 p.m. Funeral services will be held at Christ the King Church on Monday, April 28th at 11:00 a.m.
In lieu of flowers, the family requests donations to be made to the American Heart Association or Hospice.
If a hug represented how much we love you, we would hold you in our arms forever. You may have left our world, but you will never leave our hearts.
Dear brother Blaise, Mike, Brenda and children: When your heart is empty, filling it with happy memories can help and you have hundreds of happy memories. Hold on to them and let them guide you during this time of sadness. I have never seen a more devoted, caring Grandmother than Mary Lou.
She loved Blaise and all of you so very much. I also remember how much she cared for my Jack – now they can resume that friendship in their heavenly home. May peace be with you and while I cannot take away your pain, know that she is not alone…and neither are you. Call on me…I'm here for you. Much love, Marcella
Dear Uncle Blaise, Brenda & Mike: It was an honor to be a Euchartistic Minister at Aunt Mary Lou's services. We lift up our prayers for you and will always be reminded of the goodness, warmth, and love of Aunt Mary Lou. She was a wonderful lady and she so loved you all…We will always remember her with great love and fondness for all the memories she gave to us. God's Blessings to You… Love, Jim and Donna
We are so sorry for the loss of such a wonderful woman. She was always kind and generous, and an inspirational mother.
Love,
Kara Nguyen and Family
Blaise, Brenda and Michael,
We have already spoken, but wanted to sign in to let you know again how saddened we are by MaryLou's death. As family we shared many years together and shared lots of laughs and good times. We will miss her. My love to you dear brother and love to you Brenda and Michael. We will see you soon.
Love, Joanne and Carl
Dear Blaise, Brenda, Michael & Family,
Mary Lou was an answer to my prayers, so loving, so giving! Always a smile and so excited about planning events, surprises or just doing things. She was the first one there to help others, so caring, so spirit filled.
I will miss Mary Lou, but her precious memories are a gift she has given all of us. I thank Mary Lou for allowing me to be a part of her life!
Meg
Mary Lou,
It is unbelieveable to me that you are gone. After so many years of being friends and neighbors I can't imagine not being in your company again. We shared our joys and sorrows and even a secret or two. Oh, my little friend, I wish you peace and comfort and a joy that defies description. You have earned it…
I remember how much Mary Lou enjoyed helping her students produce plays when we were working together in Chapter I/Learning Assistance Program at Jefferson. This ended up helping tremendously with parent involvement.
I also remember how ecstatic Mary Lou was when her daughter got to meet her birth mother. I thought that was such an unselfish gesture!
Blaise, Mike, Brenda and family,
I am still in shock over the news about MaryLou. Who would have thought that two wonderful friends would depart this earth on the same day? We have been family friends for 35 years and have shared many, many, fun times. MaryLou will be missed dearly.
With love,
Lisa Robinson and the Caprio Family
Dear Blaise, Michael, Brenda, and family,
Mary Lou seemed more like a dear Aunt to me rather than a family friend. She was so easy to talk to and whenever I would see her and she would ask how I was, I would find myself pouring my heart out to her. She was so understanding, never judged me, and gave the best advice. She could make anyone feel special and loved. I loved her and I love all of you.
Kim
Dear Blaise and family, We just wanted to let you know you are in our thoughts and prayers. Mary Lou was one of a kind and will always be in our hearts.
Love,
Tami, Troy, McKenna and Dylan Stokes
To the family I'm so sorry for your loss of your wife mother & grandmother & sister. To Blaise & Mike & Morgan & Jacob & Zach personally as I know you all and you will be in my prayers and thoughts as you grieve and try to understand why Mary Lou we all needed her & her love. Mike I'm so sorry take care
Becky
I am so sorry to hear about the passing of Mary Lou. She was a wonderful woman whom I always admired. We shared many fun times at ball games many years ago. All my love and sympathy is with your family during these very difficult times.
Dina Alberts
Blaise and Family, My deepest sympathy to you during this very difficult time. I met Mary Lou through Joanne when I lived in Richland many years ago and was shocked and astounded that they passed away the very same day! Please take comfort with the thought that Mary Lou is not alone on her final journey. These two great ladies will enter the gates of Heaven together!
Dear Uncle Blaise, Brenda, Mike and families.
We are so sorry for your loss. Aunt MaryLou was such a sweet, generous and fun person. I loved her laugh and joking nudges when we chatted. We will truely miss her. Please know that you are all in our hearts, thoughts and in our prayers. We are here if you need us.
Love you all,
Ann and Mike
When I read about Mary Lou's passing, it brought tears to my eyes. I knew her because I was the coach of her granddaughter's soccer team for several years. She was a loving, enthusiastic woman who cared very deeply for her family – especially her grandchildren. This was evident in all she did on a daily basis. It deeply saddens me that her grandkids will no longer have her help and support in their lives. She will be greatly missed by them and everyone who loved her. My sincerest condolences to all of you.
Blaise and family, I was so saddened to hear of your loss. Mary Lou was very special and loved by all who knew her in any small way. May the knowledge that she is in a better place bring solace in this time of need. I know your memories of the special person she was will be with you always. May God bless you and keep you. Kay
BLAISE, BRENDA & FAMILY-
OUR THOUGHTS & PRAYERS ARE WITH YOU ALWAYS. I THINK YOU ALREADY KNOW THAT. WE THOUGHT THE WORLD OF MARY LOU. YOU'VE GOT ALOT OF WONDERFUL MEMORIES TO LOOK BACK ON & GIVE YOU A BIG SMILE!
ALL OUR LOVE,
CARL & BARB
Blaise & Family; words cannot express our sorrow for your loss. Mary Lou was a great lady and will always hold a special place in our hearts. She was always so kind and caring; forever thinking of others first and always had a smile on her face. I always looked forward to her joining us on our Fuel Services trips. She was just like one of the guys. In particular, I remember fondly her heroic efforts to procure our 'free' dinners at that Holiday Inn in Baker, LA in 2004. She will truly be missed. Our thoughts and prayers go out to you and the family. Blaise, if there's anything I can ever do to help you out with things, just let me know.
Brenda & Family – There is nothing that I can say that will make the hurt any less. Just know that you are in my thoughts and if you need anything at all, I will be there.
We love you!
Cheyenne, Gary, Max, & Emma
Dear Blaise and Family,
I'm so sorry to hear about your loss of Mary Lou. She was one special person who left a wonderful impression on everyone she met. My heart goes out to you and your family.
Blaise, I'm so sorry to hear about your wife passing. Our hearts are with you at your sad time.
Ron and Barbara Feaster
Blaise, Michael, Brenda and family:
Mary Lou is a person who was full of love and creativeness. She always thought of others first, and she put a lot of thought into what she did. This thoughtfulness and lovingness was most certainly passed down, which is beautiful and her legacy will live on. I still have the outfit she made for Hailey. It was baby clothes made out of wash clothes. I thought it was one of the most creative things I had ever seen; therefore, I kept it in tact to always have and to pass on. Thank you Mary Lou for your love for our family and all you did for us. Blaise, Mike, Brenda and family – you are in our prayers for peace, faith and strength. We love you.
Blaise and family: We are so sorry about the loss of MaryLou. Our thoughts and prayers and with you. Bernadette and Jim Sloughter
Blaise, I was so very sorry to hear from Delores last evening of Mary Lou going to be with the Lord. I am so glad to have seen you guys at the class reunion. May the Lord uphold you now and your family as you grieve her loss; He is your sustainer and comforter. Keeping you all in prayer.
Mary Ann
Blaise and Family,
Our thoughts and prayers are with you all.
Bob and Rhonda Alberts