FIND AN OBITUARY
Service information is posted on our website only with approval from the family.
If you are seeking information not listed below, please contact us.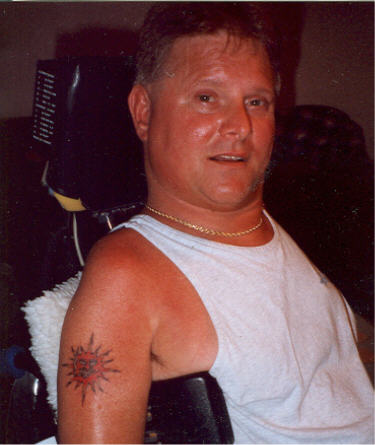 Timothy Mark Gaston
02/06/1959 — 04/05/2008
From Richland, WA, US | Born in Bermuda
Timothy Mark Gaston
Tim Gaston passed away April, 5 2008 at his home.
Tim Gaston was born February 6, 1959 in Bermuda to Randy H. Gaston and Dorothy M. Gaston. His father was in the Air Force and was stationed in Bermuda at the time of Tim's birth.
Tim was raised in the Spokane Valley. He attended East Valley school district. His family moved to Goldendale, WA when Tim was beginning high school. Tim was an exceptional athlete. He excelled at football, basketball, and track. At the age of 17 Tim was in an accident and broke his neck. He lived as a quadriplegic for the rest of his life. Tim was loved and honored by his family and friends. His tough spirit was easily sensed and respected, knowing the life Tim had to lead living in a wheel chair. Tim's mother Dorothy took wonderful care of him and made his life special. Tim was an inspiration to all who knew him. Tim enjoyed listening to his favorite band Too Slim and the Taildraggers, and loved watching Nascar .He will be forever missed.
Tim is survived by his mother Dorothy Gaston; brothers Skeeter, Rob, Todd Amy, Allen Pam, and Woody Tonya; and many nieces and nephews. He is preceded in death by his father Randy Gaston
A memorial service will held at Einan's Funeral home, 915 Bypass Highway, Richland, WA on Saturday, April 12, at 1 P.M.
Goodbye my brother. I will never forget your beautiful soul
Love Rob
Dearest Dorothy & Family,
Thinking of you and sincerely hoping that time and warm memories of Tim will help ease your sadness.
Warmest regards,
Teresa Bev's daughter
I am sorry to hear of Tim's passing. You all are in my thoughts.
Gaston family. Having known and coached a number of the boys at East Valley over the years,the passing of Tim and the news of Randy has left me saddened. Tim was probably the best overall athlete I ever coached. Condolences to Dorothy and the family.
Gaston family: I was fortunate to coach Tim in summer baseball for several years. He was one of my favorite players of all time, that includes more than 20 years of coaching boys and girls youth sports. He may have been the best all-around athlete I ever coached and he had a winning personality to match. He was the nicest, most considerate boy and I'll never forget the special twinkle in his eyes. Thinking about that twinkle and his constant smile gives me joy today. I'm sorry for you loss.
Warmest regards,
Jeff Jordan
Dear Dorothy,
We are so shocked and saddened to read of both Randy and Tim's passing. We know what wonderful care you took of Tim. Our hearts and prayers go out to you and your family in sympathy.
So sorry for your loss. Much too soon after Randys passing. Our thoughts and love are with you Dorothy and your family.
My dear Dorothy. My heart is saddened on hearing the sad news from Charlene. You are the most wonderful mother and the most remarkable woman I have had the privilege of knowing. My thoughts are with you. Rachel Stafford
Tim's passing is a terrible loss. I knew Tim when he attended Trentwood Elementary School and East Valley Jr. Hi. Even though I had not seen him in many years, I often thought of him and hoped that he was doing well after his injury. I am deeply saddened by his passing. My heart felt condolences go out to his family and friends.
My heart is saddened for your loss. I loved Tim and will miss his smile! I will carry many fond memories of our times in Lake Havasu City! My thoughts and prayers are with you and your family. I love you Miss "D"
Char
I knew tim in jr. high and knew he moved out of town but didn't know where. My sympathies go out to the family.
So very sorry to hear of your loss of Tim. My thoughts,prayers and love are with you through these sad times.Please let me know how I can help. Love,Wendy
I'm so sorry to hear about Tim's passing. While planning for an upcoming reunion in Goldendale, I noted Tim's name for follow-up. We will keep him in our prayers at the gathering.
I am so sorry to hear of Tim, also Randy, I did not know that. Having lost both Richard and Rick I know the pain you are feeling.
Hold onto your memories and let them guide you during this time of sadness.
I will always remember Tim as the fine athlete that he was. Sharon
Dear Dorothy and family. Please accept our sincere sympathy. Your Tim will long be remembered by many. He left a lasting impression on all that met him. Dorothy's devotion to him was the best of a Mother's love.
I am very sorry to hear of Tim's passing. My thoughts and prayers are with all of you.
Dorothy, there is nothing to compare to the loss of a child
May you find comfort in the love and concern that surround you from so many that deeply care. Our thoughts and prayers are with you. Love Ellen and family
The last call to Tims location in Cal. informed me Tami Hoadleyhe was no longer there and gave no forward locations.As I now find Richland as in the barial info. Has caused me again to think of how much I missed of him. And that we could have enjoyed some time in the land he was possibly living.I was also checking to know if barial arrangements were there already. It appears they are. I have been informed that In the purchases I have made for barial that more than one can be baried if cremation is chosen. And that I would be honored to allow his barial. Gallent white Horses in Feathery Flight, Fleet footed dancers our steeds of the night. Step along pathways to us yet unknown, kings in their wisdom, clouds as their throwns. Sleek coats of satin nostrils red rose, eyes of black velvet so solome so cold.With a freedom so wild it can chill to the bone, a freedom that no human hand can hold.Yet if you should clasp their mystical pride they will vanish in air not a trace left behind. I wrote in the Eastvalley High school on a bench in front of the office. I often think of it as the spirit that abides.
And Am thankful for the memeries I do keep. May all things work together for our good.I'd like to be there for the barial. I just discovered through a phone call from Linda Perry
that she found the notice in the paper.Also informing me of East Valleys reunion. I had an address on Dani Lindell
yet not a phone number so I have wrote her in case she had not heard. To allow the Lindells to know of our loss.
Keeping in Touch.
Loved Tim much!
Tami
Tami
May God rest his soul and comfort ours forever and ever Amen.
This ability on a computer is a new discovery for me!