FIND AN OBITUARY
Service information is posted on our website only with approval from the family.
If you are seeking information not listed below, please contact us.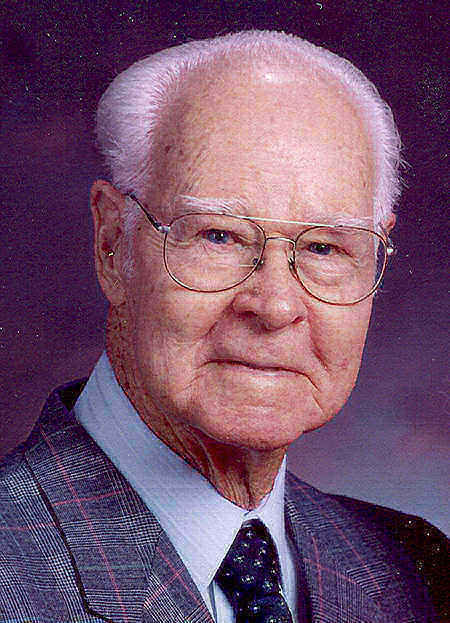 Ivan James Bates
09/28/1916 — 05/02/2008
From Pasco, WA, US | Born in Plain City, Utah
Ivan James Bates
Ivan James Bates, 91, passed away on Thursday, May 2, 2008 with his family by his side. Ivan was born to Richard and Dora Bates on September 28, 1916 in Plain City, Utah. After graduating from high school in Morgan, Utah, he worked with his family building homes in the Salt Lake area and helped operate the family custom threshing business in the fall of each year. He met his future wife, Hava Fenner, while bringing in the crop at her sister and brother-in-law's farm. Ivan and Hava were married in the spring of 1941 in the Salt Lake Temple, and lived in Ogden, Utah until Ivan joined the Navy Seabees in September 1943. He served honorably as an Electrician's Mate Second Class in the South Pacific until after World War II ended.
Ivan brought his young family to Richland in 1947 to work for General Electric at the Hanford Project as a maintenance electrician in the outer reactor areas until he retired in 1978. He moved from Richland to Basin City where he spent 19 years there gardening, fishing and enjoying his grandkids. His favorite pastime was fishing and he shared many boating and camping trips with his family and friends. In 1997, he returned to the Tri-Cities and lived the rest of his life in Pasco.
He is survived by Hava, his wife of 67 years, his children; Betty John Roberts, Dori Clark, Judy Joe Pauly, Jim Bates, Vickie Derek DeMille; thirteen grandchildren and twenty great-grandchildren.
A celebration of his life will be held on Friday, May 9, 2008 at the Church of Jesus Christ of Latter-Day Saints, Pasco Stake Center, 2004 Road 24, Pasco. A viewing will be held at 10:00 a.m. with a service following at 11:00 a.m.
In times of sorrow ….my heart is with you.. So sorry for your loss its always hard to loose our parents but time will heal and memories will keep them with us.. When tomorrow starts without him… And he is not there to see if the sun should rise and find your eyes all filled with tears for him…. he would wish so much you wouldnt cry…. the way you did today thinking of the many things you both didnt get to say… he knows how much you love him as much as he loved you and each time that you think of him he knows youll miss him to.. But when tomorrow starts without him understand that an angel came and called his name and took him by the hand….and said his place was really in heaven far above… and that he"d have to leave behind all those he dearly loves….So when tomorrow starts without him dont think your far apart for everytime you think of him He is right there in your heart….. God Bless you all and my prayers are with you..
I couldn't have asked for a better father-in-law. Ivan always greeted us with a kind word, a warm smile, and a cold Dr Pepper. There is no doubt of his love for his family as it showed in everything he did. I will miss him greatly.
Our sincere sympathy on Ivan's passing. We have so many wonderful memories of family get-togethers at the Bates'.
All our Love, Ron & Donna Andy, Leo and Alex Gorham
To Hava, the "Girls", Jim, Cassidy, and the rest of the Bates Family:
I am remembering you in my thoughts and prayers. I wish that I could be there to give you all a warm embrace at this time of great loss. It was my priviledge and honor to have been able to meet Ivan, and I will remember the visit that I had with him at Christmas 2007 very fondly forever.
With Sympathy and Love,
Cathy
PS – My entire family sends their sympathy to you at this time. Carolyn, Brenda, Michael, Chuck, Sabrina, and Kathleen.
Jim and Family,
My heart and sympathy go out to your family during this difficult time. Your friends in South Carolina are praying for your family and hope it eases the pain of the loss of your father.
We are here if you need anything at all.
Please accept our most heartfelt condolences on the passing of Mr. Bates. His son Jim is my best friend and my heart grieves with him on the loss of his beloved father.
Dear Jim,
Our hearts go out to you. We remember your father with much love and respect. His big heart and hospitality knew no bounds. His gracious example is certainly a legacy that will live on through all of you. With all of our love, Cindy and Dave Cress
Dear Bates Family
Ivan meant so much to Ralph, Mabel, Loren and JoAnne. Ivan was an excellent source of joy and happiness anytime we came to visit.
Lorijo and I loved spending time with your family and we were sad to hear that he has passed. This has also been a rough year with the loss of both our folks, so I share in your greif of losing a parent. Ivan always mad me feel good and was always kind to me. I will always remember the trip to Scootknee Lake with Ivan & Hava, Vicki, Grandma Mabel, Lorijo and I fishing. It's something that I never got to experience with my Dad. My heartfelt symapathy is with you and your family.
I have many cherished memories of visiting Vickie, eating tasty food from the garden, visiting with Mrs. Bates while she made dolls, and puttering around in the shop with Mr. Bates. Wish I had heard about "Mr. B" passing in time to attend the memorial service. He was a gem and is much missed!