FIND AN OBITUARY
Service information is posted on our website only with approval from the family.
If you are seeking information not listed below, please contact us.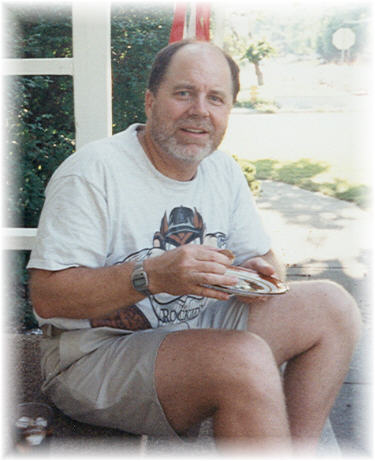 John Stuart Ironside
12/24/1945 — 05/01/2008
From Richland, WA, US | Born in New Westminster, BC
John Stuart Ironside
John Stuart Ironside, born December 24, 1945, son of Irene and John F. Jack Ironside New Westminster, BC, Canada, age 62, passed away May 1, 2008 in Richland, WA.
John spent his youth in New Westminster, BC enjoying family outings and playing baseball, which was his passion. He later took on the unpopular job of being an umpire. He was an avid sports fan, especially hockey, and would travel many miles to watch his son Alex play hockey for whatever team he was playing for at the time. The Vancouver Canucks was John's favorite team.
John was especially proud of his children and took great joy in their accomplishments. It was not unusual to see him on the field refereeing Kate's soccer games, or acting as score keeper and public address announcer at Alex's hockey games.
John graduated from University of BC with a degree in Commerce and spent many years in pharmaceutical and durable medical sales. At the time of his death, he was working in the food service industry at Bonefish Grill and Red Lobster.
John is survived by his daughter Kathryn Kate and son John Alex Ironside, Kennewick, WA; mother Irene Ironside, Abbotsford, BC; sister Margaret Ironside, Langley, BC; brother Rob Ironside, Abbotsford, BC; friend and former spouse Cynthia Ironside Klein, Kennewick, WA; nephew Calen Laughlin, Langley, BC; as well as numerous nieces, nephews, and friends.
John was preceded in death by his father, John F. Ironside; brother-in-law Michael Laughlin.
The family would like to express its appreciation to Dr. Tabbara, Dr. Blanchard and the nursing and support staff at Kadlec Medical Center for their kindness and wonderful care. The family also wishes to express appreciation and heartfelt thanks to the management and staff of Bonefish Grill and Red Lobster for their overwhelming generosity and support and to the many friends who came to visit him in the hospital.
A celebration of John's life was held at 10:00 am on Monday, May 5, 2008 at the Bonefish Grill, 133 Gage Boulevard, Richland, WA.
Kate and Alex, I am so very sorry for you loss. Your Father was a wonderful man, he will be missed by the hundreds of people his life impacted.
We all will miss John. He was a great hockey coach. I will miss the special care and support he gave every time he saw me. He can now coach Brian on God's hockey team. I'll think of him often!!
Our sincere condolences go out to John's family and friends. John was a fun brother-in-law—always happy to see you and greet you with a smile and/or a funny joke to tell. He seemed to really enjoy life. Cherish the good memories of him that you're so lucky to have. We are thinking of you and praying for you.
Alex and Kate,
I was very sorry to here of your Fathers passing. Having know you for the past 15 years, it was very evident that you both were his great love!
I will never forget John always being the first to step up and man the score clock!
I will miss seeing him and the conversations of what his kids were up to!
God Bless you all!
Charlie
John was a good friend to our family. He always stopped to talk and we enjoyed knowing him. We will miss him very much. John & Cindy Darby
very sorry to hear that John has passed away. I grew up with John in New Westminster and he was a good childhood friend. We spent a lot of hours playing baseball and exchanging baseball cards and just being kids. Best wishes to the family.
I am so sad to hear about John. He was such a fun neighbour. I remember him growing up in Victory Heights. He was always kind and happy. We had our high school reunion 5 years ago, and john was so enthusiastic about seeing everyone and he loved life. We are so sorry for you Irene, Margaret and Rob. Take care. Lots of love from Marilyn Stoilen Scott and Eileen and Tom too. xoxo
Dear Daddy bear, How much I love you! You were everything to me! I miss your hair chest that I could sleep on for hours while you watched sports center. Hockey of course It's all I really know, Kate's Happy Place Totally a rink! Miss you more than anything. Love your bubalouie.
I am so sorry to hear of John's death. I have many fond memories of him and our fun times growing up. My thoughts are with you all Irene, Margaret and Rob
Love Sheila
I've known John since he started at Red Lobster. He was always so proud of his kids and a few short years later I got to know Kate and Alex. I then understood why he was so proud.I will always miss John's upbeat attitude and fresh hot coffee, not to mention the stapler incidents.
Very sorry to hear of John's passing. Our condolences to John's family, his mother Irene, his sister Margaret and to his brother
our friend Rob.
To John's immediate family…our thoughts and prayers go out to you.
Respectfully,
Rick and Doreen Brooks and family
Mission, B. C.
John was our brother-in-law, uncle, and friend. We had the privilege of being able to see and talk to him in the hospital and tell him we loved and cared for him. He was part of our family and we have many memories of family events with him. John was incredibly proud of Kate and Alex – they were the light of his life. We will hold them dear and watch out for them in his stead. He left too soon. Godspeed, John.
Love, The Kincaid Crew
John was a great easy going guy. We have many good memories of John from San Diego, Colorado, Coeur d' Alene, and Richland. John is our son's godfather. We sent Saturday in San Diego with our son. It seemed the right place to be. Our thoughts and prayers are with John's mother, sister and brother. Also with Kate, Alex and Cindy.
Love
Tom and Penny Schmidt
We are sorry for your loss of John. We have wonderful memories of him through his marriage to Cindy. He always had a smile on his face and a twinkle in his eye. He was so proud of his children and that is something they will be able to hold with them forever. We will miss him! Ray and Terri
First, my gratitude to John for teaching myself and others the definition of gratitude. John was the epitomy of being of service to people. Not just the ones he served while I knew him. Kate, Alex- you have lost your father, and I my friend. I will never forget him, the funny ways he had. From his silly Canadian humor, to his expressed dissatisfaction whenever someone did something terrible to salmon, like use tobasco sauce! When I think of John, I think of the many circles in which he swam, and if there wasn't a circle, he made one! John, I will miss you..