FIND AN OBITUARY
Service information is posted on our website only with approval from the family.
If you are seeking information not listed below, please contact us.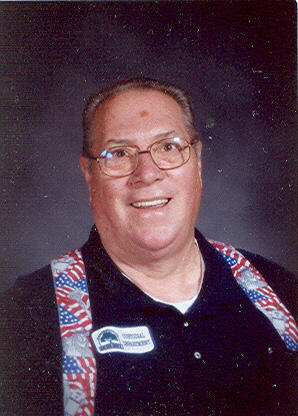 Charles H. Frazier
10/25/1938 — 06/13/2008
From Kennewick, WA, US | Born in Coco Beach, FL
Charles H. Frazier
Charles Harold Frazier, 69, entered into rest on Friday, June 13, 2008 at the Richland Rehabilitation Center.
Charlie was born October 25, 1938 in Coco Beach, Florida and grew up in Bremerton, WA. While in Bremerton he served in the Army National Guard as an Ordinance Part Specialist.
He moved to the Tri-Cities in 1968 where he worked for many years at Lorne Bangert Ford before being employed by the Pasco School District as Head Custodian for almost 12 years.
Charlie was a 20 year member of Alcoholics Anonymous and enjoyed attending meetings daily as well as sharing the word of AA to those new to recovery and in correctional facilities.
He enjoyed coffee with his family every Sunday, spending time with his German Shepherd, Benny, road trips with the PT Cruiser Club, fishing with friends and watching "wrasslin'' every chance he got. He took special joy in repeating bad jokes and funny stories time and again.
He is survived by his daughter Jeannie Bevers and son-in-law Kent and grandchildren, Arrin and McKayla of Wenatchee WA, son Darrin Frazier of Wenatchee WA, daughter Elizabeth McMurtrey and son-in-law Eric of Richland WA, daughter Shari Frazier and son-in-law Gus Sako of Richland WA, and sister-in-law Marsha Polk of Richland WA.
He was preceded in death by his wife and best friend of 34 years, Myrna Frazier.
Visiting will be June 18th from 5-8pm at Einan's Funeral Home, 915 By-Pass Highway, Richland WA. The memorial service will be held at 1pm on June 19th at Einan's Funeral Home.
In lieu of flowers, donations can be made in Charlie's name to the Hospice at the Chaplaincy or any local Chapter of Alcoholics Anonymous.
The family would like to thank the Kennewick Fire Dept, Kennewick General Hospital, Harborview Medical Center, Grandview Health Care Center and Richland Rehabilitation Center for their exceptional care of our father during the last several months. He put up one heck of a fight!
God Bless Charlies family and friends a loss but I would bet many fond memeries. What a Guy. May he rest in peace.
Elizabeth, Shari, Eric & Gus,
My sincerist sympathy to all of you on the passing of Charlie..your Father. Charlie accomplished a great deal in his lifetime and I am proud to say that he was my brother-in-law.
To know that he and you're Mom my sister Myrna are once again together, looking down on the two beautiful, strong daughters they raised, is a comforting thought.
May God Bless ALL of you in this time of loss, remembrance and rejoicing.
Charlie was my deceased husband's roommate at the Rehab Ctr. for the 3 days before Ray died while talking with Charlie. I went to see Charlie the day after and held his hand while we talked. I asked if he had accepted Jesus, he said yes. I prayed w/him, kissed his forehead and said I wld come back and see him soon. He was a lovely man and he and Ray hit it off beautifully. I'm so sorry for your loss. May God comfort you
with the knowledge that Charlie is
with Him and also with his beloved wife.
Dear Polk/Fraiser Familes:
My sincere condolence on the loss of your Dad.
Gary Behymer
Col-Hi Class of 1964
P.S. Started school with your Mom in Miss Handsome's class in kindergarten at Sacajawea.
Shari,Gus,Liz,Eric
My heart goes out to each and everyone of you. Your dad will be dearly missed. Charlie and Myrna together again! My love,hugs and prayers are with you all.
Memories of you,your laughter,your phone calls,emails and even your ornery jokes will always be with me,my best friend! God blessed me when he allowed you to touch my life. Til we meet again. I love you
Good bye my friend. I have known Charlie when he was younger and still partying we used to call him Goodtime Charliesince I was about 4 years old and he was married to Gloria Bangert. I saw him again in my late 20's at the Bangert Ford summer picnics. After my husband died and I had a boatload of kids to raise Charlie brought over all his kids rabbit cages and rabbits and my kids ate "fried chicken" for dinner for years. Thank you Charlie! We ran into each other again in 1989 where we both attended 12 step meetings. I used to dig up worms in my garden and give buckets of worms to Charlie so he could go fishing with his new sober fishing buddies on the weekends.
Charlie was 1 year older than me in sobriety and he always passed his special coins down to me on our birthday night. Last year I got to give Charlie his 20th Golden Coin on his birthday. I will always remember Charlie and his "0" step. "If you want what we have."
I am so saddened at his passing. I loved him and Myrna so much. They will both be dearly missed. The one thing they both really cared about is thier daughters. They are beautiful kids grown up women now and I have to say that they did a wonderful job of raising beautiful strong women. My heart goes out to you all.
Love, Vicki Smilie :
My heartfelt prayers for your loss of you Dad, Charlie. Your Dad was my Dad's roommate at the Rehab facility and although it was only a few days he made a lasting impression on my family. My Dad passed away on May 29th,2008 at Rehab. and I am thankful that my Dad was not alone and Charlie was able to comfort my Mom. I know you'll miss your Dad, he is truely HOMe now and healed. God Bless you all, Rae Lynne Abraham