FIND AN OBITUARY
Service information is posted on our website only with approval from the family.
If you are seeking information not listed below, please contact us.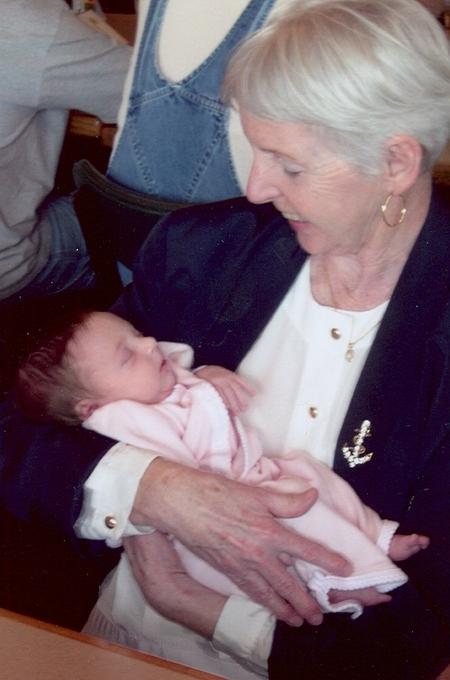 Patricia Ann Hardman
09/18/1934 — 06/25/2008
From Richland, WA, US | Born in Couer d' Alene
Patricia Ann Hardman
Patricia Patti A. Hardman Patricia Ann Chaffins Hardman, beloved wife, matriarch, mother grandmother, and great-grandmother died on June 25, 2008, at the Hospice House surrounded by her family.
Patricia Patti was born on September 18, 1934, to Winifred Ann and Frank Morrison Chaffins in Coeur d' Alene, Idaho. Her mother died one week after she was born due to complications following a c-section. She was raised by her father's youngest sister Marvel E. and husband Claude 1. Anderson.
Patti met Cloyde R. Hardman on a blind date and they were married six months later on June 27, 1953, in Longview, WA. Shortly after the marriage Cloyde was drafted into the Army and Patti joined him after basic training. Just before their first child, a daughter, was born, Cloyde was shipped to England to supply support for the air strikes during the Korean War.
They returned to Kalama, WA where Cloyde worked in a mill while attending classes at the local community college. During that time their second child, a son, was born in Longview. Two years later they set off with their young son and daughter so that Cloyde could continue his education at Eastern State College in Cheney. During that time Patti worked in the Registrar's Office. She helped develop a card system to process student information in a more efficient manner.
The family moved to Richland, WA in August of 1963, where Cloyde began his teaching career and Patti was able to stay at home to take care of the house and family. Her favorite hobbies were to clean and cook. She spoiled everyone with wonderful dinners and dessert each evening. During this time they took two foster children into their home. After two years the foster children left to be with their father and later in October of 1967 Patti and Cloyde had another son.
They joined Richland Lutheran Church shortly after their arrival in Richland. Patti was very active in the life of the church. She was past president of the women's guild, a member of monthly Bible study groups, and a Charter Member and volunteer for the Good News Media Ministry organization.
In 1972 Patti took a job at Kadlec Medical Center. She was the Assistant to the Personnel Director and moved up to the position of Human Resources Manager during her career. In 1996 she retired after twenty-three and a half years. She was a loyal and devoted employee who took only four hours of sick leave when she was forced to go to the emergency room because of a kidney stone. After three years of retirement the Human Resources Dept. at Kadlec called her regarding a part time position assisting with the benefits program. She retired for the second time on May 28, 2008. Patti was the type of person that always thought of others before herself. Her life was her family. She tried to attend all of her children's and grandchildren's activities and always willing to drop everything to help others whenever needed.
She is survived by her husband Cloyde R. Hardman of fifty-five years, sister Clair Marie Martin, brother James W. Chaffms, daughter Gayla R. Davis Terry, foster daughter Stefanie Solano, sons M. Scott Hardman Debbie, James M. Hardman, foster son Bret Hay, grandsons Mitchell K. Davis Jordan, Jeffrey S. Hardman, Matthew J. Hardman, granddaughters Trisha L. Sherrer Isaac, Megan 1. Hardman, Ashlyn R. Hardman, great granddaughter Evelyn Davis, and many nieces and nephews.
She was preceded in death by her mother Winifred A. Chaffins, her father Frank M. Chaffms, her aunt/mother Marvel E. Anderson, her uncle/father Claude 1. Anderson, her sister Delia E. Oaks, her brother Mark Chaffins, and most recently her cousin/brother Claude E. Anderson.
Graveside service will be Saturday June 28, at 1:00 PM at Sunset Memorial Gardens, Richland, WA. A memorial service will be held Sunday June 29 at 2:00 PM at Richland Lutheran Church.
In lieu of flowers please send donations to Good News Media Ministry at Richland Lutheran Church, 901 Van Giesen St., Richland, W A 99354, or Hospice House at the Chaplaincy, 2108 W Entiat, Kennewick, W A 99336.
We are very sorry for your loss. We will miss Aunt Patti very much.
Much love
Jamie and Carl Keene.
My heart felt prayers to each of you dear friends. I was shocked to hear the passing of your beloved wife and Mom and our family friend. It was a joy to see you Mrs.Hardman and you all at my Dad's service last month. It had been 30 years since I moved to Ca. I have such fond memories of your family and such wondeful and gentle spirited people. My you find comfort in the knowledge that Pat is whole and in the gentle fold of the Lord's loving arms. God bless you all and thank you for touch our family's lives.
Love, Hugs, and Prayers, RaeLynne Abraham
Simply put…Patty was blessed with a spirit of love and ultimate goodness. Treasured are the memories we had together. I feel honored to have had a woman of such profound character in my life. Her love for everyone was unconditional and she displayed this love through her actions on a daily basis. I take great comfort in knowing that we shall meet again some day. Patty was a friend to all and the best wife, mother and grandmother one could ask for.
"You make a living by what you get, but you make a life out of what you give." – Churchill
Thank you for making a difference in our lives and for being such an amazing role model to Ashlyn. Rest in Peace my dearest Patti, I love you.
Cloyde, Jim, Ashlyn, Trisha/Issac, Mitch/Jordyn, Evelyn, Scott/Debbie, Jeffrey, Matt, Megan, Gayla/Terry, and to all family who was impacted by Patty's passing, my prayers and love to you. God Bless.
It was so good to see Mr. and Mrs. Hardman at my Dad's Celebration service. I have always had a soft spot in my heart for them and Scott!!!
We hurt because we miss our father, mother, wife and/or friend, but we rejoice because we know they are with Jesus!
Patricia was a wonderful grandmother/mother. She was basically like my grandmother, how she treated me. I knew her for years, and I will never forget her. She will always be in my heart no matter what. God Bless her and the Hardman family and everybody who was impacted with the passing of Patti. I will alwyas love her. I can't wait to see her in heaven. God Bless.
We have many fond memories of watching baseball games with Pat and Cloyde while Jim was in high school. Please know that your family is in our thoughts and prayers at this time. God Bless-
Peggy and Meg Lewis
What a great TRAIN RIDE. You will be dearly missed.
GOD Only Takes The Best
GOD saw that she was getting tired and a cure was not meant to be,
So He put His arms around her and whispered "Come with me",
With tearful eyes we watched her suffer and watched her fade away,
Although we loved her dearly we could not make her stay,
A golden heart stopped beating and a warm loving heart to rest,
GOD broke our hearts to prove to us that He only takes the best.
Rest In Peace, Mom.
Gayla and Terry, I was very sorry to hear about the loss of your mother. Please give my regards to the rest of your family. I manage to travel to the Tri-Cities once in a while to visit Auntie Ei and Karen. The next time I do, I'll be sure and stop and say hello. Warmest regards, Susie Gross Rocke
So kind, caring and loving to all. I always remember being so excited when you all would come to visit in Opportunity and how much fun it was. All the stories she would share about growing up with the Chaffins/Alleys/ Andersons; if it weren't for her, I would never had heard them.
She was always so warm, welcoming and accepting of me – what a wonderful person. How lucky you were to have had her in your lives.
My love and prayers are with you all during this difficult time.
Aunt Patti will be greatly missed. Our thoughts and prayers are with the family.
Love
Randy Oaks and Harmony Conley
Pat will always be remembered for the loving, compassionate woman she was. She touched our lives with her graciousness, kindness and example. We praise God that we know where she is and that Ray was one of the first to hug her. Cloyd, may God fill you with the joy and peace of knowing that your beloved Pat is at this moment praising Him and that you will be reunited someday. May God enfold you in His loving arms, Cloyd, and sooth your soul with sweet memories and the knowledge that this is not the end, only the beginning of Pat's new adventure with Him. We love you all.
Terry, Gayla and the rest of your family,
I am so sorry to hear of the passing of Pat. She was a great and caring person to have known. I enjoyed being in the same Bible Study Group with her. She always made me feel part of the group. I know she was a wonderful Mother, Grandmother,and a friend to all.
God Bless all of you at this time of sorrow.
Patti Miller