FIND AN OBITUARY
Service information is posted on our website only with approval from the family.
If you are seeking information not listed below, please contact us.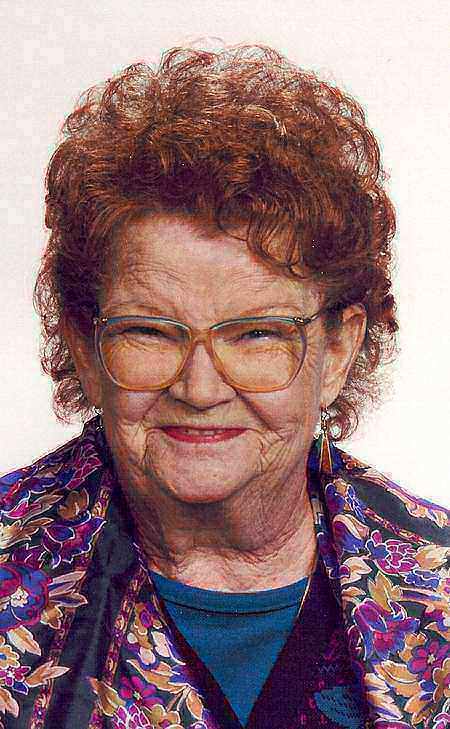 Mary Jane Worley Godwin
10/18/1921 — 11/28/2008
From Richland, WA, US | Born in Ottawa County, OK
Mary Jane Worley Godwin
Mary Jane Worley Godwin
Mary was an angel on Earth and now she is an angel in Heaven. Mary went to be with the Lord on November 28, 2008 at the age of 87.
Mary arrived in this life on October 18, 1921 to Annie and Delmar Sill in Ottawa County, Oklahoma. She married Clyde R. Worley on May 18, 1942. Together they had four children, three daughters and a son. The young family moved to Richland Washington in 1953. Mary and Clyde loved going on camping and fishing trips with their family. Mary loved the holiday season, especially Christmas Eve, where all their family and friends would gather for a big Christmas Eve party. Mary loved to prepare big family meals and was a wonderful cook. Mom was a warm and loving wife and mother, whose bright smile would light up a room. Mary and Clyde were into their 35th year of marriage when Clyde was called to Heaven. Mary remarried and lived with her second husband Marion for 30 years.
Mary is survived by three of her children: Ronald Jeannie Worley of Deer Lake, Nancy John Pierce of Hoquiam, and Wanda Paul Wimpy of Kennewick, Grandchildren: Marilyn, Nanette, Michael, Kenyon, Elizabeth, Robert Lindsey, Michelle, Sean, Ann, Jennifer, and Jason; plus numerous great-grandchildren, nephews, and nieces.
Mary was preceded in death by her first husband, Clyde, oldest daughter Mary Clydene, sister's "Sookie", Margie, and Sylvia and brother Jack, and one great-grandchild.
Mary was very proud of her Quapaw Indian heritage and kept current on tribal affairs.
The family would like to give a heartfelt Thanks to the Richland Rehabilitation Center for the wonderful care that they gave Mom and a special thanks to Janie for the kind and loving care she gave to our mother. Donations, in her name, can be sent to either the MS Society or the Cancer Society.
Visitation Tuesday 5-8 PM at Einan's Funeral Home. Graveside service Wednesday 12 PM at Sunset Memorial Gardens. Memorial service Wednesday 1 PM at Cathedral of Joy.
My name is Mrs. Anna Rhodes,
I am the Daughter of Paul and Wanda Wimpy.
I am the 3rd born Granddaughter.
I would like to begin my story of my grandma, with a poem.
It's called DASH…
The dash being..
I heard a woman who stood to speak, at a funeral of a friend.
She referred to the dates on her tombstone from beginning ….to the end.
She stated that first came her date of birth, and Second was the end of her life on earth.
And spoke the following with tears.
She stated of what mattered the most of all! was the dash in between those years.
For that dash represents, all the time she spent alive on earth.
And how only those who loved her knew what that little line is worth.
For it matters not, how much we own; the cars, the house, the cash, what matters most is how we live and love and how we spend our dash…
So think about this long and hard. Are there things you'd like to change?
For you never know how much time is left, that can still can be rearranged.
If we just slow down enough, to consider what is true and real.
And always try to understand, the way other people feel.
Too be less quick to anger, too show appreciation more,
and love the people in our lives like we've never loved before.
If we treat each other with respect, more often to wear a smile…
Remembering that this special dash might only last a little while.
So, when your eulogy is being read, with your life's actions to rehash
would you be proud of the things they say and how you spent your dash?
So, now I've spent the last few days in deep thought and sorrow thinking about my Grandma's Dash.
Wow, what an amazing woman. And what she has truly meant to each one of us, her special way of making us all, "Her favorite".
What a gift she is to all of us.
To me, she was the most beautiful person I've ever been blessed to have met, and to say that she is my… grandma.
She is my Heart! And I was her sweets!
I spent my first beginnings of life living with grandma.
She was the one that walked me to my first day of kindergarten, with apple in hand!
As you are all aware, grandma never drove.
She'd be there every day to walk me back home, never late!
A Picnic at Howard Amon Park, Grandma brought my spinach, and it was still hot!
Grandma always had a cookie to share and a tissue to wipe away tears.
Always happy to receive a phone call and a visit.
I remember helping her in her garden and being her "Bean Eye". And sitting up late at night wearing one of her fancy night gowns just to watch Carson on the TV.
Just to sit there as a child in complete bewilderment, watching her prepare food for the masses for every holiday in amazement, how one person could do all that.
I learned from her, how to do that.
Good news or bad news, she always was there to listen and to hold all of our secrets to heart.
I remember right before I received my driver's license, I'd stated to her, "I'd be the one to take her to get her hair done. I passed! The big test, that following Thursday, I took her, I was so proud!
A few years back, I was able to take my dream trip to Washington D.C. Grandma, had never traveled far. I was able to document in pictures for her the Museum Of Indian Heritage, of our Quapaw Tribe of Oklahoma. She always stated I was her little world traveler!
I've never met such a wise woman. And I probably never will.
She has taught me so much! What an example she set. I'm glad that I paid attention. There's a little wisdom of her that we all have within us. I am grateful for that.
Can anyone truly know how big of a heart she had? She held each and every one of us there and she always will!!!
Grandma's Love was unconditional, never passing judgment pure and real. Is there anything greater? That was her gift to us. What a life lesson.
She taught me the gift of forgiveness, compassion, empathy, to love with a whole heart, too live an, "Authentic" and "Honest life".
Such grace.
I love you dearly Always will!
Most of all, I truly appreciated her, for her.
I know right now, she is embraced by all that had passed before her, Grandpa, Her Mother and Father, her beloved siblings, her wonderful daughter and Holding her great grandson Daniel. As well as other family and friends.
Dance, Grandma! Dance!
What a Dash of Life she lived!
I will work hard in my lifetime, to pass it forward as you've shown me.
I love you grandma, save me a place. I know that you'll be there when I've completed my dash.
Peace, Light, And most of all, Love……
You're Grand-Daughter
~Anna
Wow!! I read what Anna wrote, and I wish I had the time to know mary more, I have met her through my work where she lived, and through my mother, Jan McCurdy, who was her neihbor, and the things she had told me of mary with her growing up around the family, my deep condolinces, and know your family is in our prayers, you were so lucky to have such a lady in your lives and hearts.
Nancy, Wanda and Ron, sorry to hear of Aunt Mary's death. You all know she's in a better place. It will be hard for you for a long time, especially with Christmas coming up. Don't let that dampen your spitits. You know how your Mom loved Christmas. When the dust settles get in touch with us Kansas cousins. You are in our prayers. Love you all, Vernon and Sue Jordan
Mary was a joy to have with us at Richland Rehab, and she always tried her best. We were shocked to hear that she had been 'brought to Heaven' so soon. We were so proud of her accomplishment of getting to go back home. We'll miss her; she was a beautiful lady.