FIND AN OBITUARY
Service information is posted on our website only with approval from the family.
If you are seeking information not listed below, please contact us.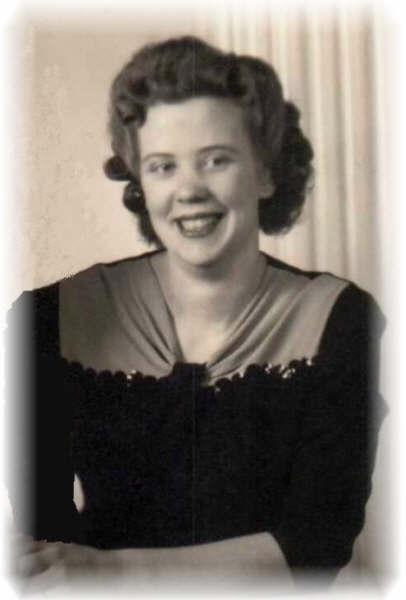 Ella Irene Huesties
07/13/1926 — 12/03/2008
From Richland, WA, US | Born in Yakima, WA
Ella Irene Huesties
Irene Huesties was born on July 13, 1926, in Yakima, WA, to Ralph and Lois Bliss. She was called home to be with Jesus on December 3, 2008, in Richland, WA.
Irene met Jess in Yakima, WA, and they were married October 27, 1941. They moved to the Tri-Cities where they raised 6 children and numerous "adopted" children.

Irene was a stay-at-home mom. In the 1960s, she spent time being a clown with her best friend at the local elementary school carnivals. During the Viet Nam war, she supported her sons and our country's troops by writing letters and sending care packages.

Irene had a wonderful sense of humor, a big heart, loved people, and loved to cook especially during the holidays making numerous pies, cakes, cookies, and fudge to share with family and friends. She opened her heart and home to many young people over the years including David Funderburg, Dan Thornton, Mary Catherine Pearsall, and Don and Nadine Fowler who stayed close with Irene through the years.

Irene was preceded in death by her husband of 65 years, Jess; two sons, Dennis & Leonard; granddaughter Cheri, great granddaughter Rachel; sister Vesta Nelson; brothers Lester, Lawrence, and Harold Bliss; nephews Richard, Rodney, and Curtis; and niece Glenda.

Irene is survived by daughters Barbara Huesties of Seattle, Darlene Bern of Kennewick, Merle Dave Zahniser of Gold Bar, WA; sons, Jess Isun of Centralia and Rex Alvina of Pendleton, OR; daughters-in-law, Becky Dennis of Ariel, WA and Debbie Leonard of Finley, WA; grandchildren, Angela Matt, Michael, Lori Kevin, Keri, Nick Nichole, Claudine Doug, Michelle Randall, Nikkie, Jeffery, Carolyn Andrew, Sean Tiffany, Melanie Ammon, Andrew, B.J., Althea, Ester, and Raymond; nephews, John, Jerry, Gary, Jim, Larry, and Randy; nieces, Norma, Nancy, Julie, Gail, Dorothy, Linda, Sandi, and Alice; great-grandchildren, Max, Courtney, Jake, Jordan, Brandon, Sierra, Zach, Tyler, Deblen, Kyla, Kennedy, Kenya, Adain, Owen, Kylia, Caleb, Isaiah, Ezra, Joshua, and Adeline; sister-in-law Dolly Bliss-Farmer, and the many other people that Jess and Irene opened their hearts and home to through the years.
Funeral services will be held Saturday, December 13, at 1:00 p.m. at the Thayer Chapel of the Church of Jesus Christ of Latter-day Saints in Richland.

Viewing will be at Einan's Funeral Home from 5:00 to 8:00 p.m. Friday, December 12.

Sorry i couldent be there.I will pray for the family .I miss you all
Irene was the mother of 6, but the 'Mom' of many. I met her when I was a young girl about 11-12 years old, through her son, Dennis. That was the beginning of a wonderful, long and loving relationship with this wonderful family. I was 'adopted' into this family just like one of her own, and I always thought of her as my 'second' mom and family. I have so many special memories of Irene and the entire family growing up with all of them. Those wonderful holidays…helping her decorate cookies, the parties, just spending time with her. There are many times over the years that Irene and I shared time together. She received letters from a soldier in Viet Nam, a young man may father didn't approve of, but whom I was very fond of. He would write to her, and she shared those letters with me. I will always remember that. Years later, while living in Hawaii, she and JC came over and spent time with me. We traveled all over the island of Oahu, and had such a wonderful time. I could go on and on…
Irene will always have a piece of my heart and she will truly live on within my memories. She will be greatly missed, as are JC, Dennis and Leonard, who all were very dear to my heart.
Thank you 'Mom' for all the special memories, the time you spent with me as a child, and for just being there when I needed a 'mom'. I love you!
Mary Catherine
Aunt Irene and Uncle JC were very special people. They both were so kind and loving. I remember the many times we would have the Bliss family reunions at different parks and would have such a fun time. I always remember they had their pickup and camper the camper that would go up and down – wow, I had never seen that before! Aunt Irene was always so funny and always wanted everyone to have a good time. We would sit around at night and talk and talk. You could talk to her about anything. We would laugh and joke until way into the night. She is dearly missed as well as Uncle JC. My kids and I will never forget his famous cane. He could always get someone with that cane.
I am thankful that I was able to know such wonderful people. They will never be forgotten.
Aunt Irene's brother Pete was my father-in-law. Our thoughts are with all of you at this difficult time. Love to all, Dixe Ross, Aimee Bloom Bliss & Tony Bliss and families
TO THE HUESTIES FAMILY,
YOUR MOTHER MEANT AN AWFUL LOT TO MY MOTHER AND OUR FAMILY. SHE AND YOUR DAD WERE VERY GOOD FREINDS ALWAYS THERE TO HELP US IN OUR HOUR OF NEED. I HAVE MANY FOND MEMORIES WITH YOUR FAMILY. ONE OF WHICH WAS PLAYING THE CARD GAME PIG AT THE HUESTIES HOUSE ON BENHAM ST.. OUR MOM LOVED BEING A CLOWN WITH YOUR MOM AT THE LEWIS AND CLARK ELEMENTARY SCHOOL CARNIVALS AND ADVERTISING FOR IT AT THE UPTOWN RICHLAND PARKING LOT. WHEN OUR MOM WAS SICK DURING HER LAST DAYS IN THE HOSPITAL YOUR MOM AND DAD WERE THERE TO GIVE SUPPORT TO ME AND MY BROTHER AND SISTER. WE WILL ALWAYS LOVE YOUR MOTHER. MANUEL PARDINI AND FAMILY.