FIND AN OBITUARY
Service information is posted on our website only with approval from the family.
If you are seeking information not listed below, please contact us.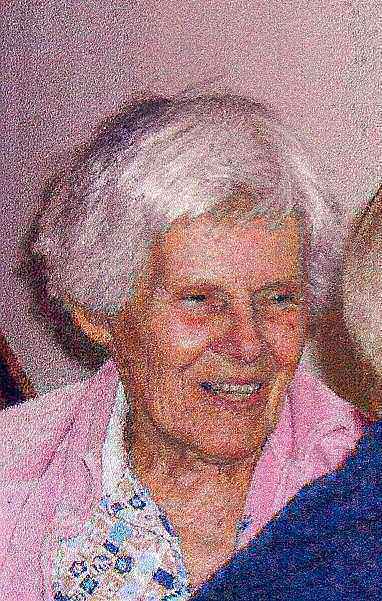 Lucy Arthel Driver
08/08/1912 — 12/07/2008
From Richland, WA, US | Born in Henry County, IA
Lucy Arthel Driver
Lucy A. Driver Richland, Wash. Einan's Funeral Home
Lucy A. Driver, 96, passed away Dec. 7, 2008 at Kennewick General Hospital. She resided in Richland, WA for the last 18 years.
Lucy was born in Henry County, Iowa on August 8, 1912, the youngest of seven children born to Thomas Edward Alter and Edna Julia Genkins-Alter. She graduated from Salem High School in Salem, Iowa in 1931. She worked on the family farm until she moved to Ottumwa, Iowa to enroll into the Ottumwa Beauty Academy to become a licensed beauty operator. She received the top test and practicum scores in the state and worked in a beauty shop in Ottumwa for 2 years until she took a better paying job with the John Morrell Company as a meat packer during the Great Depression. While at Morrell's, her photograph was used in the company's advertising campaign for several years.
In 1942, Lucy enlisted in the Women's Army Auxiliary Corp. She entered active service in 1943 and was trained as a Radio Operator in the Army Air Forces. She was assigned to airfields in Kansas and New York and attained the rank of Sergeant. As an expert in land communications, she was among the first 14 women ever assigned to the Signal Corps and trained as Marine Radio Operators. After completing the training, Lucy and Sgt. Mary Corum, were selected to participate in an experiment to determine if women could replace male radio operators on ship crews. By successfully replacing two of the male operators on the US Army Hospital Ship Larkspur as it transported wounded from the European-African-Middle-Eastern theater to the U.S., they became the first women in US Maritime history to operate ship's radio and opened the way for women to staff the growing number of hospital ships that were needed. She served on the USAHs Larkspur and Algonquin during the Rhineland Campaign.
At the end of the war, Lucy volunteered "at the time the New York Port of Embarkation is facing an extreme emergency" to remain in service as a radio operator until its conversion to a civilian position in 1946. During her post-war time at the Port of Embarkation, she met a former soldier, Francis Albert Driver, working for the Federal Communications Commission when he came through the window of the communication center while repairing an antenna. By the end of her volunteer service, he had been transferred to an FCC facility in San Leandro, CA. On his way to California from New York, he stopped off in Iowa, to ask Lucy's parents for her hand in marriage. They were married in San Leandro, CA in 1947 where she joined him after completing a civilian transition position at the New York Port of Embarkation.
On Dec. 25, 1949 Lucy gave birth to twins, Crystal and Frank Driver in Livermore, CA, a small rural town with an FCC "antenna farm". In 1959 the family transferred to Portland, OR where she appreciated the abundant rain. She lost appreciation for abundant rain when the family then moved to Bellingham, WA in 1966 when her husbanded was promoted to a regional commissioner position. Lucy and her husband moved to Spokane, WA for a year while he oversaw a regional restructuring before his retirement. She remained in Bellingham after the death of her husband in 1983 until moving to Richland, WA in 1990 to live with her daughter and enjoy the lack of rain.
Lucy was a deeply caring and enriching homemaker spending much time involving her family in the appreciation and exploration of nature especially birds and plants, weather, and history. She loved to travel. She was an avid gardener and enjoyed picking and canning fruit, gathering and drying walnuts and filberts. She spent many years preserving, documenting and recording her family's history in the U.S., most of which emigrated in the 17th Century. Through this she forged for us a strong connection to family throughout time. She was very generous with what she had, most especially her spirit of acceptance and understanding of struggles. She was a very modest person, but very proud of the accomplishments of others. She loved dogs and provided a home for many strays over her lifetime. She had an abiding belief in God, being charitable, doing your best in any kind of work, being active, enjoying the small things like bird songs, a ripe peach, or a visit. She enjoyed voting and staying updated politically. She loved to read, recite and write poetry and had a wonderfully wry sense of humor. The hardest thing for her in the last year of her life as her health failed was not being able to contribute as much as she wanted to the labor of a household or the needs of her extended family. Such a heart is sorely missed by us.
Lucy was preceded in death by her parents, brothers James T., Stacy W., and Max I. Alter, sisters Lois E. Garmoe, E. Shirley Toole, and Crystal J. Alter, her daughter-in-law Georgia Gunderson-Driver and her husband. She is survived by her daughter Crystal Driver Richland, WA, son Frank Driver Bellingham, WA, grandson Brandon Driver Michelle of Moses Lake, granddaughter Tammy Dykstra Walter of Bellingham, and 4 great-grand children Ashton, Kylie, Georgia Lynn, and Skye.
A funeral service will be held at Einan's Funeral Home Tuesday, December 16, 2008 at 1:00 PM. Following the funeral, a graveside service is planned at Sunset Memorial Gardens 915 Bypass Hwy, Richland Swift and Hwy 240. A viewing will be held at Einan's Funeral Home on Monday, December 15 from 5:00 p.m. to 8:00 p.m.
In lieu of flowers, donations can be made to the Benton-Franklin Humane Society, 8620 West Gage Blvd., Kennewick, WA 99336.
Dear Family of Lucy Driver,
I want to express my sincere sympathy for the loss of your loved one. You can be assured that comfort and encouragement can be found in the Bible. At Revelations 21: 4 you can read of a time when pain and suffering will be no more. What a wonderful hope. Please take care of yourselves.
Sincerely
Crystal:
I just learned today from my daughter Diane that your Mom had translated. I was saddened by the news as I know how much your Mom meant to you. Diane was there when your Mom was admitted to Canyon Lakes Nursing Home. She is tall and blonde.
We were in Cancun, Mexico when it happened. Otherwise I would have wanted to be at her viewing.
Please let me know if there is anyway I can help. Perhaps we can meet for lunch when you are able.
Love, Barb