FIND AN OBITUARY
Service information is posted on our website only with approval from the family.
If you are seeking information not listed below, please contact us.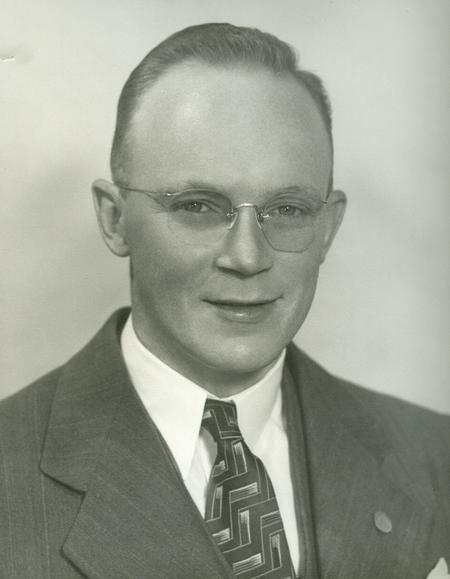 Anthon William Madsen
01/10/1922 — 04/20/2009
From Richland, WA, US | Born in Scofield, Utah
Anthon William Madsen
Born Jan 10, 1922, in Scofield, Utah, Tony passed away peacefully at Kadlec Medical Center on April 20, 2009. As he was surrounded by his forever grateful and loving family, he entered into a joyous reunion with his beloved parents; his father having died when he was only a year old. Tony was raised in Scofield and Mt. Pleasant, UT. After graduation from high school, he traveled to St. George, UT, to serve an apprenticeship as a carpenter. It was there that he met his eternal companion, Helen Cannon. Tony and Helen were married and sealed for time and eternity on December 22, 1941, in the St. George Temple of the Church of Jesus Christ of Latter-day Saints.
Times were tough and with the coming war, they moved to Salt Lake City, UT, to work for Remington Arms in support of the war. While in Salt Lake, he was given the opportunity to learn his lifelong vocation of machinist. Learning of the many opportunities that were available in the Northwest at the Hanford Project, he and Helen, along with their first child Antoinette, moved to the wind¬swept and dusty desert of Southeast Washington. Tony worked for the next 43 years for Dupont, General Electric, and finally, Battelle. While living in Richland, they added Kent and Howard to their family.
Tony was a hard worker at the Project and was often working one or two extra jobs in order to provide for his family and to satisfy his unbridled passion to always be doing something. It was a trait that he learned very early in life.
He excelled in his profession, even earning the General Manager's Award for "Continuing top-quality performance as an Instrument Maker" from the General Electric Company in 1960. Even in his retirement, he developed new skills as an avid Ham radio operator and perfected his wood-making abilities by making thousands of little wooden toys, which he sold at bazaars all around the Tri¬-Cities. He served in many capacities in the LDS Church, including Sunday School Superintendent, Elder's Quorum President, and a diligent and faithful Home Teacher.
Tony was preceded in death by his sister and brother-in-law, Anne & Lew Andersen, and his father and mother, Anthon & Nellie Madsen. He is survived by his wife of 67 years, Helen Madsen, his 3 children, Antoinette Stewart, W. Kent Madsen, and Howard Madsen of Richland, WA, Kent's spouse, Kathleen Madsen, as well as 8 grand-children and 12 great-grandchildren.
Funeral services will be held on Saturday, April 25th at 11:00 a.m. at The Church of Jesus Christ of Latter-day Saints, Richland Stake Center, 1720 Thayer Dr., Richland, WA. A viewing will be held Friday, April 24th from 5-8 p.m. at Einan's Funeral Home.
Tony was a good friend and a great machinist. He did a lot of good work for us when I was a young engineer in 325 bldg at Hanford. An interesting story: When I was about 8 years old. I lived in Salt Lake City and one day my dad took me skiing at Alta. I walked around on my skis at the base and was amazed to see a toboggan with several young men come off the ski jump, turn slowly in the air and dump the guys in the deep snow. Twenty years later in the machine shop Tony told me that he too lived in Utah. Ever go skiing? He said, "No".. but once and only once he went off a ski jump at Alta on a toboggan! A coincidence that we always laughed about. He was a prince.
We were saddened today to learn of the passing of our good friend, Tony. I first became acquainted with Tony when we served together in the Richland Sixth Ward Elders Quorum Presidency with Nathan Kirk. Tony and I had fun keeping Nathan, who was a relatively new church member, in check and serving in accordance with church policy and protocol. That was nearly thirty years ago. We became acquainted with Helen when she accompanied choirs for Stake Conference and other church activities. We met Antoinette a few years later. We remember Tony for his ready smile and handshake and for his genuineness. He loved his wife, Helen, and his family. Who could forget his electioneering activities for his son when Kent ran for Richland City Council. We send our and profound sympathy to Helen and the Madsen family. Tony was a wonderful man, and will be missed for some time to come. Our prayer is that Heavenly Father will bless you with comfort and peace.
I am so sorry to hear about Tony's death. I had known Tony for only a few short years and am so happy I got the chance. He was so helpful and meant alot to me. At 87 years old he done things no one else will get the chance to do. A very smart man he was. God Bless him. I wish the best for his wife Helen and his family.
Mike Guinn