FIND AN OBITUARY
Service information is posted on our website only with approval from the family.
If you are seeking information not listed below, please contact us.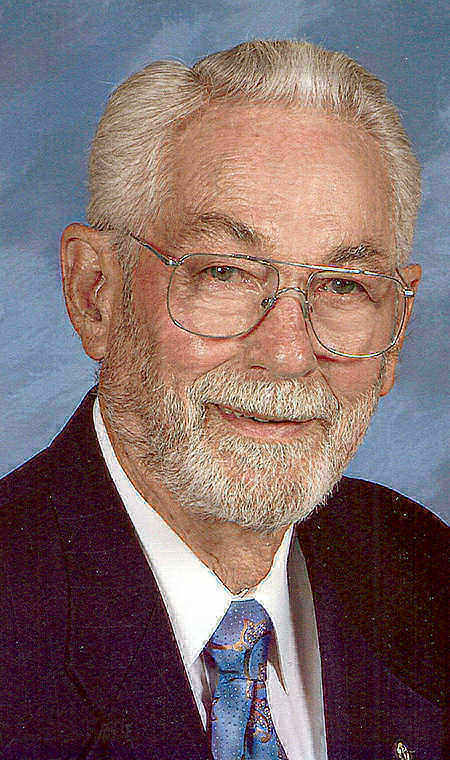 Raymond Erick Isaacson
04/21/1928 — 05/04/2009
From Richland, WA, US | Born in Suprior, AZ
Raymond Erick Isaacson
Raymond E. "Bud" Isaacson, 81, of Richland WA died May 4, 2009. Ray was born April 21, 1928, in Superior, Arizona to Ina and Eric Isaacson. Four years after his father's death in 1932, Ina took her three children and moved to Rochester, Washington to be near her brother in law, John. Ray graduated class valedictorian from Rochester High School in 1946 and later graduated from University of Washington with a BS in Chemical Engineering.
He married his high school sweetheart, Evelyn Fagerness on September 4, 1950 and began work in Richland with General Electric in 1951. Between 1952 and 1960 four children were born to Ray and Evelyn Erick, Vince, Wanda and Carl. The family moved to Trumbull, Connecticut in 1965 to continue Ray's work with GE. They returned to Richland in 1968. Ray continued his work at Hanford with Atlantic Richfield Hanford and Rockwell Hanford until his retirement in 1985. During his career, Ray received three patents.
Ray served the 8th District as a Washington State Legislator from 1978 to 1987 and then served as a Benton County Commissioner from 1987 to 1997. Over the years he also served on numerous district Boards, state and county committees and associations. He also served as chairman of the Advisory Committee of the Salvation Army and as a deacon at Richland Lutheran Church. He was a member of Richland Lutheran Church and the Richland Kiwanis Club. In his final years, Ray greatly enjoyed his time on the golf course with family and friends.
Ray is survived by his wife of 58 years, Evelyn, his sister Shirley Haskins Huffman, his children Erick Isaacson Sharon, Vince Isaacson, Wanda Couchman Lester and Carl fiancé Teresa Allen, 7 grandchildren Bethany Isaacson Cleve Corner, Brandon Couchman Jennifer, Kate Giardinelli Mike, Christopher Couchman, Andrew Isaacson Ketra, Christine Isaacson and Aidan Isaacson and 2 great-grandchildren Benjamin Giardinelli and Olivia Couchman.
Ray was preceded in death by his parents, sister, Evelyn and daughter-in -law, Jill Isaacson.
The family would like to express their gratefulness to Dr. Hunsaker, all those who cared for Ray while at Hospice and Pastor William Martens. In lieu of flowers, donations may be made to the Salvation Army 1219 Thayer Drive, Richland WA 99352, Good News Media of Richland Lutheran Church 901 Van Giesen Blvd, Richland WA 99354 or the charity of your choice in memory of Ray.
Interment will be Wednesday May 6, 2009 at 1 pm at Sunset Memorial Garden. A memorial service will follow at Richland Lutheran Church at 2 pm. Visitation will be held at Einan's Funeral Home Tuesday, May 5, 2009 from 5:00pm-8:00pm.
Sorry to hear Bud has died. My name is Carol Stutz Christey, I am the daughter of Svea and Clarence Stutz. I have thought about Bud many times over the years. I now live in Redmond WA 98053 , my email is samcarol@comcast.net
Our sympathies to the Isaacson Family. We pray for strength, love, encouragement, and continuted faith as you bear your loss.
I am so sorry to hear of Ray's passing. Ray & Evelyn were our next door neighbors when we moved to Richland in 1953. My thoughts & prayers are with Evelyn & family.
Dear Evelyn and Family,
I have wonderful memories of serving in the Legislature with Ray. Some of his theories and explanations were a bit technical, but his passion for good government were sound and priceless.
I have relatives in Sweden named Isacsson; maybe we were related.
Ray Isaacson was one of the most truly interesting characters I had the good fortune to encounter in my career as a journalist. I recall how much he enjoyed being the only "scientist" in the State Legislature–and still have one of the Troglodyte buttons he wore so proudly. His office in the Federal Building gave him a great view of the western horizon and he was the first to call when Mt. St. Helens would eject gas and steam. He could be cranky, too, and his battles with other county commissioners also made for interesting copy.
It was after he retired that I came to know Bud personally as we worked together on Kiwanis projects. He will be missed…by those whose lives he touched but who never knew him in person as well as those of us who were priveleged to do so.
Ray was a good friend and fellow student at UW. My heartfelt coondolences and prayers go out for Evelyn and their family.
Evelyn and family. Sorry to read of Ray's passing. Have known him for 40 years and been involved in various activities with him. Notable, Benton, Franklin & Walla Walla Counties Good Roads & Transportation Assn. Washington State Good Roads & Transportation Assn. of which he was President for two terms. I followed him as President the next term The most notable accomplishment, while a State Representative in my opinion, was the passage of a highway from SR240 in Benton County to connect with US395 in Franklin County with a toll bridge in the vicinity of the 300 AEC area which would pay for the entire route. Similar to the 29 mile section of SR 240 from Richland to Grant county to be paid from toll proceeds from the Vernita bridge. It's still on the books waiting for action. 20 year SR240 bond paid off in 13 years. Ray will be missed but not forgotten!
Evelyn and family, I can not express the saddness I feel for the loss of this wonderful man. Ray taught me many things, including some tips on how to deal with elected officials. Ray was sometimes the only voice of reason in an unreasonable room of boardmembers. Sometimes he was rather like a pit bull in the same room.
Ray was always on my side and often shared stories with me. My thoughts are with you in this terrible time of loss. Please know that Ray made an impact on my life and I will never forget him. God Bless!
Evelyn and family, we were saddened to learn about Bud. Nancy Erstrom Arnold called whle we were in Rochester to let us know that he had fallen and broken a rib. John Womack, our friend in the tri-cities called this morning to let us know of his passing. It was only a week ago that we talked about getting together and sharing memories of Rochester. What a sudden turn of events. Our thoughts and prayers are with you and the family during this critical period. Bud was talented and inspirational man. Dick and Nancy Erickson
Our thoughts and prayers are with your family at this difficult time.
Sorry to hear about the death of your father. Our thoughts are with you.
Our condolences on the loss of Ray.
One memory I have of Ray was in about 1960 when he and I took a business trip to Albany, Oregon and then up to Boeing in Seattle. Ray drove and as we drove thru Rochester he told me about living there. We also stopped and visited one of his relatives south of Seattle. Ray had a sharp and inqusitive mind. He will be missed by this community.
Don and Pat Wodrich
I am sorry to hear of his passing. I enjoyed doing work for Ray since meeting him, before moving to John Day.