FIND AN OBITUARY
Service information is posted on our website only with approval from the family.
If you are seeking information not listed below, please contact us.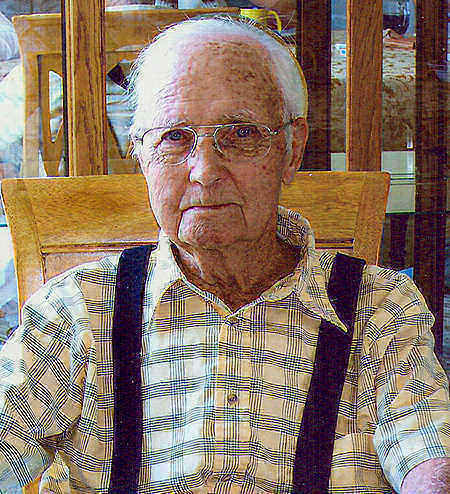 Voreese Petty
04/02/1926 — 05/26/2009
From West, Richland, WA, US | Born in Leola, AR
Voreese Petty
Our beloved father, grandfather, great-grandfather and friend to many passed away Tuesday May 26, 2009 at the Hospice at the Tri-Cities Chaplaincy in Kennewick. Dad died after a brief but valiant battle with cancer.
Dad was preceded in death by his mother, father and 3 brothers.
Dad is survived by his companion Shirley Hassing and 5 children:Patricia Sparks and husband Dave, Jim Petty and wife Cheri, Reesia¬Ann Kresley and husband Robert, Donald Petty and wife Sue and Linda Chapman and husband Glenn. Sisters: Charlene DeBoise, Margaret Clark and husband Bill and Christine King and husband Don. He is also survived by numerous grandchildren and great grandchildren.
Dad was born on April 2, 1926 in Leola, Arkansas. He served his country during World War II. He enlisted in the Army at the age of 16. After discharge from the Army he moved to the Tri-Cities in 1946. He lived in Richland for a number of years. In 1966 he moved his family to West Richland where he made his home for the last 43 years.
Dad was married to Joyce Speer in 1947 and had 5 children. After their divorce in 1972, Shirley Hassing, became his companion for the next 35 years. Dad worked at Hanford for 39 years where he retired as a Senior Engineering Specialist in 1985. He was instrumental in Salt Well Pumping and the construction and operation of the 242-S and 242-A Evaporators. He was extremely proud of his work at Hanford and enjoyed the monthly Retirees Breakfast held at Denny's restaurant in Richland.
Funeral services will be held on Monday, June 1, 2009 at 4:30pm at Memories at Sunset Event Center, located on the beautiful grounds of Sunset Memorial Gardens, 915 Bypass Highway, Richland. Interment will follow on the grounds of Sunset Memorial Gardens. Visitation will be held on Sunday, May 31, 2009 from 5:00pm-8:00pm at Einan's Funeral Home in Richland.
In lieu of flowers, donations may be made to the Hospice at the Tri-Cites Chaplaincy, 2108 W. Entiat Ave, Kennewick, WA 99336.
Dad, you were always my rock when things were so tough, you always listened and had your arms wide open, you always had a kind word you were always there with a lending hand, I am so thankful I was able to spend our last birthday together, and that you knew that I was going to be ok. I love you so much and going to miss you, I will see you again when we meet in heaven.
"TOMORROW IS NEVER PROMISED, LIVE FOR TODAY!!"
Grandpa, I love and miss you sooo much! I will treasure every moment I was able to spend with you and I'm glad that you got to meet my daughter when we came out there a couple years ago. I hate that we didn't come out this year.
I know you are in heaven watching over us, but I wish you were promised tomorrow.
I love you and can't wait to see you again! R.I.P.
Amber Petty
Shirley and Petty family; I'm so sorry for your loss of a very special man. My father Ernie Carlson was a very good friend and neighbor of Reese's before my father's passing and Reese was so wonderful to come and see dad often when he was seriously ill. I was very touched by his compassion and love. You must have wonderful memories of such a caring man. He will be missed! With sincere condolence for your loss. Darcee Stickler
Dad, Wish I had more time with you before you had to go. Another breakfast gathering or card game or two. Thank you for the respect you showed our mother through all these years even though apart. Your caring and concern for all your children and others.
To Patsy/Dave/Jim/Cheri, thank you for the care and love you gave dad as you helped him through the process for God to take him home.
I love you dad your presence will be greatly missed. Linda
We are so sorry for your loss. We will miss Rees so much.We may not of visited much but he was one of the nices man we knew. He will never be forgotten.
Petty Family: I am so sorry for your loss. If I can do anything please don't hesitate to let me know.
Grandpa you will be missed by all who have been blessed with your presence. You were a great man who overlooked faults and errors and showed unconditional love to all. I hope and pray that everyone who knew you will treat each day as a blessing and acknowledge GOD's grace and mercy, just as you did. My condolences to the entire family. May GOD give you peace during these difficult times.
Reesia and the rest of the Petty Family,
so very sorry for your loss. Your family are in my prayers Reesia. Take care, Roxanne
Meeting Mr. Petty was an experience of a lifetime!!! Even though we had just met, I felt like I was part of his family. He was a man of many wonderful traits. His smile, his laugh, and his quick "Petty" humor was remarkable. My trip to Washington will never be forgotten and neither will the impression he made on me. I saw a lot of my husband, Richard, when I looked at Mr. Petty. The way they move and their personalities are very similar. It was an honor to meet him and to know that I am related to him. I see why Richard has so much respect for him and always had great things to say about him. I will think of Mr. Petty every time I have a bowl of vanilla ice cream, taste rasberries, or see a bottle of boost… He will be missed terribly and loved forever!
To the Petty family,
I am so sorry for your loss. I know he will be missed. I am greatful to have such wonderful childhood memories with the Petty family. Love and sympothy to you all.
Sarah Hoverson