FIND AN OBITUARY
Service information is posted on our website only with approval from the family.
If you are seeking information not listed below, please contact us.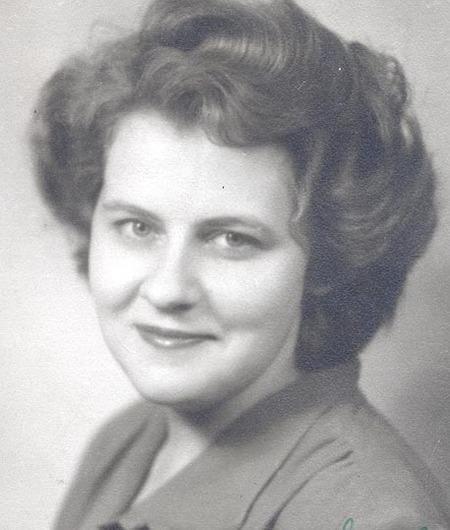 Elizabeth Ann Thornton
08/01/1921 — 06/22/2009
From Richland, WA, US | Born in La Crosse, WI
Elizabeth Ann Thornton
Elizabeth "Betty" Ann Thornton Born in La Crosse, WI on August 1, 1921 Departed in Richland, WA on June 22, 2009
Betty Thornton, 87, passed away peacefully with family by her side.
She was the youngest of seven children born to Monica and Herbert Zernecke, all of which have preceded her in death. Betty met Edward "Sarge" Thornton in La Crosse, Wisconsin and married him September 4, 1943 before he shipped overseas to perform his duty in the Army. When Ed returned from serving with the Red Ball Express, they moved by train to the Tri-Cities in December 1945 to take advantage of opportunities at Hanford.
Betty became a member of Christ the King Catholic church in 1945 where she met her dear friend Marvel Huskey Albin who introduced her to the parish community. Many of the church members helped in her transition into desert living and remained lifelong friends. Betty was a member of the Altar Society, Funeral Mass Choir and Funeral Committee, the Ladies of Fatima and many other charities and activities at the church. Betty and Ed belonged to the Iris Society and prided themselves with all their award winning irises. Her greatest pleasure was music, singing with Sweet Adelines, her barbershop quartet "The Reservations," Columbia Chorale, and she performed with the Richland Light Opera. She belonged to the Jazz Society and traveled around to many jazz festivals. She had an ear for music, played the piano and clarinet, and her alto voice blended beautifully where she could harmonize with anyone.
She is survived by the family she loved so much, her grandson Matthew Thornton, daughters Ellen Thornton and Monica Hayes-Bishop and husband Michael Bishop. She is preceded in death by her husband Edward Thornton and daughter Carol Thornton.
At Christ the King Church, Richland a viewing will be held from 5-7 p.m., followed by a rosary on Wednesday, June 24. The Mass of Christian Burial will be Thursday, June 25, 11:30 a.m. followed by a reception at the church. Graveside services will be held at Sunset Memorial Gardens in Richland following the reception.
A wonderful friend and neighbor for over 50 years. you will be missed . Agentle and loving lady . love to the family . dick 7 Jane
Betty will be missed – many special memories and visits. My thoughts and prayers are with the family.
*Linda
Monica and Mike–I am so sorry to hear of your mom's death. She was a delightful and courageous lady, and she was indeed lucky to have had such supportive daughters. My thoughts are with you and your family. Love, Ellen
Monica is a reflection of her beautiful mother and so even though I never had a chance to meet her, I know that this kind woman has been reunited with God. Memories of her will continue to live on with her family and in this way, she will always be with us.
My love to Monica and family,karen
Monica and Ellen,
I unfortunately never had the opportunity to meet my Great Aunt Betty. However, through my mother, Connie Leppek, I have heard many stories of her wonderful character and beauty.
My thoughts and prayers go out to you and your family.
I am sending the family my most sincere condolences. While it has been many years since I've been in the company of any of the thornton family, I still have fond memories of you all. Again, I am very sorry for your loss.
Monica, So, so sorry to hear of Aunt Betty's passing. Though I didn't get to see her often, she was always fun and full of life at the Zernecke clan get-togethers! You all are in my thoughts and prayers.
Much Love,
Linda Z.
Monica and family,
I'm so sorry to hear of the passing of your mother. Having just lost my mother a year ago, I know the extent of the great loss you are feeling. You and your family are in my thoughts and prayers during this difficult time.
Angela Wright
Dear Monica and Family: Our thoughts and prayers are with you at this time of sorrow. God bless you.
I am so very sorry to hear of your loss. My thoughts and prayers are with you during this time. Although she is gone she will always remain in your heart forever.
My condolences to Monica and Mike and the rest of Mrs. Thornton's family. While I never met Mrs. Thornton, having the pleasure of knowing her daughter Monica, I have no doubt she was a wonderful person who will be missed by all those who did know her.
Monica,
I know that you and Mike gave a tremendous amount of love and care to your Mom. How Blessed she was to have you two in her life. Our prayers are with you and your family. God Bless you!
Love, Carolyn Moore & Robert Stearns
So sorry to know of your loss. But your Mom looks to have had a good life. That's all we can ask. I'll say a prayer or two. RK
Dear Monica, Mike and Family,
Our thoughts and prayers will be with you and your family at this time of great sorrow.
My sympathies to my friends Monica and Mike, and to all the family. May many good memories help you during this difficult time.
Ellen,
My thoughts and prayers are with you.
Bev.
I am sorry about your loss you have my prayers for you and your family.
We grew up across the street from you Lohdefinck thenand your home was always a second refuge for passing the time and having fun!
Pam
Dear Family ~
We are so sorry to hear of the loss of your dear mother. We hope you can always remember the happy memories and share each and every one of them with family and friends. Some people are hesitant to bring up stories or events of ones that have passed before us, for fear it will upset the family and make them grieve more, but I can say from experience; that to forget the loved one and not speak about the wonderful gifts they gave us, only makes the burden harder to bear. Please celebrate her life to the fullest by carrying on her legacy and living the life she wished for you.
Love to each of you.
Crissy & JP Reid
VA & St. Anthony Church Friends
of
Mike & Monica Bishop
Ron only had the opportunity to meet Elizabeth once, and I never had the chance to meet her.
From her bio it sounds like she had a life we should rejoice in as it was definately a special, colorful life.
She had to have been a great mom as the daugher we know, Monica is very special.
She will be missed.
Dear Ellen and Monica & Mike,
Never met your mom, but know you were all devoted to her. From her bio she sounds like a great lady, and I can see where her daughters came by their talents! I know you will miss her. I hope your memories will help you through this difficult time. I will keep you all in my prayers.
Love,
Cathy CB
My prayers go out to you during this time of loss– but rest assured that your tender care & devotion was appreciated, and that your own beautiful souls are a reflection of her influence upon you ~
Dear Ellen, Matthew, Monica and Mike….we were so very saddened to hear of Aunt Betty's recent passing…and so happy that we each had a very nice telphone conversation just days before her passing. Please know that we think so very high
ly of her…character, kindness, perserverence, talents, and great sense of humor. We shall miss her. Love, Don and Connie nee Gantenbein Leppek. Reno, NV
Dear Thornton Family: We are so sorry to hear of your loss. Alison and I had just been to visit Betty on June 15. What a fantastic person Betty was. She was always cool, calm and collected and never said a mean word about anyone. Her sense of humor was the best and she was always pleasant and fun to be around. I remember for years Betty and Mom did their Christmas baking together. I think their specialties were fudge, fruitcake and pfeffernusse. Betty sang with her Sweet Adeline group at Mom and Dad's 50th wedding anniversary celebration. The world will never know a better person! I admire the way you all help each other through the tough times. Our thoughts and prayers go out to all of you.
Monica, Mike, Ellen & Matthew-
So sorry to hear of your Mom/Grandmother's passing. From the character and personalities of her offspring, it is clear to me that she was a woman of strength, talent and humor. I know you will miss her deeply and will remember her with joy and love as you continue to celebrate her life through your own.
You are never far from my thoughts and always in my prayers!
Dayle & family
To Betty's Family, my dear friends: I had been to see Betty the week before she passed away. She was watching the Mariners' game on TV. My mom thought the world of Betty and so did I. I knew Betty for over 50 years and she was always a very kind and caring lady. One incident in my childhood that I think of from time to time is when I locked myself in Betty's house and wouldn't let anyone in. I can't even remember why. I miss Betty so much — all the good times we had and her great jokes. With Deepest sympathy, Alison