FIND AN OBITUARY
Service information is posted on our website only with approval from the family.
If you are seeking information not listed below, please contact us.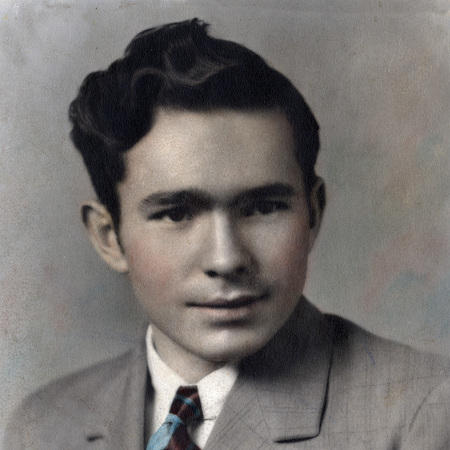 Noah Wilbert Tadlock
06/26/1923 — 06/01/2009
From Richland, WA, US | Born in Perquimans County, NC
Noah Wilbert Tadlock
Noah Wilbert Tadlock passed away quietly in his home in Richland, Washington on June 1, 2009, only 25 days away from his 86th birthday. He was in the loving care and presence of his children and grandchildren, surrounded by love and support.
Noah was born to James Edward and Lessie Gray Tadlock on June 26, 1923, in Perquimans County, the Township of New Hope, near Elizabeth City, North Carolina. Throughout his youth he worked on a Dairy Farm, played basketball and was an amateur boxer. He met and married his wife, Sarah, and after having their first two children they moved from Elizabeth City, N.C. to Richland.
Noah began work at the Hanford Plant in 1944 as a heavy duty truck operator for DuPont Corporation. When construction at Hanford was completed, he was transferred to Bus Operations for GE and then for ITT. He was nicknamed "Doc" by his co-workers after being a first responder to vehicle accidents at which he was instrumental in saving lives. In 1974, he was promoted to manager in the Bus and Railroad Operations, working for ARHCO, Rockwell Hanford, and then Westinghouse Hanford until his retirement in 1988 at age 65. During his nearly 45-year career, he received many awards and played a role in what became known as The Manhattan Project.
Having four young sons, he was active in Cub Scouts as the registration chairman and baseball coach. He was a member of the Moose Lodge, and the American Management Association and was a Cornerstone Club Member of the Kadlec Medical Center Foundation. Noah loved fishing, boating on the Columbia River, playing poker with good friends, and most of all, spending time and having fun with his big family. He and his wife, Sarah, took many trips vacationing and visiting family throughout Washington, Oregon, Idaho, North Carolina, Florida and New Zealand. He was an honorable, kind, and caring man who was loved and respected by all who knew him. His Children, Grandchildren and Great-Grandchildren all agree they had the best Dad and Grandpa anyone could hope for. He will be dearly missed and will live in our hearts and memories forever.
Noah is preceded in death by his wife of 65 years, Sarah Frances Key Tadlock, who died May 6, 2007 at their home in Richland, and his daughter-in-law, Edith Harris Tadlock. He is also preceded in death by his parents and all of his beloved brothers and sister: Johnny Tadlock, Milton Tadlock, Norman Tadlock, James Earl Tadlock, and Bertha Mae Tadlock Cox.
He is survived by his 6 children: Myra Tadlock Gibson, Beaverton, OR; Noah Wilbert Tadlock, Jr., Peggy, Boise, ID; Leslie Ray Tadlock, Larissa Spokane, WA; William Bill Edward Tadlock, Veronica, Kennewick, WA; Sharon Elaine Tadlock Anderson, Alva, Sisters, OR; and John Richard Tadlock, Debra, Kennewick, WA; and by 13 Grandchildren, numerous Great-Grandchildren, and Great-Great Grandchildren. He also has many beloved Nieces and Nephews living in North Carolina and other East Coast States.
Noah's family gratefully thanks the Chaplaincy Hospice for their kindness, support, and assistance during his final struggle with cancer. We invite those who wish to do so, to make a nominal donation to that organization: 2108 W. Entiat Ave., Kennewick, WA 99336.
The family plans to have a service honoring Noah's life on June 27th, 2pm at Einan's Funeral Home, Richland, Washington.
My Uncle Noah will be missed by all. He was loved for his kindness, love for others and his fun loving nature. There are few people that stand out in my life. I am proud to say that he is and always will be one of those individuals.
Gpa…Thank you for all the wonderful memories of having a grampa. Fishing and camping and playing cards. Going to the casino …Your positive advice and caring. Always being interested in all that was going on in our lives…even though it was't that interesting sometimes..LOL..You will never be forgotten but always remembered as one of the most important parts of my life..I'm glad you and gramma are reunited and finally together forever…I love you
Dear Dad,
This is the hardest thing I have ever had to write, my good-bye to you. How can I ever thank you for being the father that you were? You told us stories of what your life was like growing up, and every time I heard one, I felt so grateful that you were able to let all that go and raise your own children with love and understanding and a really good sense of humor. You were always available if one of your children or someone in their family needed help, and the dedication and love you showed during Mom's battle with Alzheimer's let your true character shine on all of us. Thanks for letting me be one of your children. I feel so blessed.
With all my love,
Your daughter,
Sharon
Les…My sincere condolences to you and all of the Tadlock Families. May the great memories of your Dad remain fixed in your mind and shared with others over the years.
Sincerely…
Gary Behymer
Col-Hi Class of 1964
Grandpa, I miss you so much. I am so glad my children got to know you and see how special you are. I will cherish the wonderful memories I have with you and grandma. You are a role model for all of us. I love you so much. PS, Give Grandma a big hug and kiss from me.
Bill & Veronica,
Sorry to hear of the loss of your father, my prayers are with you at this time.
Paul
We will miss Uncle Noah dearly. He reminded me so much of Papa Norman Tadlock.
I am so thankful for the times that I was able to spend with Uncle Noah when he came to visit us in NC. It was so fun to hear he and Grandaddy Norman tell stories. They would go on for hours!
Uncle Noah was such a kind and loving man and I am grateful to be a part of his family. We will all miss him dearly.
There are too many great memories of Grandpa floating around in my head to share them all here, so I'll give you one of my earliest. Hopefully someone else will benefit from his wisdom as much as I have.
I was probably less than 10 years old. At Hell's Canyon, some random guy was fishing on the dock & needed a bucket. Turning around, he saw a bucket in Grandpa's aluminum boat. W/o hesitation, he reached in & took it, filled it w/ water, & put his fish in it.
That seemed wrong to me, so I went up to tell Grandpa. His response was simply, "I do not care."
That got me thinking. Ok, it is just a bucket. The guy will probably put it back when he's done, & even if he doesn't… Well, it's just a bucket.
I still stress out about things from time to time, but Grandpa taught me not to sweat the little things. This is one reason Grandpa lived so long & healthy, & why I haven't gone postal.
I am so grateful that I had the privilege of spending time with Uncle Noah on his trips to North Carolina. One of my fondest memories is when we had a reunion at our house when I was in about the fifth grade. Uncle Noah and my granddaddy Norman got on our trampoline and proved that having fun wasn't just for the kids! I loved his fun and kind spirit. I am keeping you all in my thoughts and prayers as you hold tight to your memories but learn to let go of your dad and grandfather. He loved you all so much and talked about you all the time when he visited with us. He was truly a special man and the world was better for having had him in it. Much love to you all!
DEAR GRANDPA,
Grandpa Love, where are you now?
We miss your hugs and smiles and how
You made each one and all of us,
Your special kids worth lots of fuss.
Death is not final, you haven't gone;
We'll meet again though time seems long.
You will be close and sure to know
The things we do and how we grow.
A sight we glimpse or sound we here
Will say "I'm here, grandchildren dear".
We'll feel the warm familiar flush
Of when you hugged each one of us.
Through the years we hope to show
That we are men you're proud to know.
We hope our leaps and bounds and strides
Are things that swell your heart with pride.
When our time comes to cross the veil,
We hope to quickly, quietly sail
To where we'll see your smiling face,
And Grandma's too, in all its grace.
WE ARE SO GLAD THAT GOD GAVE YOU TO US FOR A GRANDPA. ALTHOUGH WE MISS YOU VERY MUCH, WE KNOW YOU ARE HAPPY AND AT PEACE NOW. WE WILL ALWAYS TREASURE OUR TIME WITH YOU AND TRY TO MAKE YOU PROUD.
LOVE,
YOUR BOYS,
WILLIAM EDWARD & KURT NOAH TADLOCK
JUNE 23, 2009
It was always such a pleasure when all of you came to see us in NC. We have so many fond memories of all the things we did together. They will truly be missed and was loved by everyone. We especially enjoyed all the times we spent talking about old times and catching up with each others families. Norman always had a special place in his heart for Noah, they were so much alike. Norman never forgot and loved Noah for giving him his very first bicycle. GOD Bless all of you. Our thoughts and prayers are with you.
Love,
Aunt Emma
Words can't say how much we will miss Uncle Noah and what a great person he was. Our family has had so many great times with him laughing and talking until wee hours in the morning. Even thou we didn't get to see all of his children, grandchildren and other family members, we felt like we knew each of you through Uncle Noah's stories. May GOD be with each of you through this time of sorrow. You will always have your parents with you in your heart and memories. We LOVE YOU!!
Brenda and James Wilson
I worked with Bill for many years at exxon and areva. Bill and I fished several times and some of those times I met Noah. He was a good man, loving father and a joy to be around. He taught his son, Bill, to be a good man and Noah passed on all of his traits. I know that Noah is in good hands.
Best Regards,
John Phillips
Our thoughts and prayers are with you. We always enjoyed Uncle Noah's visits and his great stories. We especially enjoyed him as he reminded us so much of PaPa Norman. Please know that we are with you in spirit.
When Uncle Noah was coming to town, you always knew fun times were ahead. It never mattered what was going on in his life, he always had a smile on his face. Uncle Noah was one of the most positive and grateful people I have ever known always positive. I will never forget the stories of Uncle Noah. He didn't tell me all of them…I got them from another source, my Dad! Uncle Noah was a role model to me and I will miss him dearly. I hope we all continue to carry out the Tadlock name, by the standards that our fathers set. I love you all!
Uncle Noey will be greatly missed by all those you had the pleasure of knowing him. We may not have seen him often but his love made such an impact on our family. My thoughts and prayers go out to his decendants and I hope that we can continue to stay in touch.
Love Always,
Jessica
daughter of Norman, Jr. and Great-niece of Noah
I'm the oldest of Dad and Mom's six children. Our family has been so blessed to have the wonderful parents we had. Both Mom and Dad will always be so missed and so dearly loved and in our hearts forever. We've been left with memories of their wisdom, their love of family, and their constant demonstration of generosity, kindness and acceptance. Dad's loving care of Mom during her last years as she succumbed to the heartless ravages of Alzheimer's Disease was a true model of dedication and devotion.
He was so proud of all of us and he freely let us know that. He was fun to be with and had fun being with us, whether it was on our fishing trips, playing Go Fish or Uno with the younger kids or having poker tournaments with us as we got older. Our children and grandchildren benefited from Mom and Dad's love, their stories, their guidance and their doting affection. How fortunate we've all been! Dad taught us all that safety in all we do was most important whether it was crossing the street, learning to shoot a rifle, drive a car or change a tire. He taught us to be independent, to take care of ourselves, to be good to others and that family always comes first. I know I'm not alone when I say "I'm so proud of you, Dad! I love you, and I miss you".
Love, your Daughter, Myra Frances Tadlock Gibson
My life has been filled with memories of hugs and laughter, big family gatherings, fishing trips, playing card, cousins, aunt and uncles and my beloved grandparents. I have always felt so fortunate to be a part of this wonderful family and know that Grandma and Grandpa will smile with pride as they watch over us.
Seven years ago on Grandpa's birthday, my son Noah came into this world and every day I am reminded of Grandpa's kindness, his gentle smile, dedication and sense of humour. I feel honoured that as the eldest grandchild I was able to pass on his name to my eldest son, a third generation to carry on his memory.
I still laugh out loud when I remember, at my first wedding, as guests were raising their glasses for various toasts, Grandpa stepped forward and announced…."A toast to the Grandparents!!" to which we laughed and drank.
Well Grandpa, another toast to you, in our hearts forever – Cheers!
Love Shelly
My name is Ryan Wilson I am Brenda Wilson's Norman Tadlock's Daughteryoungest son. I did not have a chance to know Uncle Noah as most signing this guest book have. However the times I had been around him most recently at my Grandfather's funeral you would think I talked to him everyday. He reminded me so much of Papa Tadlock with his humerous and friendly persoality. As with Papa I can not imagine he knew a stranger but what i did know is that he loved his family and am so greatful for all the he did for mine during that time. I'm sorry we live so far away and are unable to do more but I will help mom get you the pictures and videos that we have. My thoughts and prayers are with you and again I am sorry.
our prayers are with you all. may god confort you and bless you with memories.