FIND AN OBITUARY
Service information is posted on our website only with approval from the family.
If you are seeking information not listed below, please contact us.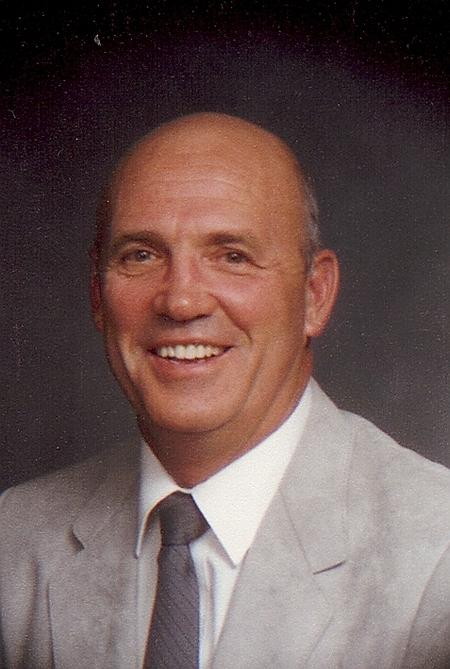 Raymond Forrest Hultman
01/18/1929 — 06/17/2009
From Richland, WA, US | Born in North Platte, NE
Raymond Forrest Hultman
Raymond Hultman passed away peacefully, Wednesday, June 17, 2009 at home. He was in the loving care and presence of his wife, children, and grandchildren. Ray bravely fought cancer for about two years.
Ray was born in North Platte, NB, January 18, 1929 to Oswell John and Esther Hultman. He graduated from Richland High School in 1947, and was one of the original founders of Club Forty. He attended Eastern Washington University at Cheney, WA. Ray served two years in the U.S. Air Force at Elmendorf Airfield, in Anchorage, AK. He married high school sweetheart, Marilyn Wallace, December 1948, and enjoyed 60 wonderful years together. They had two sons and three grandchildren. He instilled in his children how to work hard, play hard, built character, and enjoy life to the fullest. Ray was a quiet man, always worked hard and was a man of his word. He enjoyed golfing, camping, fishing and hunting.
Ray was a lifetime member of the Richland Masonic Temple & Central United Protestant Church. He was also a fifty year member of the IBEW, a long time member of the West Richland Golf Course and a member of the WA State Assoc. of Sports Officials, officiating football & basketball for 27 years.
Ray retired from Battelle PNNL July, 1989 as a Facilities Operations Manager. After retiring, Ray and Marilyn spent 10 years traveling in their motor home with friends through 49 states, 7 Canadian Providences and wintering in Yuma, AZ.
Ray is survived by his wife, Marilyn, children: Michael Linda Hultman of Batesville, IN, Steve Sue Hultman of Pasco, WA, grandchildren: John Mandy Hultman, Stacy Hultman, and Jeffrey Hultman. Ray was preceded in death by his father and mother Oswell and Esther Hultman, sister, Ina Anderson and niece, Caroline Redd.
There will be a viewing at Einans Funeral Home, Richland, Monday, June 22, from 6 to 8 pm. A Memorial Service will be held Tuesday, June 23rd at 2 pm at the Memories at Sunset Center, in the Sunset Memorial Gardens, Richland, WA. In lieu of flowers, donations may be made to Hospice at the Chaplaincy, 2108 W. Entiat Ave., Kennewick, WA, 99336.
Marilyn and family,
Our thoughts and prayers are with you.
Dean and Bev
I have known the Hultman's for most of my life. What a great family! Mr. Hultman was my Little League Coach and a very positive influence in my life. Mr. Hultman was always positive and happy. I was lucky to see him in April and even though he was very sick he still greeted me with a big smile! I'm a better person for knowing Mr. Hultman! My condolences go out to Mrs. Hultman, Mike and Steve and their families who lost a great man.
Our time together as classmates, friends and baseball will forever live. I have admired Ray and Marilyn for many, many years. Farrell
It is hard to find the right words to express how much we will miss Ray as there are so many wonderfull memories. He was without a doubt an exceptional and caring friend that will truly be missed. We send our love and pray for Marilyn and all his family.
Blessings this day to Ray and each of you that touched his heart as you did his. May the loss of his physical presence be filled with many fond memories. God Bless You All ~!~
akaRoy and Donna's Daughter
Ray Hultman was a role model for all men to follow. His legacy will live on for many many years to come. He was fair and honest, and when "Ray Hultman" spoke, everyone listened! We have lost a friend, but through his sons, he lives on. I feel honored to have known him.
Don Goulet
My wife Dolores and I both worked with Ray in the 60's and right up to his retirement in the late 80's. Later when we were both in Management we had dealings with each other. Ray was alway a good guy, fair and easy to work with. We used to look forward to saying a few words at the Senior dinners and the golf course. He will be missed.
Jack and Dolores
I met and worked with Ray starting in 1955. I later worked for him before we each changed career paths. We played fast-pitch ball together, and I watched him referee football and baseball–he was excellent.
The Feaster family will miss him and our hearts are with you at this time.
Ron
Ray was a wonderful man! We had many of good times hearing stories of Mike after numerous baseball games! Your family is in our thoughts and prayers! Take care and Marilyn please come visit
Batesville real soon!
Dear Marilyn, I am sorry to hear of Ray's passing. My thoughts and prayers are with you. It is so difficult to let them go. I know Ray & Paul will be up there repeating stories of their lives in Richland to each other and many of our other friends. It was great knowing Ray. Much love. Evelyn
Dearest Marilyn and family,
I am so sorry to hear that you lost your beloved Ray recently. My heartfelt condolences, prayers and love go out to you at this time of your sorrow. May God speed Ray's journey Home to Him and grant you the strength to make it through this terrible time in your life. My heart goes out to you honey.
All my love,
Judy Willox
Don e-mailed me this information, Steve. I'm so sorry for your loss. God's hand be on your shoulder as He directs and guides you through these difficult times and know you and your family are in our hearts and prayers!
Wayne and Rhio
Marilyn and Sons: Ray was a special friend. Though we didn't see him often, we tried to get together whenever we were nearby. Your memories will be many, and great smiles will come from most of them. May God grant you all comfort in these days of loss.
Your friends, Gene & Doreen
Ray was such a good and thoughtful person – always cheerful and joking around. I feel lucky I got to know him, and have always enjoyed the visits with him and Marilyn when they come to Indiana. He will be missed. My thoughts and prayers to the family. Love, Phyllis
What a great guy Ray was…he will be sorely missed by all who knew him and loved him. I first met Ray in 1966…we had a great time working together on various projects in the 300 Areas 324 and 331 Buildings. Our prayers to Ray and his family. Ellwood and Paula Werry
Our prayers are with the Hultman family. We did not get to go through the reception line today but want you to know we enjoyed the service. May God bless your family. Friends of Steve's family
Mrs Hultman,
I am sorry for you and the family. Put praise the Lord, we know where your husband us. He is not dead,he is alive with the Lord,
waiting for all of us who are saved. No more pain. Our prayers are with you.
Dale, Kathy Lemmons
For the Family of Raymond Hultman
From the Kennewick Chapter of the American Revolution
There are no words to expres the sorrow of losing a loved one. It is a pain that only time will heal. While we did not know Raymond personally, as DAR members, we honor his commitment to our country and his service in its defense. The DAR strongly supports our nations' military, and we recoginize the personal sacrifice that each member gives, as well as their families.
To that end, we offer you our heartfelt condolences, and prayers of comfort. We thank you for Raymond's service, and his sacrifice to our country.
May God bless you and comfort you as you remember just how very special Raymond was to his family, and his country.
In grateful remembrance.
The members of the Kennewick Chapter DAR