FIND AN OBITUARY
Service information is posted on our website only with approval from the family.
If you are seeking information not listed below, please contact us.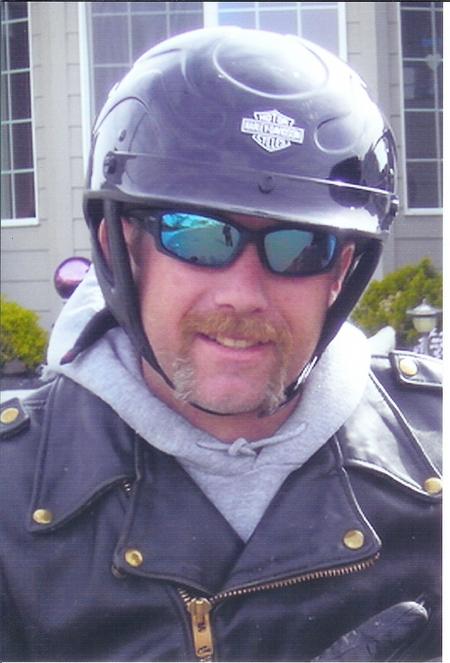 Troy Matthew Gangon
08/16/1972 — 06/01/2009
From Benton, City, WA, US | Born in Seattle, WA
Troy Matthew Gangon
Troy Matthew Gangon
Troy Matthew Gangon was born on August 16, 1972 in Seattle, Washington to Mother, Carrie Brickner and Father, Ross Gangon. After fighting a courageous battle with cancer Troy went peacefully to the Lord on June 1st, 2009.
Troy met and fell in love with the 'Love of His Life' Gwen; marrying her on November 8th, 1991. Over the following 18 years Troy raised three beloved children Daniel, Kaylee and Ashlyn reflecting his nature as a true family man and devoted father. Troy was a God fearing man that loved life, family and friends. Troy's unique sense of humor brought enjoyment to everyone that knew him. He was an avid hunter and fisherman; he enjoyed spending his free time in the mountains, but riding his Harley Davidson motorcycle was his true passion.
His Grandpa and Grandma Gangon, and Grandpa Johnson as well as his Father-in-Law, Bob Parsons precedes Troy in death.
Troy will be missed by his family; Brothers, Travis Gangon and Robert Marshall Jr, Sisters, Sharalee Radford and Amy West; Grandmother, Ellyn Johnson and Mother-in-Law, Sheryl Parsons; Brother-in-Law and best buddy, Roger Richardson and Brother-in-Law Joel Radford; Sister-in-Laws, Kim Marshall, Verleen Richardson, and Amber Gangon, as well as many Aunts, Uncles, Cousins and friends.
Special thanks to Hospice who showed tremendous patience, compassion and understanding.
Memorial services will be held at 2:00 PM Friday, June 5, 2009 at Country Christian Center, 5500 W. Sagemoor Road, Pasco.
Gwen, I am saddened to hear of your loss. I haven't seen you for many years, but please know that I love you and think of you and your family often. You are in my heart and prayers. Love you, Billie
Dear Gwen,
We were deeply saddened to hear of your loss. Our thoughts and prayers are with you and your family. Remember that we love and care about you and may the love of those around you help you through the days ahead. Love,
Paul, Lori, Katie & Sarah Leyendecker
To the family; I wish you all well amd share your sorrow during these times. For Troy; You were one of the first faces I met moving to West Richland and I fondly remember our late night runs and your support in the early years. I was repeatedly astonished by the difficult hands you were dealt and the positive manner in which you were able to face each one. I wish you peace and I know you will continue to watch over your family you loved so much.
Troy was an amazing person, whom we will miss greatly. Troy had too many great qualities to name them all, but I will most miss his ability to make everyone laugh, even in the most difficult of situations. Troy's dancing skills the robot and the "spank you dance," to name a few were unparalled, and his versions could make me laugh til I cried! It makes me smile to think how Troy must be making everyone in Heaven laugh! We love you, Troy, and look forward to the day that we will see you again!
Troy was an inspiration to many of us with his tremendous courage, strenth and faith. Gwen, we love you and pray for you and the girls and Danny every day that God will comfort you and sustain you in this most trying time. Of course we know Troy's relationship with God secures him life everlasting. But our hearts go out to you and the entire family because Troy will be missed until the day we all can be reunited. Sorry we are so far away in times like these. But we are there in our love and spirit. Bless you!
Troy was a great person! Stacey and I really enjoyed being around him. He always made us laugh no matter where we were or what we were doing! You will always be in our hearts and prayers!
Gwen,
No amount of words can express how sorry I am for your loss. I have never met such a hard working and loving family such as your own. you will be in my thoughts and prayers daily, stay strong and God Bless…
Troy was a great boss and a hard worker. He thought of his family first and himself last. Although I only knew him for a short time I think of him often because he was a unique person. God bless you Troy, and God bless your family.
so sorry to here of your loss! Are hearts are with you. Troy was a great man and will be missed as well as remembered
Dear Troy, I know your up there in heaven looking down on all of us. I want you to know you along with Travis and Bobby are the best brothers a girl can ask for. But not only did I think of you as a brother but also as a father figure. I looked up to you! You were such a wonderful husband to Gwen, great dad to your kids and a awesome brother to me. I will miss you so much but will see you again in heaven. Thank you for being my big bro!!! Love you, love Sharalee
Dear Gwen, to start off I am so sorry you have to go through this. But I admire how strong you are and I want you to know I am so glad Troy married you. Your are a great sister in law and I love you so much. I am here for you along with everyone else. I know it is going to be a hard road but just remember time goes by fast and you will be with him agian. Thank you for loving my brother, for loving our family and for loving me. You are amazing!! Love you, love Sharalee
Dearest Gwen,
I have always looked up to you and Troy and your marriage. Yes, you two were the best of friends. Troy was an admirable man and you are also an admirable wife and mother. Stay strong Gwenners. Troy would want you to keep on going and take care of those girls. He will be watching down upon you as the days pass. I am so glad Troy is not suffering anymore. Soon you will see him again. He will be very much missed by so many but we all have his legacy of his family to keep him alive in our hearts. Never be afraid to ask for help. We all love you and the kids so very much, besides you make me laugh – like Troy made so many laugh as well.
I love you Gwen, Annette
Troy I will miss you and never forget all the great ways you made my life better as a brother and a friend! Love You!
It was with deep sadness that Troy had to leave this world. The only joy that can be felt from it is that we know that he has gone home to be with the Lord and will not have to suffer any longer. It has been my pleasure to know Troy for over 20 years and I feel as if I lost my own brother. He was one of the best men I have ever known. He was a man of God who was everything to his wife and kids. He was honest, loving, kind and loyal. He will be greatly missed and we will be counting the days until we will be able to be with him again seeing his smile and hearing his laughter. Troy I love you and will miss you. Gwen, I am here for you and the girls anytime.
Gwen & Family,
My sincere sympathy to you and your family during this hard time. Troy will be missed; he was truly a great guy. When Troy stayed with the us for two years so that he could finish senior year with my son Robert. These two were boys were invincible together. Road there new shadows bikes everywhere. They were so pound to ride. He was like having another son. Troy will be missed.
Troy was a great nephew, an all around good person, and a man with many talents. A Hard working family man who spent many hours helping other family members. He was funny with a dry sense of humor, and was an absolute pleasure to be around. He was well liked by everyone, and he left us much to soon. You will alway be a part of our lives.
Troy was an awesome Son-in-law. I couldn't have asked for a better one. He seemed like a real son and was always there when I needed someone to help me. I will miss his little comments he made. He will always be in my heart. I look forward to the day when we will meet again. I am very thankful for all the love he showed my daughter and their children. He was one of the best men I have ever known. I love and miss you Troy.
A great nephew and a sad loss to our family. Troy, you will be missed!
Troy is going to be missed very much, he not only was my husband, the father of my children but also my best friend, we had a lot of good times. I will remember him forever,he left me with some very good memories and beautiful children. I thank him for taking my son Daniel as his own when Troy was just 19 years old. The best years of my life has been the last 18 years and thats because they were spent with Troy. I love you Troy and I miss you more than you will ever know.
I cant believe Troy is gone. He was a friendly, funny, honest and all around good person. He will be missed.
Qwen & Family,
My sincere sympathy to you and your family during this hard time. Troy will be missed, he was truely a great guy.
Gwen&Family,
I remember so many good times with you and Troy. Troy had a smile that always brightened the room. It is hard to face the fact that he is gone and in heaven and looking down on us. Gwen no matter what it is you need today tomorrow or a years from now I am here for you. I will always be here. Troy was a wonderful man. I will miss his smile and his sense of humor. Troy will forever be in our hearts and prayers as will you and your family Gwen. I will pray for you to have strength and to remember all those good times with Troy. Sending you all my love and support to you Gwen.
Dear Gwen and family
We will always remember both of you. You both where in our lives out on Elm road. Then poof you where gone. Then one day poof you were back seen Troy in at McDonalds and are just starring at each other finally said do we know each other. Then we all laughed and caught up on what bascaily everyone waas doing. We are glad that you both came to the house. We be there if you just want to scream.
Like Always
Pam and Larry Pence