FIND AN OBITUARY
Service information is posted on our website only with approval from the family.
If you are seeking information not listed below, please contact us.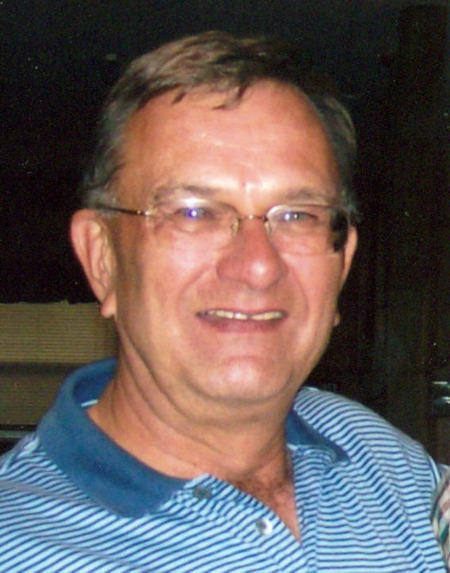 David Rex McLaughlin
11/26/1949 — 10/17/2009
From Pasco, WA, US | Born in Alliance, NE
David Rex McLaughlin
David Rex McLaughlin, born November 26, 1949 in Alliance, NE to Theodore and Hazel McLaughlin, returned to the loving arms of our Heavenly Father on October 17, 2009. He passed away at home surrounded by his family; he was taken away from us too soon.
David was a wonderful and loving husband of Deanna for 33 years. He was a dear brother, proud father and grandpa papa. David had touched so many lives with his compassionate caring and giving ways and was a true friend to all and a hero to his family.
His early childhood was in Summerville, OR, later he moved to La Grande, OR where he graduated from La Grande High School in 1969. At fourteen years old he started to work in the grocery business. Shortly after graduation he moved to California where he managed his own store. He then returned to Oregon in 1976 where he was reunited with his childhood sweetheart, Deanna and began their life together. On his returning to Oregon David worked at Bob's Market in Elgin, Hoff Building Center, Goss Motors and Eastern Oregon Rental in La Grande, OR.
David and Deanna moved to Pasco, WA. In 1997, he worked for Power Rents and then he worked for United Rental. After working for United Rentals he then proudly worked at Star Rental where he acquired a wonderful brotherhood of dear friends.
Not only was David proud of his job he was very proud of great family moments; the birth of his daughter Jeana Kay in 1967, his marriage to Deanna and the joy of having two new daughters Sondra and Shannon Wisecarver. David was very proud to witness the baptism in 1983 and the birth of his eight grandchildren who were the joy of his life.
He enjoyed riding his many bikes and finally his Harley Davidson. He was able to tour through Canada, many states and to Sturgis with Deanna and his late father-in-law Woody Kennedy. David found the time to restore his 1966 Mustang. David enjoyed going to car shows and races with his brother Richard. He was an avid Brett Favre, Green Bay Packer fan. David enjoyed competition shooting and was a member of the NRA and of F.O.E. in Kennewick.
He was survived by his wife Deanna of 33 years; daughter; Jeana Kay and Derrick Suiter of Eagle, AK; daughter, Sondra and Erik Harvey of La Grande, OR; daughter, Shannon and Gary Breese, of Oregon City, OR; grandchildren, Jasmine, Sasha, Craig Cunningham; Konner Kennedy, Breanna and Madison Harvey; Mitchell David and Skyler Breese. He is also survived by his brothers, Richard, Teddy, Gene Colleen, Jerry Rosalee McLaughlin and his dear friend Barbara Blom.
David was preceded in death by his father and mother, Theodore and Hazel; brothers, Martin and Jim; his sisters, Rose Marie Roach, Mary Lou Fisher and Susie Martin and his grandson David Eugene Faircloth.
A sincere heartfelt thank you to Star Rental for all the love, prayers and support. Also to Hospice and to our dear neighbors, family and friends during this very emotional time of David's illness.
A memorial service will be held on Sunday, October 25, 2009 at 2:00pm at Memories at Sunset Event Center located in the beautiful grounds of Sunset Memorial Gardens in Richland. Internment will take place at a later date in Summerville, OR.
My thoughts and prayers go to all of you. I know David went way to early, but he is no longer in pain and he is with his Lord watching over each and everyone of you.
Just remember if you ever feel a little brushing close to you its just David letting you know he is watching over you.
I know you are all strong and you will move on with all the wonderful memories you have of the years you spent together, and the wonderful love you had for each other, that will always be there to help you get through the rough times.
Deanna-Marc & I are so sorry for your loss. Marc used to sit with Dave at the car races in Hermiston,which I didn't know until 1 day at the bank when Dave & I were talking.Our thoughts & prayers go out to you & your family.
I spent many weekends in Dave and Deanna's home growing up. Dave was always warm and friendly and made me feel welcome, and I felt like a member of the family. I know he will be truly missed by all his friends, but especially his grandchildren. Thank you Dave for all the great childhood memories.
I am so sorry. He will be so missed but he is standing tall and smiling as he always did now. I will always remember how good and thoughtful he was with Soni. I know he loved you all so much and it showed. May God Bless you all.
I will always remember David for his kindness and caring ways. He always made us feel good. He always called me Patricia, not Patti because he know I liked that better and most people shorten names. One day about a year ago, I was having lunch with a friend in Denny's and the waiters said that the gentleman at the bar had paid our bill. He was always fun and 0f a positive mind. Wayne thought of him as a brother and so did I. I can't imagine the world without him. But to know he is with our lord is a great comfort.God bless his family.
We are saddened to hear od Dave's passing. We know his abscense will be greatly noticed.We are so thankfull for the love he showered on Konner, our grandson.Thank you Dave for being there for Konner all these years. I bet there are many other lives you have touched equally.