FIND AN OBITUARY
Service information is posted on our website only with approval from the family.
If you are seeking information not listed below, please contact us.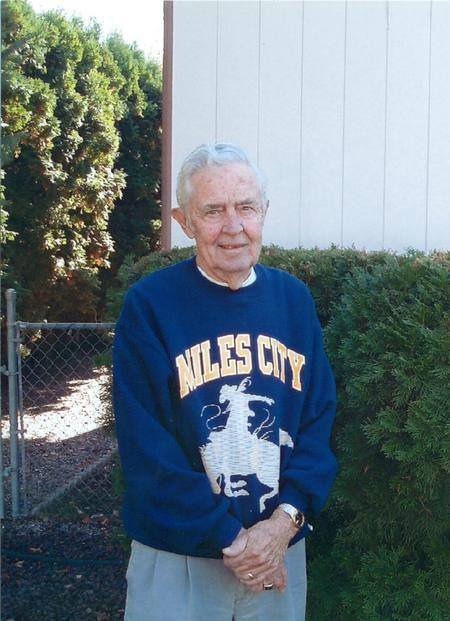 Jack Roy Cloud
11/13/1921 — 10/17/2009
From Richland, WA, US | Born in Miles City, Montana
Jack Roy Cloud
Jack Roy Cloud, our beloved father, grandfather and great-grandfather, joined his Lord and Saviour and his beloved wife and our mother, on October 17, 2009, with his youngest son at his side.
Jack was born to Roy Harris and Thelma Bacon Cloud on November 13, 1921 in Miles City, MT. He was raised in Miles City, graduating from Custer County High School in 1941. In high school, he was an avid basketball and football player. He joined the US Navy at the beginning of WWII and was stationed in San Diego, CA before being medically discharged 3 months later. He married our mother, C. Lucille Storms on October 28, 1945 in Miles City.
Along with his mother, Thelma, Jack owned and operated Cloud Cleaners for 25 ½ years, closing the business in September 1972. In November of 1972, he and Lucille, along with their two youngest children, moved to Richland, WA. Jack was employed with Exxon Nuclear, which later became Framatome, from which he retired in June of 1988.
Jack's happiest moments in life were the 58 years of marriage to our mother and having his kids and grandkids around. While living in Miles City, he was a member of the First United Methodist Church and upon moving to Richland, he became a member of Central United Protestant Church. In his younger years, he enjoyed bowling, was a member of the Elks in Miles City and he and Lucille were also members of the Rambling Rovers and enjoyed many wonderful trips and times traveling together with that group. For those that knew our Dad, you could have not have met a more faithful "long distance" supporter and fan of the Seattle Mariners. His love of baseball and the Mariners was enormous. Our Dad was always early to bed unless…there was a Mariner's game on. He never wanted to attend a game in person, saying that the best seat in the house was in his recliner in his own living room.
Jack was preceded in death by his wife, Lucille, in June of 2003. Also preceding him in death, were his parents, Roy and Thelma Cloud and his older sister, Garnet Brown. He is survived by his son and daughter-in-law, Jack and Carol Cloud of Las Vegas, NV: his son and daughter-in- law, Thomas Tom and Debbie Cloud of Golden, CO; son William Bill Cloud of Helena, MT; his daughter and son-in-law, Catherine Cathy and Geoff Durst of Aberdeen, SD; son Richard Dick Cloud of Kennewick, WA and daughter, Caroline Cloud of Richland, WA. He is also survived by his seven grandchildren, Melissa Bobby McFarlen and great-granddaughter Rylee McFarlen of Arvada, CO, Jennifer Cloud of New York City, Justin Cloud of Arvada, CO, Michael Cloud of Bozeman, MT, Lucy Pat Hicks of Eugene, OR, Katy Durst of Aberdeen, SD and Taylor Cloud of Las Vegas, NV.
He is also survived by his younger sister, Kay Thompson and her husband, Ben of Gig Harbor, WA and his aunt, Opal DeVine of Richland, WA and numerous nieces and nephews. Our Dad will be missed also by his very good friends of both our parents, Bob and Elsie Jepsen of Richland, WA.
Jack was very thankful for all the visits, love and prayers of his family and friends during his illness. It gives us, his kids and grandkids, great comfort in knowing that our parents and grandparents are now together in God's hands for eternity. Our family would like to extend a heartfelt thank you to Richland Gardens and Tri Cities Chaplaincy Hospice for the excellent care and love you gave our Dad through the past few months.
Christian burial will be Wednesday, October 21, 2009 at 10:00 AM at Sunset Memorial Gardens in Richland, followed by a memorial service at Central United Protestant Church in Richland at 11:00 AM. Visitation will be at Einan's Funeral Home Tuesday evening, October 20, 2009 from 5:00 to 8:00 PM and Wednesday 8:00 to 9:45 AM.
Memorials may be made to a charity of your choice or to the International Myeloma Foundation in honor of Jack's son, Tom at 12650 Riverside Drive, Suite 206, North Hollywood, CA 91607- 3421.
Richard and family,
Sorrow is not forever, love is.
I remember your father when he picked up our uniforms when we volunteered for security at the hockey world games. He was always prompt and had a good word and a smile. Your mom washed and pressed all of our clothes.
Richard you are and were the best son anyone could ever want. Hang in there, your memories will pull you through.
Much love, Joni
Richard and family
We were so sorry to hear of your father's passing. As you all know, Hospice employees are angels to those in need and their families. I'm so happy they were there for your father. Our thoughts are with you in these coming weeks, months and the Holiday season.
RaNae and Craig
To Richard and Family….Sorry for your loss; we never met your dad but you have talked about him and your love of family!!….Hope to see you soon….Jim, Bob and Steve
Dick, Thank you for sharing with us your final days with your father and that all you kids could be there with him. I will always remember your Dad as a happy,smiling individual and as a very capable athlete that we students cheered on "for dear old Custer High" Jack will be sorely missed.
So sorry to hear of your loss. I do remember most of the Cloud family and the Cloud Cleaners in Miles City. To Kay and the rest of Jack's family, my prayers are for you. May God be with each of you in your time of sorrow.
Betty Carter O'Brien
Dear Richard and the Cloud Family – We are very sorry for the loss of your father, grandfather, and uncle. I had the opportunity to meet your dad one time and hear about him on many occasions from Richard. He was a very nice and gentle man. We know you will keep him close with all the wonderful memories you have of him. We are keeping you in our prayers and thoughts. With love and sincere sympathy – Jackie Shea Brown and Russ Brown
Dear Cathy, Geoff and Cloud Family,
We were so sorry to hear about the loss of your father and grandfather. It was so good you could spend time with him a few weeks ago. He is now in a better place and has no more pain. You have been in our thoughts and prayers.
With Sympathy,
Dick and Jean Hicks
To the Cloud family,
Know you are in the thoughts and prayers of many who remember your dad and family from your time in Miles City.
My deepest sympathies to all.
Dear Richard & The Cloud Family…I'm very sorry over the loss of your loved one. You and your family are in my thoughts and prayers.
I was so sad to hear about your Dad. Having lost my dad in May, I know how you feel,and my heart goes out to you all.
My dad had many fond memories of time spent with your parents in high school. They're probably catching up with each other already.
Your dad lived a good, long life with the love and support of his family, and I hope you find comfort in that.
Dear Cloud Family,
I worked with your Dad for a number of years around 15 & in the same area-Bundles for about 8 Years. Jack was a great guy & I thought very highly of him. In Fact-I loved your Dad. He was around my Mothers age & when you work with someone like jack–he just grows on you. He was nicer to me than my own Dad. God bless the family. Jack my friend–I love you. Will see you someday.
God Bless,
Carl Franklin
Our sincere sympathies to the entire Cloud family. We, also, have fond memories of the "Cloud" family in Miles City, Mt. We are thankful that Jack has had a long and fullfilling life. It is those left behind that have to fill the hole in their hearts with the memories of the good times and the love that he shared with all of you. May all the young couples yet to come share the deep devotion that Jack and Lucille had in their marriage. They were good people and they both are missed. Know that we are thinking of you, Patty and Donnie Herzog
To the family of Jack Cloud,
Please accept my sincere condolences in the passing of your father, Jack. I've been keeping you all in my thoughts and prayers and know how difficult a time this must be for all of you. Your wonderful memories will keep him alive in your hearts and the pain will lessen in time. May God's blessings be showered upon you all and give you strength in your time of need.
Sincerely,
Maureen Larson
What a great legacy your parents left you with. You have each other. I just want you all to know I'm sorry for your loss and that I'm thinking about all of you during this time.
Richard,
You and your family are in our thoughts and prayers. Our sincere condolences to you.
Joe and Sue Burrowes
To the Cloud family: May the times and memories get you through this difficult time. Will keep you in my prayers.
We are so very sorry for your loss. You all are in our thoughts and prayers.
Jack & Family:
I am so sorry for your loss. My prayers are with you all.
What a story Richard had to tell. Thanks for sharing that with us. Jack looks like a grate guy.
Dear Dad….
Hopefully you will check your Presto machine up in heaven today you know what I mean!!! It's been a year now that you left us and literally, not a day goes by that I don't think of you and miss you! There are no words to express how much I miss you but it comforts me greatly knowing that you and Mom are together as I know how very much you missed her after she passed away. The more I see of life and families, I am convinced more and more that us 6 kids were uniquely blessed with having parents as wonderful as you and Mom! And how about those Mariners this year?!? Awesome, huh?!?! JUST KIDDING! I know your loyalty to them would never have waivered though….even THIS year! Caroline and I are going to the DQ today in your memory and I think I'll have few peanut M and M's when I get home for dessert! May you always be in the loving arms of God and someday, we will all be together again. I love you Dad!
Love, Dick
Jack, my thoughts and parayers are with you for the loss of your father.
I remember your father's kindnesses when I was growing up in Miles City. My thoughts and prayers are with all of you. Libby
Bill and family, We are so sorry for your lose. You are in our prayers. God Bless you all with his peace an comfort.