FIND AN OBITUARY
Service information is posted on our website only with approval from the family.
If you are seeking information not listed below, please contact us.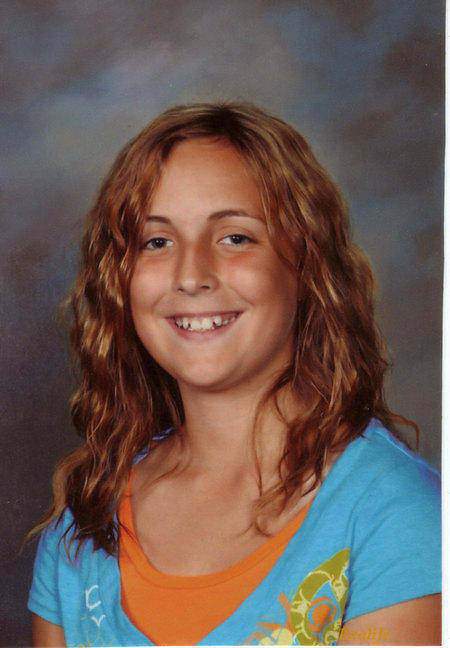 Taylor Lynn Elaine Tefft
04/08/1998 — 10/07/2009
From Richland, WA, US | Born in Richland
Taylor Lynn Elaine Tefft
Taylor Tefft, 11, passed away October 7, 2009 in Seattle, WA. She was born on April 8, 1998 in Richland, WA. Taylor lived in the Tri-Cities through the 2nd grade and attended Jason Lee Elementary. In the 3rd grade she moved to Yakima and attended Gilbert Elementary where she graduated from the 5th grade. In September Taylor and her family moved back to Richland where she was currently attending Chief Joseph Middle school as a 6th grader.
Taylor loved sports. She shared her father's love of the LA Lakers and would stay awake at night to watch the games with her daddy. Taylor was a fanatic Washington Huskies fan and dreamed of playing basketball and softball for them one day. She didn't just watch sports, she played them and she played them well. She played for the Lady Pirates basketball and softball teams in Yakima and would spend hours shooting hoops or practicing her swing.
Taylor had a love of animals and always wanted her own horse. She couldn't walk past an animal without wanting to hold it and pet it. Her aspirations were to become a veterinarian/professional basketball player and if anyone could have done both it was her.
Taylors smile could light up a room. She could make friends in 5 minutes and have them for a lifetime. She loved just hanging out with her friends and family and listening to music. Her favorite was Taylor Swift and she could sing every song by heart. She would turn the radio up all the way and sing as loud as she could just cause it was fun to annoy her big brother.
Taylor and her brother Tim shared a very special bond and were each others best friends.
Taylor is survived by her parents Christian Tefft and Jamie Peterson, Brother Timothy Tefft, grandparents Mike and Lynn Tefft and Angie and Ron Mertz. Great grandfathers Pete Peterson, Robert Larson, and Jack Osweiler. Aunt Jenni and Uncle Tim Woodall, Aunt Dayna and Uncle Chuck Resendez, Uncle Erik and Aunt Julie Peterson, Uncle Zak Peterson, Uncle Jeremy Mertz, Uncle Jonathan Mertz. Cousins Chucky, Maryssa, Danielle Ian, Brittany, Chase, Ryan, Zakk, Melodie and Aizlyn and her kitty Lavar. Numerous other special great aunts and uncles, extended cousins and great friends who all held a special place in her heart.
Taylor is preceded in death by her grandfather Timothy Peterson.
Taylor went to God hand in hand with her cousin and best friend Alexandra. They shared an unbelievable bond in life and now as angels.
Taylor has touched a great many lives in her 11 years and will be missed more than words can express. Her life will be celebrated by all who knew her.
A joint memorial service for Taylor and Alexandra will be held Tuesday October 13, 2009 at Hanford High School 4:00 pm.
she was a really good friend to me …i miss her a lot i guess it was her time but it was not a good way to die…i wish that she was still here today.
Retha and I along with my sister wish you better than you got these young girls left us to soon and we will keep you in our memories
my memory of taylor tefft was going to elementy school we called each other buddies we were really close i went over to her house a couple of times at her house we would collect theses weird smelling plants that were like popcorn they smelled like garlic i miss her very much i feel the need to be strong beacause i know taylor wants us to be strong i hope Taylors mom dad and her brother tim are ok so please say a prayer for all of the.
me and Taylor new each other second threw fifth grade she was my buddy. i hung out with her every day and she walked me home from school for a long time i miss her but am glad i got the joy of even knowing and being with her
Taylor will always be missed. She always cared for everyone. And she was the best friend you could ever have. She could never be relplaced. I ALL MISS HER.
hi i hope you all are doing ok i miss taylor alot and i alway think of the trip to seatlle and how much funn me taylor noah and taylor k.
-maddalyne branch
Last night I was with Hannah and we decided to write notes to Taylor, put them in a little bag and get everyone else to write one of their own. Then, at the end of each year, read them to each other or something like that. We still haven't planned it all out but I have a feeling it's gonna be.. Nice. Forever and always and then some Taylor.. Never forgotten.
Been thinking a lot about you lately.. July 24th, 3:41 PM; You're on my mind at the moment and many moments to come. Forever and always and then some.. Never forgotten. ♥