FIND AN OBITUARY
Service information is posted on our website only with approval from the family.
If you are seeking information not listed below, please contact us.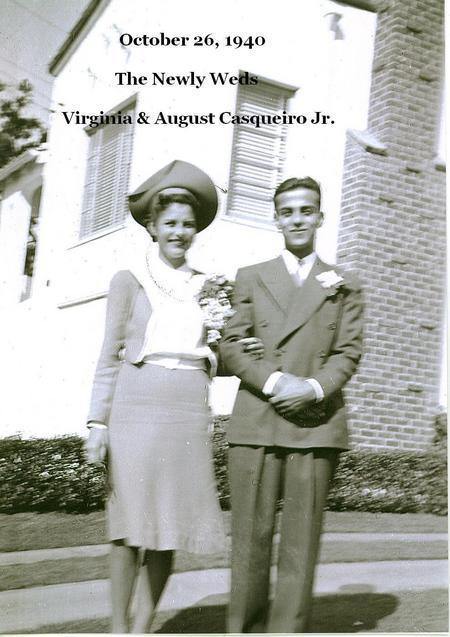 August Casqueiro, JR
06/01/1920 — 01/29/2010
From Kennewick, WA, US | Born in San Leandro, California
August Casqueiro, JR
August Augie Casqueiro JR. passed January 29, 2010 in Kennewick, WA, four months shy of his ninetieth birthday. He was born June 1, 1920 in San Leandro, California to Portuguese immigrants Mary Charao & August Casqueiro SR from Serpa, Portugal.
Augie grew up in Oakland, California, graduating from Castlemont High School where he met his sweetheart Virginia Catherine Oltman. While in high school he worked part time for his father's cement contracting company in the San Francisco Bay Area.
October 26, 1940 Augie & Virginia were married. Soon, World War II began and Augie volunteered, joining the USA ARMY and earned the rank of Captain, Medical Service Corps, 45th Field Hospital 1st Army. He was in the European Theater with his group landing in Normandy on D-4. The 1st Army survived Hilter's major offensive to split the British and American Allied line in half in the Battle of the Bulge, through the densely forested Ardennes Mountain region of Belgium, France 12/14/44 – January 1945. In this battle, over 800, 000 men Germans, Americans, British & Allies were involved. The Allies suffered 89, 500 casualties including 19, 246 Americans who were killed and 26, 612 captured or missing. It was the single largest and bloodiest battle that American forces experienced in World War II. The Germans had 84, 834 casualties.
Augie was involved in the following campaigns: Normandy, Northern France GO 33 WD45, Rhineland-Ardennes, and Central Europe GO 4o WD45.
Augie received the following Decorations & Citations: European African Middle Eastern Service Medal, World War II Victory Medal and American Theater Service Medal.
At the end of the war, Augie returned state side and became a civilian on January 9, 1946. Augie was in the Army Reserve until December 22, 1952.
1946 to 1956 Augie continued working with his father. And in 1957 he, Bill Lodge and George Vierra formed a company LCV Builders Lodge, Casqueiro, Vierra building houses in the San Francisco East Bay Area. Augie & Bill were the carpenters and George was the painter. Augie continued in the construction business, retiring in 1985.
In 2002 Augie and Virginia moved from Danville, California to Richland, WA to be close to their family.
Augie & Virginia enjoyed many cruise vacations to the Caribbean via the Panama Canal, Europe and Alaska. Other memorable vacations were in the Pacific Northwest and Rocky Mountains with son Rick, wife Brenda and Grandsons Nick & Kris.
Augie was preceded in death by his parents August SR & Mary, brother Edward, sisters Grace, Mary, Elizabeth, and granddaughter Sarah.
He is survived by his wife of 69 years Virginia, daughter Antoinette Thom Boggs, son Rick Brenda Casqueiro, niece Barbara Sherman Fairbairn, nephews Mike Sandy Fryer, Steve Cathy Fryer, grand nieces who were more like daughters Karen Robert Alsaker, Janet Brian Rodriquez, grandchildren Matt Helaine Boggs, Becky Fred Othmer, Nick Casqueiro, Kris Casqueiro, four additional grand nieces and nephews & four great grandchildren.
A celebratory Catholic Mass will be held Wednesday, February 3, 2010, 11:00 AM at Christ the King Church, Richland, WA. A reception after the services will be held at Rick & Brenda Casqueiro's house, 201 Windwood Lane, Richland, WA.
Interment will be in Tahoma National Cemetery near Seattle, WA.
In lieu of flowers, the family would appreciate donations made in Augie's name to the Alzheimer Foundation. The web link for the local chapter is: .www.alz.org/inlandnorthwest/in_my_community_donate.asp
I am so sorry for your loss.
Rick and Brenda,
We are saddened by the news of your Father's passing. From the loving obituary you wrote we can be sure he will be greatly missed. We pray that God will give you peace in knowing that he is not gone, just gone before.
Rick and Brenda,
My condolances to you and your family on the passing of your Dad.
Rick,
We are so sorry to hear of your loss. Augie was a WONDERFUL man. We'll be keeping you in our thoughts and prayers.
Sharon and Ray
Sorry to hear of your loss. It sounds as though he had quite a life and I know you will miss him.
My thoughts & prayers are with you and the family.
Our thoughts and prayers are with you during the trying time. Deepest sympathy.
Jo Ann & Ray Hollins
What an honor and priviledge to know such a wonderful man. He will be greatly missed here at the dentist office. Our thoughts and care are with Viriginia, Rick, Brenda and kids.
Rick:
I offer my condolances to you and your family on the passing of your Dad. Please send a special wish of comfort to your Mom. I miss her. I think about your parents often. Remember our "All Nighter" after graduation from San Ramon. Boy your dad was mad. God bless all of you in your hour of sorrow.
Our thoughts and prayers are with you.
Sincere condolonces on the passing of Captain Casqueiro; an American hero. His service during some of the most difficult campaigns of WWII deserves our deepest respect and gratitude. May we forever honor, and never forget his service to our nation. LBP, LtCol, USAF ret.
Rick,
Although I never met your Dad, the guest book entries and your writing gives a wonderful view into the life of a very special man. I now understand where some of your special traits come from. God Bless you and your family.
I feel so lucky to be someone that you thought of. I hope i can help you and your family in the near future. You hold a very special spot in my heart! Love Susie :
Virgina, Brenda, Rick and Family,
We are grateful to have known Augie and have enjoyed spending time with the family since they moved to the Tri-Cities. Augie and Virgina have became a part of our extended family and he will be missed! We are happy to have known Augie and may he rest in peace!
Heather, Joe, Liz, and John Cleary
I am very sorry for the loss of such a clearly loved and cherished family member. My hope is that he rests in peace and awareness that altough he may be gone in body, he very much lives on in the hearts of the many who loved him.
Rick,
Thinking of you & your family. All my best wishes,
Rickie
31 Jan 2010
Dear Rick & Brenda:
Please accept our deepest condolences in the passing of your Dad. I never met your father but your comments over the past years have substantiated that he was not only special to you, but to anyone that came in contact with him.
Robert & Jan
To the Casqueiro family,
On Friday night, I used a glass of Domaine Ste. Michelle Blanc de Noirs to toast the memory of a famed wine writer during a banquet in Seattle. A World War II hero deserved to have a glass of his son's award-winning wine raised in honor that same night.
Dear Rick And Brenda, I am sorry for your loss. Rick from your obituary, your father lived a full life. He contributed so much to our country and it is because of people like him, we still have the greatest nation. My prayers are with you and your mother and family. God Bless Sharon
Rick & Brenda
I am very sorry for your loss
Aunt Virginia, Rick, Toni, Brenda,Thom
A sad moment indeed. Uncle Augie was quite the gentleman, perhaps a bit of a rogue, the life of the party. He was was very kind to Judy & me. He was her favorite. I remember the colored patio he gave us as a house warming gift in 1961. He tested my stamina unloading wheel barrows of concrete. Over the years I have missed his colloquial witicisms and sometimes colorful humor. He shall be remembered in our hearts always.
All our love to Aunt Virginia and family.
Sincerely
Dick & Barbara Schroeter
Augie was a special person. It was evident to all that he loved and supported his family very much. He will surely be missed.
Rick & Brenda: My prayers go out to you and your Mom. I have many great memories of your Dad during are times at San Ramon. I am so glad that Jeanette and I were able to spend some time with your Dad and Mom this past Summer. Please give your Mom a big hug from Jeanette and myself. We will keep you and your family in are thoughts during this week. Gary and Jeanette Sawyer
It is with sadness and a heavy heart that Sandy & I send our condolences to my Aunt Virginia. Words cannot express how sorry I am to even have to write these words of sorrow. Please accept our love and prayers for you and your family, Aunt Virginia. Memories are numerous, but Uncle Augie's dry wit was a spark. Funny with a twist, that was Uncle Augie. I will sorely miss him.
Rick,
I am so sorry for the loss of your wonderful Dad. I know how much you are all missing him. I'm keeping you and your family in my thoughts and prayers!
God Bless,
Joan
I could write a lot. To summarize — Uncle Augie Casquiero was among the greatest of The Greatest Generation.
Losing your father can be tramatic, but remember all the good times you had as you grew up with a kind wonderful gentlemen. We did not know your dad and mom well, only meeting them a few times, but enjoyed our visits. Our thoughts are with you at this time.
Cindy and Terry
Our condolences for your loss.
Rick & Brenda, We are so sorry to hear of the loss of your father. Rick, you prepared a wonderful tribute to him in his memorial. He and your mother are very fornunate to have you and Brenda close by to care for them. Our sincerest condolences. We are keeping you in our thoughts and prayers during this difficult time.
I am so sorry to hear of your loss. May God be with you during this time of sorrow. Deborah
Rick,Virginia,Brenda,Nick and Kris,
We were saddened to hear about the passing of your Dad. We always enjoyed visiting with he and your Mom when they were at your house. Your obituary for your Dad was wonderful. Great job! You all are in our thoughts and prayers. Our deepest sympathy. Love, Jerry and Carol
Hi Rick, what a lovely obit. you wrote for your dad. Doesn't matter how old they are, the loss is still great. My dad died of Alzheimers, so my contributions will now also be with your dad in mind. Love to you all, Sandy, Floyd, Jen and Dan
Rick and Brenda,
I was sad when I read about the passing of your Dad, Augie. You are right! He was a great guy! It was a pleasure and honor for me to have met and known him. He was honest, forthright, a man of honor. His word and handshake was his bond. He had a great smile.
He was very proud of you and his grand kids. I feel lucky to have shared in a small way the goals of your Dad and Mom when they made the move from San Ramon to Danville and when they made the move to be near you in 2002. You did a great job in writing about your Dad. Please express our condolences to your Mom, Virginia. Our prayers are with you.
With Deepest Sympathy,
Me Ke Aloha Pumehana to your Mother and you and Brenda and your sons. Translation speaks all "With Warmest Best Wishes from the Bottom of our Hearts. Our sincere prayers are with all of you. Aloha, Louie & Hazel
Virginia & Family, Suzanne and I were so sorry to hear about Augie's passing, one of The Greatest Generation guys who served in WWII. We have many fond memories of the fun parties we attended with you and Augie while you and I were working at the GE plant in San Leandro in the late 1960s. We offer our heartfelt sympathies for your profound loss and trust God will help give you the strength to deal with this sad time in your life. Love, Ray & Suzanne
Juliann and I are so sorry for your loss and send our deepest sympathies.
Dan Berger