FIND AN OBITUARY
Service information is posted on our website only with approval from the family.
If you are seeking information not listed below, please contact us.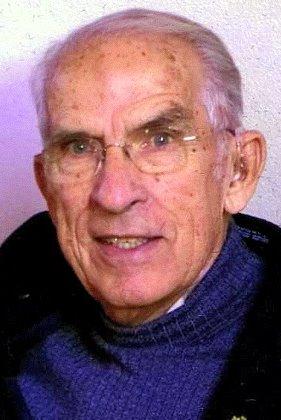 Rueben Glen Knirck
11/10/1927 — 01/31/2010
From Kennewick, WA, US | Born in New Salem, ND
Rueben Glen Knirck
RUEBEN GLEN KNIRCK
11/10/1927 - 1/31/2010
Rueben Knirck passed away on January 31st, 2010, surrounded by his family. He was born on November 10th, 1927, the son of Carl and Louise Knirck of New Salem, North Dakota. He was the third of four children. Rueben spent most of his youth in Yakima, graduating from Yakima High School in 1945. He enlisted in the Navy two years later, serving as a Yeoman 3rd class on the USS Shangri-La where he witnessed the bomb test at Bikini Island.
After an honorable discharge from the Navy, Rueben took a job at the Hanford site and relocated to the Tri-Cities. Upon moving to Richland, Rueben got involved with the Richland Players, also taking a starring role in My Fair Lady with the Richland Light Opera Company. Although the acting was undoubtedly dramatic and spellbinding, the singing joyous and pitch-perfect, the most significant event in Rueben's theatrical career was the production in which he met his wife, Virginia 'Ginger,' in 1948. They were happily married on February 26th, 1949, spent the next 61 years together, and raised three children Bill, Sandi and Karen.
Rueben spent most of his adult life working for General Electric. One of the many perks of this career was that Rueben and Ginger got to live all over the world, including Alabama, upstate New York, Louisiana, and two stints in Spain. While in Spain, they frequently traveled throughout Europe, with Italy especially Florence remaining a favorite destination.
Despite all of his travels and relocations, Rueben always considered the Tri-Cities to be his home, and moved back there immediately upon his retirement in 1986. An avid hunter, skier, golfer, gardener, and fisherman, Rueben enjoyed the many opportunities for outdoor recreation in and around the Columbia Basin. He also liked square dancing, playing bridge, and singing. While in Richland, he was a member of the Elks, West Side and Central United Protestant Churches, and Meadow Springs Country Club, at which he hit a hole-in-one. During his lengthy and much-deserved retirement, Rueben continued to golf, ski, garden, raise koi, watch Gonzaga and WSU basketball, and help his daughter Karen and son-in-law Jim construct a cabin up at Twin Lakes a hobby punctuated by a tumble from the roof. In later years, Rueben also enjoyed driving his wife to bingo parlors, accompanying her to casinos, and playing with his dog, Rosie.
Rueben also derived much joy from his eight 'useless' grandchildren one of his favorite jokes: Jason and Mari Knirck, Amie and David Waters, Stacey Goenen and Paul Morrison, Tyson and Hayley Bushnell, Michael and Elizabeth 'Eleanor' Parker, Daniel Schmidt and Jenn Adamsky, Jocelyn and Nat Roe, and Sarah Schmidt. He also took particular pride in his twelve great-grandchildren: Justin, Kendra, Riley, Ethan, T.J., Lila, Kylee, Rian, Kyla, Hayden, Mackenzie, and Derrek. In his last months, he was pleased to find out that two more great-grandchildren are on the way!
In addition to his grandchildren and great-grandchildren, he is survived by his beloved wife of sixty-one years, Ginger Knirck; his daughters, Sandi and Richard Schmidt and Karen and Jim Parker; and his daughter-in-law, Teresa Knirck. He is also survived by his older brother, Doug Knirck; his kid sister, Joyce and Marion Blank; and his dog, Rosie. He was preceded in death by his parents, his son Bill Knirck, and his sister Kay Stewart.
A celebration of Rueben's life will be held on a date to be determined.
A celebration of Rueben's life will be held on Sunday, February 14th @ 2pm at Memories at Sunset Event Center, located on the beautiful grounds of Sunset Memorial Gardens in Richland, WA.
In lieu of flowers or gifts, donations can be made to the following: the Disabled American Veterans, the American Cancer Society , or the Hospice of the Chaplaincy.
'Jeezus Virginia, let's go to bed so these nice people can go home!'
Rube, Dad, Grandpa, GrandpaGreat ... You Were The Very Best!
Knirck Familes…My sincere condolences on the loss of your Dad. I did not know him, however, if he was anything like his son, Bill, he was a great man. Remember the good days and forget those that were not so good.
Gary – from the Richland Bomber Class of 1964.
Ginger….Brother Mike called me to tell me about Rueben's passing. I am so sorry to hear of your loss. My memories of him were small, but I do remember him coming to CC Anderson's to see you.
It's been a long time since the late 50's early 60's that we did work together, but they were super memories. Edna and I wish you the best and enjoy all of those G'kids and GG'kids.
Jim McKeown
My sincere condolences go out to Rueben's family and friends. As with me, he made so many of his friends feel like family too. For me, he was like a second father.
My work and play time with him will always be some of my life's highest points. My work for him was always as enjoyable as the times we spent "playing", especially the golf and softball.
Whenever I was having a bad day, he could easily change it to just the opposite, usually in a matter of few minutes. He was, without a doubt, the best "boss" and mentor I ever had the good fortune to experience. Nothing but kind words did he ever speak.
The world will truly regret its great loss, as will I and those who knew and had the extreme privilege to have him as a true and trusted friend.
Goodbye my old friend and thanks for all you so generously gave me and mine!! We will most assuredly feel the impacts you made on our lives forever!!
My sympathy to your entire family! I graduated in 1968 with your daughter Sandy –