FIND AN OBITUARY
Service information is posted on our website only with approval from the family.
If you are seeking information not listed below, please contact us.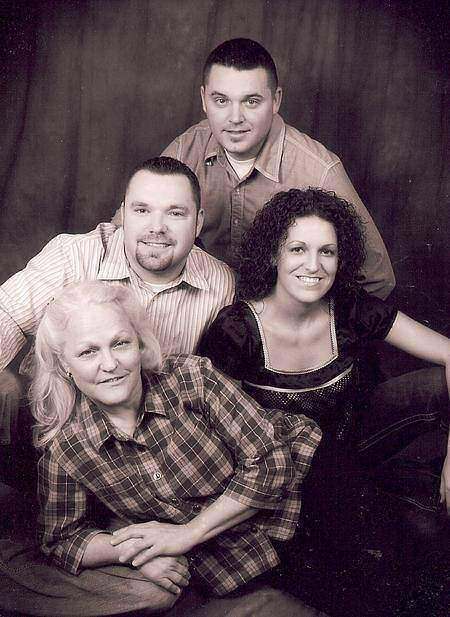 Julie Ann Finger
02/15/1956 — 02/24/2010
From Kennewick, WA, US | Born in PierreSD
Julie Ann Finger
Julie Ann Finger February 24, 2010
Our precious mother, daughter and dear friend passed away on February 24, 2010. Julie was born February 15, 1956 to Gerald Finger and Sharon Barklow in Pierre, South Dakota.
Julie enjoyed fishing, hunting, baking and antique collecting. She was also looking forward to her new adventure into being a grandma.
Julie is survived by her daughter and son-in-law Brooke and Travis Whitney and son and daughter-in-law-to-be Chad Adamson and Ali Reynolds. She has a very supportive extended family including her mother and step-father Sharon and Don Barklow; three brothers and sisters-in-law Dave and Ilene Finger, Randy and Dawn Finger, Terral and Vicki Finger; one sister, Susan Finger; many nieces, nephews and great-nieces and –nephews.
Memorial service will be held at 11:00 AM Saturday, February 27, 2010 at Einan's Funeral Home, Richland.
Brooke I was so sorry to hear of your moms passing. My thoughts and prayers are with you and your family. Julie was such a sweet person. I only met her a couple times but we would visit like we had known each other forever. Take comfort in knowing that she is at peace and no longer in pain.
Chad and Brook, I am so thankfull to Julie for giveing me two grandchildren that have made me so very proud and blessed to be your grandmother, love you both dearly.
I am so sorry for your loss. Julie was such a wonderful and kind-hearted person. She was always a joy to work with and always managed to brighten my day. She will be truely missed.
We're orginally from Harrold SD. That's where we meet Julie. Wow what a gal! She could work and talk faster than anyone I ever knew, and she loved her life. Sorry her life was cut short but she is looking down on everyone saying it's, OK, I'm in a great place. Our thoughts and prayers are with you, during this very hard time.
So sorry to hear of the untimely passing of Julie Ann Finger. I lost my wife, Annette , after over 50 years so know what the family is going thought.
Take Care, Eugene
Julie had such a big heart and will be missed so much. I teasure the time spent with her and have so many good memories from when she lived here. I know she is in heaven looking down on us all and keeping track of our "moo cows"!
Julie fought a tough battle. Our love and sympathy to the whole family! Lotsa love and Hugs! Aunt Joan and Uncle Ken
I loved working and being around Julie. She would always talk to me about her dogs, moo cows, hunting and living on the farm. She loved the farm so much. I know how hard it was for her to leave it. She gave me a lot of advice on my children and always told me everything would end up ok. I truely believe that she lived her life to the fullest. I met Chad in Harrold. I told Julie she had a very handsome son. She laughed and agreed. Alli, you are lucky. Brooke & Travis, I wasn't lucky enough to meet you. But know, that the day your baby is born your mom will be right beside you. Sharon & Don, I am so sorry for the loss of your beautiful daughter. She is a beautiful angel now that will watch over all of us until we see her again.
With deepest sympathy,
We are so very sorry to hear of your loss of Julie. We know that she is an angel up above looking down on all of us. We also know that she is cooking and baking up a storm up there in heaven!! What a gal!! We miss you, Julie!
There is only a handful of people who come into your world, and touch your life in a dramatic way. Some of the people are just flickers of light during a long life, while others are consistent glows for years. For me, Julie was my consistent glow. She was the one consistent figure in my life, which I could turn to for friendship and support. She was my best friend for close to 32 years. I can honestly say that there are only a few people who have walked into my life and changed it forever. She taught me that life is not about waiting for the storms to pass…it's about learning to dance in the rain. The power of gratitude. And also that life is short and the most important part of life is the people in it. Julie, I love you and I miss you so much. You have grace my life more than you will ever know. God Bless.
I am so sorry to hear of Julie's passing. She was one of my best friends and I dont regret helping her get Liz back. Im sure Liz is grieving along with the family. I am happy that I got to spend time with Julie the last time she came home. I will never forget that night when we went to get Liz. Not sure who was more excited Julie or Liz. I am very honored to have met such a wonderful person as Julie. I look forward to the day I will get to see her again in heaven. To the family I wish you the best it is very hard to lose someone so dear and loved. If there is anything I can do please let me know.
Stephen and I want to express our sincere condolences in your family's loss. Stephen has fond memories of high school days with David, Terrel, and Julie. I went to school with Susan at Highlands. God bless you all.
I'm sorry to hear of Julie's passing. She will be remembered! My thoughts and prayers for Julie and her family.
I knew her such a short time, but what a woman! My deepest sympathy to all of her loved ones.
so sad to see some one who embrace life leave us. You have our sympathy
Sorry for your loss. It is sad for her untimly departure. Rejoice for she is in the arms of our Lord Jesus Christ in Heaven.