FIND AN OBITUARY
Service information is posted on our website only with approval from the family.
If you are seeking information not listed below, please contact us.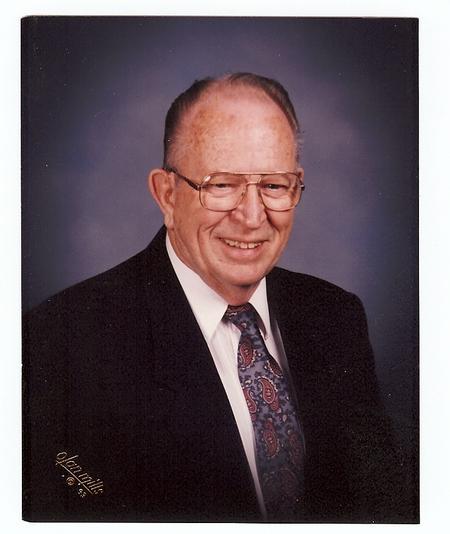 Norman Eugene White
03/04/1924 — 02/24/2010
From West, Richland, WA, US | Born in Spokane, WA
Norman Eugene White
Norman Eugene White, 85, of West Richland, died Wednesday, February 24, 2010, at Kadlec Regional Medical Center, with his wife of 61 years, Frances, holding his hand and caressing his tired brow. Also in attendance were son and daughter-in-law, Bryon and Eileen, and his favorite daughter, Cheryl. In spite of the best efforts of the doctors and nurses at Kadlec, Norman could not overcome complications that followed two recent surgeries.
Norman was born to Earl Raymond and Helga Wilhelmina Bjorklund White on March 4, 1924, in Spokane. Suffering multiple ear infections as a child and losing considerable hearing, he attended the Edna Davis School for the Deaf, making several lifelong friends. Norman was one of two students at the school to be "mainstreamed" into Spokane's Rogers High School, graduating in 1942 as "Most Gallant Boy." After graduation, Norman enlisted in the U.S. Coast Guard and was discharged under honorable conditions in 1944.
Norman had a large and extended family: sister Betty Cline, half brother Bob Sanders, half sister Audrey Sanders, and many aunts, uncles, cousins, nieces, and nephews. Norman married Frances Eunice Donohoe in Kennewick, on February 18, 1949, in between a snowstorm and a Chinook wind. Two sons and a daughter completed Norman's family – Shawn Raymond, Bryon Robert, and Cheryl Eunice. Later came two daughters by marriage, Diane Snedeker and Eileen Evans; two grandchildren, Kendal and James; and three great grandchildren, Caitlyn, Shawn, and Hayden. Second only to Norman's love of his family was his love of Sacheen Lake, north of Spokane. From the age of 12 until selling the property in the late '80s, Sacheen Lake was Norman's home away from home.
Norman and Frances made a home for their family in Richland for 30 years. Norman was a firefighter for the Hanford Fire Department, retiring from Rockwell in 1977. After retirement, he joined his brother-in-law Bob Donohoe in a business venture in Iran, which ended with the fall of the Shah in 1978. After Norman returned to the U.S., he and Frances made their home in Spokane. They came to West Richland in 2000, to be closer to family and be the personal daycare providers for their grandson James.
Norman was a member of the International Order of Foresters, was a Parent-Teacher Association volunteer, and was an active member of Central United Protestant Church in Richland and Central United Methodist Church in Spokane; most recently he was a member of Northwest United Protestant Church in Richland.
Norman was predeceased by his parents, siblings, and "Number One" son Shawn.
A celebration of Norman's life will be held on Saturday, February 27, at 11:00 a.m. at NWUP, 1312 Sacramento Blvd, Richland. Inurnment will be on Monday, March 1, 1:00 p.m., at Fairmount Cemetery, in Spokane.
Memorials may be made to the charity of your choice in Norman's name.
Dear Frances…my condolences to you and family. Norm was such a gentleman; can still remember you guys when our kids in Elem.School and you were attending CUP church. Yep, Norm and Aleene are in a better place, we have to know, while we keep our Faith. God bless..Bob Bush
So very sorry to hear. You are all in our thoughts and prayers.
Just wanted to say how much our Family loved Uncle Norman,we will miss him and we will be thinking about the family at this time.
Bryon and Eileen and James and Mrs. White. We wanted to say how sorry we are that you are hurting from the passing of Bryon's Dad. We will pray that Heavenly Father will comfort you and your family at this time and in the future. We send our love to each of you.
Dan and Jennifer and girls
Dear Frances and Family,
We are so sorry to hear the sad news of Normans passing, please accept our very sincere condolences.
You are all in our thoughts and prayers.
With Love, George, Shelagh and Family.
My Condolences to the family and friends of Norman
Frances and family. I was so sorry to hear of Norman's passing. He always reminded me of my father. A hard working family man and a true gentleman. My thoughts and prayers are with you.
Dear Frances and family-
I am so sorry for your loss. The days to come will be hard, but it's comforting to know that Norman and dad are together in a place where they don't have to fight fires or do janitorial work! I will always remember Norman with a smile on his face and an easy and infectious laugh.
God bless all of you.
Love,
Bernadette