FIND AN OBITUARY
Service information is posted on our website only with approval from the family.
If you are seeking information not listed below, please contact us.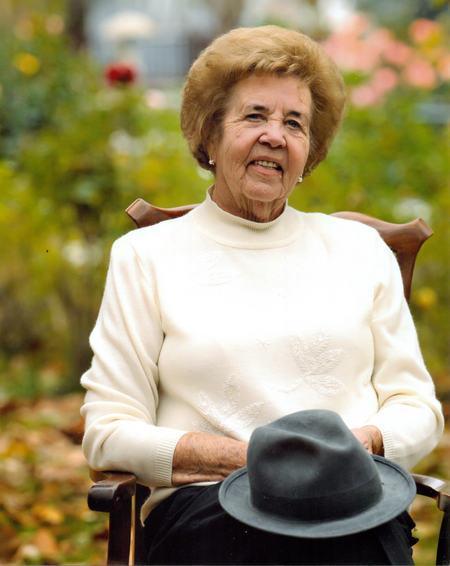 Roberta Jean Sanders
07/28/1925 — 02/14/2010
From Richland, WA, US | Born in Lucerne, MO
Roberta Jean Sanders
On Sunday February 14, 2010, Roberta Jean Flater Sanders, passed with the grace and dignity that defined her life, returning to the arms of her beloved husband Lloyd Sanders. Roberta, or Bobbie Jean her childhood nickname, was born to Tom & Clara Flater on July 28, 1925 in Lucerne, Missouri. She spent a great deal of her early years living with her Grandmother and her husband helping them on their ranch, it is here that she learned to bake, a skill that was a blessing to all who knew her. At sixteen she married a twenty year old cowboy turned WW II enlisted man, Lloyd Sanders, who was the love of her life.
Lloyd and his dad logged in Idaho but because of the severe weather settled their families in the tiny desert community of the Tri-Cities in 1947 where they began a house moving business, Roberta assisted in every aspect of the business in addition to tending the books. They became active members of their community and Evangelical Methodist Church, raising all six of their children in a small house across the street from their church. Roberta had an open door policy and invited anyone who wanted to her house for Sunday dinners, this tradition continued after Lloyd & Roberta had moved their home and the church now the Cathedral of Joy had moved as well.
Roberta was an active part of each of her children's and grand children's lives offering praise, advice and always love to those she cared so deeply for. This commitment and devotion to her family was boundless and has made its mark on each member of her family. She loved to embroider and shared her talents with her entire family, in addition to detailed pillow cases, tea-towels and quilts, she made a point to give each grandchild a quilt for their wedding and had a baby quilt for family members and family friends alike. Her other great passion was her garden. Roberta had a knack for growing flowers, but her pride and joy were her roses, which she grew beautifully in every color and variety.
She is survived by: her brother Jerry Bonnie Flater, In laws Jim Janice Sanders, Vera Muzzy and Nellie Savage; her six children and their spouses, Allen & Sandy Sanders, Marty Armstrong, Dan & Sandy Sanders, Tom & Nancy Sanders, Suzanne & Gary Carnevali, and Cynthia & Terry Preszler; Grandchildren Tony Ott, Kevin Ott, Darin Ott, Chris Marcy Ott, Erik Darcee Sanders, Angela Josh Combs, Mikayla Steve Kagey, Zack Jennifer Paris, Matthew Shelley Armstrong, Marc Monica Armstrong, Jon Armstrong, Shane Joy Sanders, Chad Sanders, Lance Denni Sanders, Jared Sanders, Mike Rachel Sanders, Dan Jill Sanders, Robyn Sanders, Joey Carnevali, Nicole Preszler and Krista Jeremy Sandin, twenty eight great-grandchildren and one great-great grandchild.
All friends and family are welcome to attend a service celebrating Roberta's rich life on Saturday February 20, at 2 p.m. at the Cathedral of Joy Church in Richland, reception to immediately follow.
Roberta always will stay in my heart as a special woman God sent to enfold the fortunate people he sent her way. I'm so blessed to have had Roberta as part of my life. My prayers go out to all family and friends.
Roberta was a true friend to me and my family. Much of what I learned in life came from her example. Words could never express the loss I feel today. My heart goes out to Roberta's family and the church family. Although I have been away many years, my heart is still with you all and I love you dearly. May God give us grace as we say goodbye till one day soon we will say hello again in God's eternal home where there will be no more goodbyes!
Roberta was such a very special person in my life. I too was a guest on Sunday dinners! Those are some of my most treasured memories. That and my first Christmas in the Tri-Cities spent at Lloyd and Roberta's with the wrapping paper flying! Over the years her and I had many wonderful talks. She always had stories to tell, but mostly she liked to brag about her children and their accomplishments. I will miss her so very much, but know she is now in the presence of God.
My heart is heavy as I mourn the passing of Roberta. My family was one of those families that attended Sunday dinners at Roberta's. She always had warm kind words to share. I also was one of the receivers of a pig quilt from Roberta. I remember her warmly participating in Bible Study and always enjoyed it went I was lucky enough to be with her at her table. Although we all loved her we know God loved her most. She is gone to be with him now. He will truly say, Roberta – well done. She is now in the home with our Lord. May God's blessings be with the family as they celebrate her life.
Marty, Cindy, Terry, and other family members.
I am so sorry for your loss, but know that you will find peace and comfort knowing were Roberta is now.
I also pray that you find comfort knowing that many friends, like myself, share in your sorrow, and know that you will find joy in your memories of your mother as you endure this difficult time.
With Love in Christ
Betty Hubbard
I too attended Sunday Dinner at Roberta's. Her home was alway open to anyone, just for dinner or someone who was alone on Christmas Eve. What a wonderful joyful lady. I loved hearing her stories of her beloved husband Lloyd. He was definately the love of her life and they have been reunited in Heaven. Roberta was truely a gift from God to anyone who new her and I am honored to call her my friend, I will think of her often and smile, we have another angel looking down on us.
Roberta was such a gracious and generous woman. She always had a kind word and especially when my own mother was ill, she was so supportive. I admired her love for family, and she was so proud of her children and their families. She will be missed but we take joy in knowing she is with our heavenly father and we will be reunited with her again in heaven.
What a wonderful woman of God Roberta was! I will never forget her caring and kindness to me. She had a way of making you feel welcome and special, no matter who you were. The world is a better place because Roberta was here. She had a gentle way. Never was there a greater hostess. I'm sure she'll be at the gates of heaven to welcome us all. Hugs to all of you, her family, as you are surely missing her.
We want your whole family to know how very much we respected Roberta. We will always remember her gentle smile and caring ways. God's grace shined through her. She touched us with her peace and love. We will always keep her memory in our hearts.
Marty, Cyndi, and Sanders families-
We were so sorry to hear of the loss of Roberta. During the time we attended the Cathedral, she was always a person that we highly admired. You are all in our hearts and prayers. Linda & Lyle Kuhn, Julie & John and families
Roberta was a true example of grace and kindness. I have such wonderful memories of her smile that always made me feel safe. She had a genuine way of making everyone feel welcome whether it was at her home or church. Although I haven't seen her for many years, I will never forget her.