FIND AN OBITUARY
Service information is posted on our website only with approval from the family.
If you are seeking information not listed below, please contact us.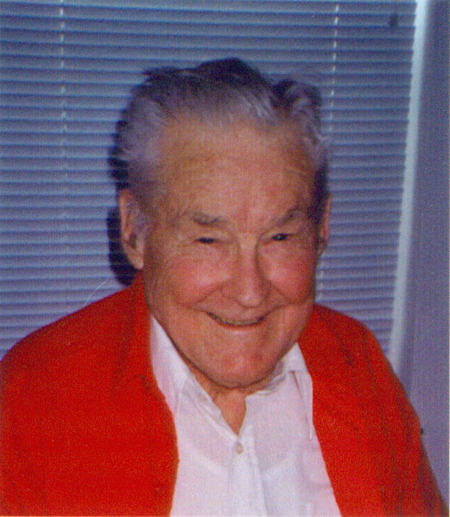 Dean Clifton Benson
10/25/1918 — 03/18/2010
From Kennewick, WA, US | Born in Hazelton. ND
Dean Clifton Benson
DEAN CLIFTON BENSON
Dean C. Benson passed away in his sleep 18 Mar. 2010 at the Canyon Lake Rehabilitation Center in Kennewick. Our husband, father, and grandfather will be greatly missed by all of us, and also by his many friends who always expected to be delighted by his storytelling, songs, and jokes. Born at Hazelton ND 25 Oct. 1918, he grew up on South Dakota farms, and later excelled in discus and track in high school and at Sioux Falls College, from which he graduated. During WW II he served in the U.S. Army Air Corps and NACA later NASA as a photographer. After the war he earned his M.A. and Ph.D. in mathematics at Iowa State University and was a professor at several colleges, ending with 23 years at the South Dakota School of Mines & Technology, Rapid City 16 years as department head. He served on the Mathematics Association of America Board of Governors and remained an Honorary Member. He was a life member of the NRA. His favorite hobbies were camping, hunting, fishing, and rock hounding. He won awards for his black-and-white photography which he developed in his own darkroom, and for 66 years made his own unique photographic Christmas cards. Dean and his wife spent 6 months each year in Yuma AZ for 18 years. In 2004 he traveled to Norway with his daughter, where he visited two of his known ancestral farms and met Norwegian relatives. He is survived by his wife Ruth A. Benson, son Richard wife Shiping, daughter Micky Wu, daughter Kathy R. Doto, Kathy's daughter Pamela Jones husband Rik, daughter Alison, and Dean's brother Oscar of Sheldon, IA. Dean was preceded in death by his parents, his brother Lyle, and sister Rosemary Dahlquist.
Memorial service will be held Tuesday 23 March, 3 p.m., at First Christian Church, 1921 S. Olympia, Kennewick. In lieu of flowers, contributions can be made to First Christian Church.
Dean will be missed by all of us. He meant so much to the thousands of students and colleagues that he influenced in so many ways. I came to him, in my first job, and he was instrumental in creating the teacher that I wanted to become. Dean Benson was one of the most important people in my life. So much is owed to him. It could never be repaid.
Mr Benson was a person we looked up to as one of great character. He had a sense of humor and always made us feel comfortable in his presence. He leaves behind a legacy of a great teacher and a wonderful family. Mala remembers the mango ice cream incident. She once offered him and Mrs Benson mago ice cream. He thought it was from India. When Mala said it was from neighborhood Safeway, everyone cracked up. We all pray God that Mr Benson's soul rest in peace.
My condolences to Mrs. Benson and Richard and Kathy and their families. I have many fond memories of Sundays after church spent with the Benson family in Chico, CA. Mr. Benson was a man of great humor. He was fun to be around. He loved to sing and tell jokes. I loved hearing all his stories…even more than once. He will be greatly missed and always remembered.