FIND AN OBITUARY
Service information is posted on our website only with approval from the family.
If you are seeking information not listed below, please contact us.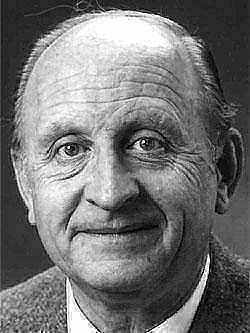 James Layton Doyle
06/24/1931 — 03/20/2010
From Richland, WA, US | Born in Genesee, Idaho
James Layton Doyle
James Jim was born on June 24th, 1931 in Genesee, Idaho. His parents, John Francis Frank and Emma Doyle moved to Richland in 1947 during World War II, where he attended Richland Columbia High School. An outstanding athlete, Jim was a varsity letterman in football and baseball. He was selected to the High School All Conference Team and was selected as an All State Baseball player. In 1995 he was inducted into the Richland High School Sports Hall of Fame.
Jim graduated from high school in 1949, and one year later, was married to his high-school sweetheart, Barbara Barron. Jim attended Washington State College now Washington State University while Barbara worked at the Hanford site. He played third base for the varsity Washington State baseball team until leaving at the end of his Junior year to return to Richland to support his young family.
Jim and Barbara were married for 57 years and raised five loving children. He worked for General Electric and then Battelle Pacific Northwest National. Laboratories for over thirty years, retiring at the age of 57. As Manager of Graphics for GE and Battelle, Jim was responsible for the direction and guidance of many graphic illustrators, whom he took great pleasure in mentoring.
After retirement, Jim and Barbara moved to Meadow Springs Country Club, where he refined his golfing skills. He also pursued his beloved art of fly fishing in the spring and summer and duck hunting in the fall. Jim and Barbara enjoyed traveling during their retirement, visiting their ancestral homelands of Ireland and England multiple times.
As a grandfather, Jim was devoted to his eleven grandchildren, taking great joy in showing each one special attention, and quietly supporting Barbara's spoiling of each of them individually.
Anyone who was blessed to know Jim knew that he was the embodiment of honor, dignity and loyalty. He and Barbara were fiercely devoted to their family, and taught their children and grandchildren to be strong, self-reliant, and to strive for high goals. He will be deeply missed by so many.
James was preceded in death by his wife Barbara Barron Doyle, parents Frank and Emma Doyle, his brother Terry, and Skye Darcy's foster child. He is survived by his children: Kelleen Doyle and her daughter Carri; James Doyle Jr., his wife Laura and son Shawn; Shawna Boolen, her husband Paul and children Erin and Connor; Darcy Doyle and her children Lindsey, Taylor, Vincent, Jaybry and Bryanna; Timothy Doyle, his wife Mary and sons Collin and Shayne.
The Doyle family wishes to thank dad's dear friend and long-time hunting partner, Dr. Jim Leedy, for his compassionate support during this difficult time.
A memorial service will be held Saturday April 10th at the Richland Lutheran Church on Van Giesen in Richland at 1:00 p.m.
Dear Doyle "kids"… I always remember you all as part of the gang who went to Diamond Lake several times. I remember one year when there were seventeen kids and all their parents. We had a wonderful time. I also remember going to WSU for the football games & visiting Jim's frat afterwards. There were so many memories that I'm sure if they meet in heaven, they are going to be playing softball or golf or just sitting around the campfire discussing the day's fishing.
God bless you all.
Love, Jean Clark
He was a great guy. We played a lot of baseball together in high school. I am sure he is doing well in heaven. The Doyle family can be proud of a great son, father and grandfather.
To the family,
Mr. Doyle it's hard to call him Jim, since he was my first boss hired me as a rookie graphics person back in 1975. I only interviewed at Battelle because they had a tennis court…maybe that's why he hired me…the portfolio he asked me to bring was pitiful, but I know he played tennis.
We all liked Mr. Doyle, though he always forgot to bring his dessert on his particular Friday "goodie" day. It was kind of a tradition – he would remember that morning and his faithful secretary Joan would scramble to the store to buy something to cover for him.
After 35 years, a favorite memory is Mr. Doyle telling us that his wife did the cooking, but it was his job to do the dishes…and he laughed when he said she managed to use almost every pan & utensil in the household for a meal. Now that's my idea of a perfect husband.
I'm sorry he's gone. He was a good guy.
To the Doyle family
Please accept my condolences on Jim's death. He and I go back a long ways as I think of my 38 years at Battelle and all the interactions I had with the Graphics group. We also played softballl against each other in the triple O league in the 1970's. But my best memories are over the past 15 years as we played golf in the same group 3 days a week. He was a good athlete and a great competitor. We will miss him. May he rest in peace.
Dad, I'm going to miss you for the rest of my life…you are my role model, my protector and my hero. Take good care of mom for me! Thank you for all the love you gave us. And for being an amazing example & father-figure for my kids when they needed it most. I'll try hard to "stop and smell the roses", like you told me to. I love you dad…
Darcy
Dear Doyle family,
You are all in my thoughts and prayers at this very sad time. Jim was such a good man and so proud of all of you. I hope you can take comfort in knowing your dad and grandpa is at peace now and that sweet memories of the great dad and grandpa he was will ease your sorrow.
Love to all of you.
Dear Doyle Family,
Hello, especially to Kelly and Jim. May I tell you how sorry I am. It doesn't matter that it has been years since I have seen your father, his personality is indelible. God Bless your mama, too. She was a doll, and I loved her warmth, kindness, and her welcoming ways. We go way back. I am the 4th oldest of Shirley and Bert's children, and Jim and my father were friends. Our families socialized on occassions when we lived in Richland in the 50's, and I remember Kelly and Jim from high school, as well. Yes, your dad was a good, kind man who made a person feel valued. May he rest in peace, eternally reunited with your mama.
Dear Shawna and Doyle family,
I am sorry for your loss. Your father was a wonderful man and because of him and his kind heart, I got to have my dad an additional 10 years because it was your dad who found my dad who had been lost at the Yakima River Delta. Paramedics said he would not have made it another night out there if it hadn't been for one brave and courageous man such as Jim Doyle to go in there and find him and bring him to safety. Jim was a perfect gentleman with a heart of gold and he lived life to the fullest. I will remember his smile because it was always on his face, especially when he was with his loving family. God Bless your family.
Judi and family
Jim and I have been friends for approximately 70 years and have enjoyed many wonderful experiences together hunting deer, elk, ducks and geese. We were friends as children in Lewiston, Idaho and later as adults here in Richland where as adults we not only hunted together we played softball on the same team for years. During those years we also coached together in Little League & Pony League Baseball as our boys grew up. Sandra and I also enjoyed the many enjoyable times we shared as neighbors with Jim and Barbara.
Jim was a great friend to all who knew him. His wonderful family will sorely miss him. God Bless.
To all the Doyle family:
I was sorry to hear about your loss of such a loved man. It always seems too soon. I pray your memories help heal your sorrow, and that each others memories bring back forgotten moments. Treasure the smiles and laughter your memories and photos bring, for those cannot be taken away. God bless you all.
Dear Jim, Kelly, Shawna, Darcy and Tim-
I am so sorry to hear about your dad. I got the chance to see him and your mom a few years ago in Richland at my dad's memorial. It was great to visit with both of them.
I remember the days growing up in Richland and spending time with your family. One thing that sticks out in my mind is when your dad bought a new car. It must have been in the 60's, I don't remember the exact year. It was a station wagon with wood panels on the doors. It had a window wiper soap dispenser in it and he let us push the buttons….He then took us for a spin around the neighborhood. Pretty cool back then! I will always have fond memories of the good times spent with your family.
We are thinking of you all today.
Take care,
David Ledingham and family.
Our heartfelt sympathy to the Doyle family. If your son is a "chip off the old block" then I know that you were a kind, passionate and caring man. May you rest in peace.