FIND AN OBITUARY
Service information is posted on our website only with approval from the family.
If you are seeking information not listed below, please contact us.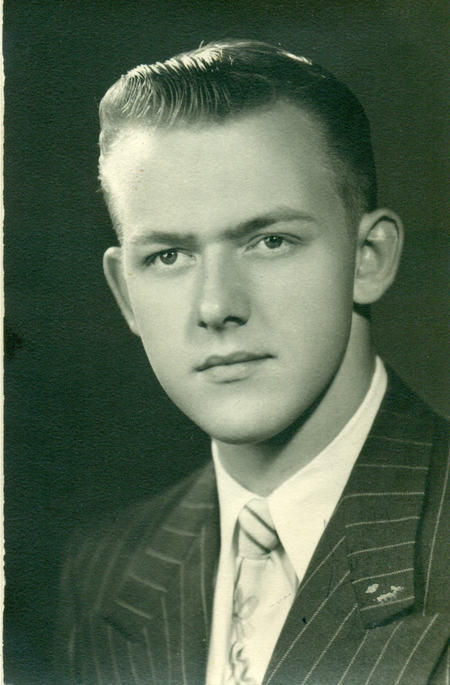 Jerald Donald Molnaa
02/10/1934 — 03/17/2010
From Richland, WA, US | Born in Washburn, Wisconsin
Jerald Donald Molnaa
Jerald Donald Molnaa, 76, our beloved Husband, proud Father, Grandfather, Brother, Uncle and Friend passed away on Wednesday, March 17, 2010, at Kadlec Hospital in Richland, Washington. Jerry was born February 10, 1934, in Washburn, Wisconsin, to Anthony and Harriett Molnaa. Jerry moved to Richland in 1944 where he fell for the love of his life…the girl across the street, Shirley Ann Pittman. Jerry and Shirley both graduated in 1952 from Columbia High School and were wed May 15, 1954. Jerry served in the U.S. Army from 1956 until he was honorably discharged in 1963. He worked at Hanford as a journeyman electrician, working his way through multiple positions and ultimately retired as a manager at Hanford.
While working and building a life with Shirley, they had four children who now all have families of their own. He made the best Christmases – wow, he loved Christmas! He'd write poems as clues to help find the gifts and wrap the walls with gift wrap…he even had an alias – Ho Ho the Phantom Poet! Jerry loved writing poems and used them to tell stories about people throughout his life. He played piano and guitar and loved to sing and did for many years in the church choir, performing many solos – he even recorded a love song or two for his sweetie, Shirley.
Truly, his favorite thing on earth was spending time with and making memories with his beloved wife, Shirley. Jerry was fortunate to have retired early, at 55, so had many years to spend collecting all kinds of things with Shirley.
More than anything, Jerry collected friends. He loved everyone and everyone loved him. He was such a kind, fun-loving, gentle soul. He and Shirley collected beanie babies, and birdhouses, and then discovered McDonalds. Jerry was an avid participant in the ROMEO club…Retired Old Men Eating Out…his group of retired guys who solve world problems over coffee six days a week at Wellsian McDonalds. He and Shirley also collected every McDonalds toy available for many years, which are efficiently cataloged and stored yes, he was amazingly organized. Jerry also collected McDonald's pins…he had them from all over the world and we've heard a rumor he may have the second largest pin collection in the United States! Oh how he loved McDonalds…he and Shirley were friends with all the employees. Another passion of Jerry's was his genealogy. He developed his own system of tracking and cataloging and has an amazing collection of proof we may very well all be related. The library in Washburn, where he was born, has one of his giant genealogy charts hanging in their library. He also kept track of weddings, births, deaths – literally all manner of information for everyone he knew. His friends borrow this compendium of information just to look at it because it's amazing. All of Jerry's collections are truly a labor of love, and you can't even imagine how much we're all going to miss him.
Jerry is survived by his beloved wife, Shirley; sons David Jill and Mark Wendy; daughters Kim Scott Privette and Karis Vence Tenison; sister Jackie Hunt; brother Richard Lauretta; eight grandchildren; four great-grandchildren and one on the way; and numerous nieces, nephews and cousins.
Please join us in the celebration of his life on Tuesday, March 23, 2010, at 1:00 p.m. at Einan's on the By-Pass Highway in Richland. A reception will immediately follow at Einan's event center.
Jerry is now safely in the arms of his Heavenly Father. Deeply religious, Jerry loved life, but he also embraced the idea of "going home" to join his Lord and Savior…and all of his beloved relatives and friends in Heaven, where he'll watch over us and be waiting for us when our times come.
Shirley,
Please remember my love for your Pittman family whom Jerry has joined recently. Wonderful memories of the days in Richland where we all grew up.
So sorry for your loss. What a life. May you all be comforted.
The announcement in the Sandstorm was a huge shock to us. We want you to know that even though we have not had a great deal of contact since we left Richland, we hold many, many happy memories of times we spent with you and Jerry over the years. The last time we saw Jerry was at McDonalds where we joined the ROMEO group for coffee several times when we were in town. We will always remember Jerry as a big guy with a big heart and an awesome smile. Our love goes out to you Shirley and to the kids. Wish I was there to support you at this time
My thoughts and prayers are with all of you as you say goodbye to Jerry. I was fortunate enough to spend some time with this fine man because of my friendship with his daughter, Kim Privette. What a great guy. He made me laugh as he went through his process of disassembling a McDonald's hamburger to make a sandwich and a salad. He definately had a unique way of approaching life.
-Maree
I'm so sorry! Every morning I would see his smiling face walking in the mall. We will miss him.
Jackie and Shirley, you will remember me as a 1954 classmate. Norma was also in our class. God bless you as you remember this good man. aka, Iva Edens
I'm a Col Hi classmate. Jerry was a quality guy!
We were lucky enough to be inducted as honorary members of the REMOS for last the 7 years and drink coffee with Jerry and all of his friends. He was a wonderful christian guy who we enjoyed talking with very much. We miss him a lot and are very privileged to have known him.
jerry is going be greatly miss at mcdonald's on torbett street. He always bring great smile to our crew and enjoy talking to. He make our day.
JERRY WE WILL MISS YOU.
My thoughts and prayers are with you. God bless him and keep him.
Shirley, we are so saddened by the news of your loss of Jerry. So glad we were able to spend so many days at McDonalds with you guys and our Dad, Bill Goslin. We hold you and your family in our thoughts and prayers during this very sad time. With love, Marsha and Gary Brehm
What an amazing man…I loved bringing back receipts from McDonald's everywhere for Jerry to add to his collection. He relly got tickled if I found a hat pin he had not yet seen. Shirley would always smile that indulgent grin of hers knowing how much joy it brought to him. It was wonderful to see the love these two shared for each other.
While he is gone from us here his memory will be with us always. He touched the hearts of everyone who knew him and especially his McDonald's family…yes we claim him as one of us!
I remember Jerry Mr MolnnaWe called all adutls Mr or Mrs when I was growing up. He always welcomed me to come over and play with Kim I believe she was the one closet to my age he was a very good father as I can remember.I also delt with him later in life thru the Unions from the Hanford Reservation. My thoughts and prayer are with all of you at this time……..
Our condolences to Shirley and the entire Molnaa family on the loss of the husband and father.
I have known Jerry since we were freshman at COL-HI. We also played JV Football together our sophomore year. I have had coffee many times with Jerry at McDonalds.
It has been my pleasure to have Jerry as a friend for all these years
My sincere sympathy for your loss.
Ron Ault
Dear Molnaa Families: My sincere condolences on the loss of your Dad and GrandPa. May you remember all of the great times you had together and forget the others.
A Richland Bomber from the Class of 1964
To the Molnaa Family ~
I am so sorry for the loss of your Husband & Father. Mr. Molnaa always had a smile and I will remember him fondly.
Wishing you comfort and peace,
To the Molnaa Clan,
I'm so very sorry for the loss of your beloved husband, dad, and friend. It sounds as though he enriched everyone's lives wherever he went. I hope that the wonderful memories you have all shared will comfort you and give you peace.
Shirley & Family: I was surprised to hear of your loss while I was out of town. I remember Jerry as a great neighbor around the corner from us. We lived on the corner of Kimball and Torbet. I also had the pleasure of working with Jerry. He always made everyone smile and was a joy to be around. As we know, Jerry is happy with the Lord. My prayers are with all of you during this time of sorrow. He will truly be missed by many. Rest assured, he touched many lives and I feel very fortunate that I knew him and all of you. Take care.
As a former classmate '52 of both Jerald and Shirley, I would like to express my deepest sympathy.