FIND AN OBITUARY
Service information is posted on our website only with approval from the family.
If you are seeking information not listed below, please contact us.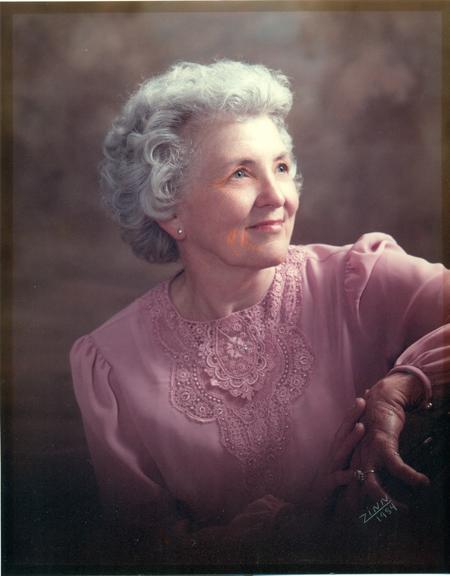 Gertrude M. Haggard
03/27/1917 — 04/08/2010
From Richland, WA, US | Born in Preston, Missouri
Gertrude M. Haggard
Gertrude Mae Griffin Haggard, 93 died April, 8, 2010 at Guardian Angel in Richland, Washington.
She was born March 27, 1917 in Preston, Missouri and married Frank W. Haggard in 1936. They moved to the Tri-City area in 1949 with their 3 young sons and obtained work with General Electric, United Nuclear and Battelle over the years.
Gertrude was a devoted wife and mother, active member of the Richland Baptist Church and enjoyed taking care of her home, yard and flowers until age caught up with her. She especially liked camping and fishing in the mountains and lakes, didn't care if she caught a fish, but never threw one back if she did!
She is survived by her three sons and wives, Frank and Evelyn, Daniel and Marjorie, and Steven and Peggy: also six grand children and eight great grand children. Preceding her in death were her husband Frank Haggard, brothers John and Franklin Griffin, and sister Mary Coiner.
She will be laid to rest at Sunset Memorial Gardens in Richland, Washington. Funeral arrangements are provided by Einan's Funeral Home. Services will be held Thursday, April 15, beginning at 11 AM at Memories at Sunset Event Center, on the grounds of Sunset Memorial Gardens, Richland. Viewing will be 5:00-8:00 PM Wednesday, April 14th at Einan's Funeral Home.
She was always sooo freindly and soo pretty. She was also very good to my grandmother.
I am sure she will coreign with God on his right hand. May time replace your griefs with happy memories. Nelsina Roberts
We feel so priveleged to have been in her family. Her husband, Frank helped a lot too! He was the best father I ever knew! Gertrude loved him and loved us all, never failing to show it. I knew if I married into this family I would be saved by pure conviction. Thank you Gertrude for you love. I will never forget it.
Peggy
AlthoughI did not know Gertrude, I new my grandpa Frank and am so glad that they are in Heaven rejoicing together. What a friend we have in Jesus! Love to all ~ Sharon
Hi Family from Arkansas.Such mixed feelings to hear that Aunt Gertrude had died. Our thoughts and prayers are with you. I can't help but think of the fun we had growing up in Carthage with all the picnics and gatherings of family. Then we all scattered but stayed in touch. Fun times continued and will be remembered. We will miss Aunt Gertrude as we miss Mom and Dad and the others. We love you all.
Hello Cousins, Remembering Aunt Gertrude with love and happiness as the news of her death sweeps across the country. We truly had some good times together growing up, huh! Now all of the Griffins are together once again. Mom must be ecstatic to welcome her into Heaven's gates. What a reunion there will be! Praying for all of you as God's helping hand takes yours and leads you through your sorrow. I love you all very much.
Hello Cousins,
We are sorry to hear about Aunt Gertrude. We bet they are up there having a great time playing cards, cribbage, backgammon and fishing. Our prayers are with you.
Love Jerry and Family
May the Lord comfort each one with the passing of Gertrude. All four siblings now stand in the Presence of their Lord and Savior Jesus Christ. May we all be committed to the Lord so one day we will all be together in Heaven .
Ps 116:15 Precious in the sight of the LORD is the death of his saints. He, the Lord, waits patiently for the appointed time of our arrival.
Bless His Holy Name.
Hi cousins, I am so sorry to hear about Aunt Gertrude. She is in a much better place now. I can just see them all in heaven having a fun time joking and poking fun at each other. Some day we will be able to join them. Our thoughts and prayers are with you all.
Grandma, Gertrude, always made us feel special and loved. I have many fond memories of our time spent together. Probably one of the most memorable was harvesting rhubarb with her and checking out the great veggies she used to grow in her back yard.
One of my earliest memories, was getting up early to eat cereal, Grapenuts, and though I was too young to read, I found the milk in the fridge and poured it in my bowl. It tasted awful – as it turns out it was buttermilk that Grandma enjoyed drinking. When I told her I thought her milk was spoiled, she explained the mix up and we laughed a lot. It seems we always laughed a lot.
We send much love and many blessings for a beautiful service and celebration of life. We love you Grandma!
Frank Jr, Marta and Grace
Hi everyone,
I share your grief in losing Gertrude. She was so much fun and always made me feel so much a part of the family, as did every one else. I remember the wonderful reunion we had in Colorado, in 1994. So glad they could all be together then. I loved them all.