FIND AN OBITUARY
Service information is posted on our website only with approval from the family.
If you are seeking information not listed below, please contact us.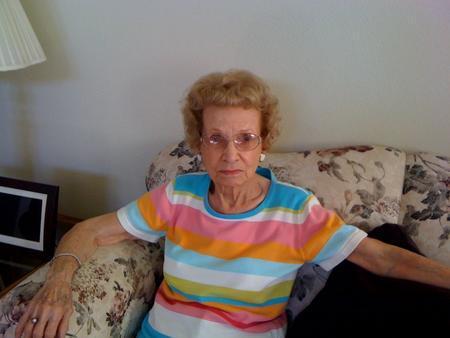 Nora T. Harper
09/13/1918 — 04/09/2010
From Richland, WA, US | Born in Pittsburgh, PA
Nora T. Harper
Nora Theresa Harper
Nora Theresa Harper, 91, died Friday April 9, 2010 in Richland, WA. She was born September 13, 1918, in Pittsburgh, PA, a daughter of the late Patrick and Hanora Hartnett.
In addition to her parents, she was preceded in death by her sisters; Catherine Hartnett, Helen Lenhart, and brothers; Lawrence, John, Jamie and Pat Hartnett.
She graduated from Union High School in Turtle Creek, PA in 1936. She married her high school love, Tom, in 1944 and they had 58 years together before his death in 2003. Nora and Tom moved to the Tri-Cities in 1971. Nora was the Matriarch of her family and loved a good game of cards along with sports. She was a devout Catholic.
She is survived by her daughter Norene Greenleaf and her spouse Dan of Bear, Delaware and a son Thomas and his wife Karen of Richland. She also has one brother, Bill Hartnett of Spartanburg, SC. She had 7 grandchildren and 6 great-grandchildren. Family was the focus of her life especially her grandchildren. Her extended family knew and appreciated Aunt Nora's memory bank of key events in their lives.
Visitation with a Rosary will be held on Sunday, April 11, 2010 at Einan�s Funeral Home in Richland, WA. The Visitation will be from 4:00pm to 7:00pm and the Rosary will be at 6:00pm.
A funeral service will take place at St. Joseph�s Chapel in Kennewick on Monday, April 12, 2010 at 10:00 am.
My thoughts and prayers are with all of Nora's family. She was a wonderful woman, generous and funny. May she rest in Peace.
Not sure were to begin. I met your parents in the late 80's at Tri City Court Club. They both were in my advanced arobic class, moving to the beat of the likes of ZZ Top and Bruce Springstein. What a zest for life they had! Shopaholic that I was in those days, I continually ran into them both together at Nordstroms. Tom always patiently waiting. They were the cutiest couple. I have seen Nora on occasion doing alittle shopping just a few years ago. She always remembered me by name. I have thought of her many times wondering how she's doing. She had a great long life and I will remember they both with great fondness. Sincerely, Bonnie
To Nora's Family,
Nora will always hold a special place in our hearts. She lived her life in a loving and positive way. The word "no" wasn't in her vocabulary. When things needed to be done, she just did them and didn't complain. We were blessed to have her in our lives for such a long time. She will be missed more than words can say.
Love, Vern & Carol
To all of Nora's Family,
I grew up in Kennewick next door to Tom and Nora. My family moved there in 1972. I have fond memories of Nora's Christmas snacks and treats and her world-famous "Barbeque" that she used to make. She and Tom were very friendly and loving neighbors and I considered them "like family".
I am sorry that she is gone now but, I am glad that I got to know her for some 30+ years.
God Bless you Nora.
I am so sorry to hear about Aunt Nora. She was a wonderful woman and will be missed by everyone. I have fond memories of her and am sorry I am unable to be there for the funeral. You will all be in my prayers. Love, Ashley Hartnett
You are all in my prayers. I only got to meet Aunt Nora at Brenda's wedding, which seems like an eternity ago- but she was a woman with extraordinary character.
During Christmas, my Pop Bill Hartnett pulled out an old tape of a party they had in Pittsburgh. It was so interesting to see my great aunts and uncles that I never got the opportunity to meet…I must say- Aunt Nora looked like she was the "life of the party" while desplaying the best dance moves. I will cherish the time I got to spend with Aunt Nora and all of you. Hope to see all of you soon.
Love Always,
Kate
Dear Noreen, Tom, and Cousins,
Though we are so many miles apart, you know you are in our thoughts and prayers here in South Carolina. Aunt Nora was an amazing woman who loved her family dearly. I remember all the fun we had as kids and how she was such a great jitterbugger, singer of old Irish songs, and just fun to be around! As she got older, she was so good about sending cards for holidays and always remembered Kate and Rick even though she only met them once!. I am so grateful to have been at Brenda and Tim's wedding for I have so many sweet memories of her from that weekend. Hope to see you all sometime this summer. Dad's doing okay. He enjoyed talking to Noreen yesterday. I gave him Tom's phone number last night, so I'm sure he'll be calling you soon. To have lost Aunt Helen, John, and Aunt Nora so closely in time gives me a greater appreciation of what a wonderful family we have. May God bless you all.
Love,
Tricia
To me Mrs.Harper will always be remembered as a true lady.The love for her family will always be utmost in my mind.
My little Kindergarten daughter shared with me that she prayed for Nora in her class today at her Catholic school. That made me smile because I know that Nora would love that story. She was a very dear lady. Like the rest of my family, I remember staying at her house before we went to Saudi Arabia. I also have fond memories of her being at my wedding shower in 2000 and talking with her about all my wedding planning. She was helping her granddaughter plan a wedding the same year and we compared notes. I was quite sad that my own grandmother was not alive to be at my wedding, but something about Nora always reminded me of her. They were both small, always dressed well, and never had a bad word to say about anyone. We made her the "honorary grandmother" that day, and tried to serve her dinner first, but she wouldn't have it because she was too polite. I'm sure she's in heaven with my own grandma.
Norene, Tommy and family,
So sorry to hear of your Moms passing. She truly was a wonderful person and always fun to be with. I have so many happy memories of her and all the family. We always had alot of laughter and especially playing our 31 card games. No one really cared who won the games, just happy to be together with all the Hartnetts.
May they all rest in peace together as the happy loving family they were.
To all Nora's relatives and friends. I am so sorry for your loss. I will remember Nora and all of you in my Masses and Rosaries. Peace in Christ, Fr. Mike
My sincere condolences go to the family of Nora Harper. I am an employee of Albertsons on Leslie and Gage in Richland, and Nora was one of our regular customers. She was always a delight to assist. We will miss her and her engaging smile.
Dear Noreen & Dan, Tom & Karen and Family,
Nora was very dear to us and we will always remember her goodness and generosity.
She was always fun to be with. She always had a smile and a kind word for everyone.
We especially remember staying with Tom and Nora when we were leaving for Saudi Arabia. They were so good to us.
Her presence will be missed but she leaves a loving legacy and beautiful memories for her family.
We are thankful to have known this lovely lady.
Dennis and Mary
Mrs. Harper was truly a great person. She was always there for my family. When we were getting ready to move overseas in the early 80's she gave us so much support. Spending time over at her house was so much fun. She was a little like my west coast grandmother. Rest in Peace Mrs. Harper.
To Norene, Tom, Grandchildren, and Great-Granchildren:
I am so sorry for your loss. You will all be in my prayers this week.
Great Aunt Nora was my grandmother's elder sister. Their relationship always amazed me. When they spoke of each other, it was never out of the sort of jealousy that often divide sisters. Rather, they were brought closer together by the pride each had in one another as matriarchs of two close, but distinct families.
The one thing I will always remember about Nora is how lively she was. The last time I saw her was last summer as she visited my lifeguard stand at the beach. My friends were all amazed by how casually she walked along the shoreline at ninety years old, but it was much the same for her as she talked with her daughter and granddaughter and laughed as her great-grandchildren entertained her. I remember hearing how she used to spend her afternoons at Bluedale Pool with Tom Sr. and I realized that this was just another summer day for her that just happened to be seventy years later.
I remember a call that we shared as she tested her new phone because she wanted to stay connected to her family and friends & hearing that she was still a licensed driver who did her own grocery shopping!
I especially remember her and my grandmother taking each other by the arm and whispering, gossiping, laughing at my graduation party, and her leadership in MacNamara's march and at the card table.
With my grandmother, John Bunyan, and Aunt Nora all recently departed, I only hope that we have as much to live for as they did.
Love you all.
Rest in Peace and Nora and enjoy playing cards with Pap!
To Aunt's Nora's Family,
You are in my thoughts and prayers. Your loss is being felt by many and the wonderful memories will heal the passing of Nora.
I recall the last time I saw Aunt Nora, I brought my parents, Mary Kelly Armstrong and Bill Armstrong, to attend the wedding of my cousin Judy Gearhart Lynch's daughter, Erin. The night was filled with so many stories of the past and was enjoyed by all. The love of relatives is something to cherish.
Dear Family,
It is with a heavy heart that I write this condolence on the sudden loss of Nora. She is with her beloved high school sweetheart, Tom. Nora was always dressed to the "nines" whatever the occasion. When complimented, "Oh, this old thing – I love to shop at Macy's". Concerned about her weight she would check it on my large number scale. Yea, hoo!! No loss or gain, just right!! 90 lbs. The clock of Nora's that the family let me keep is very special to me. Every hour the chime rings a melodic sound and I say, "Hi Nora, I love and miss you." Most of all I will miss dialing 628-8993 and Nora – Hello! Me – "Nora, may I come over?" Nora – "Come on" Bang goes the receiver. Then the both of us work at getting our hearing aids on before I ring her doorbell. What better company than two hearing disabled neighbors? Please know I will be thinking of Nora and the unbreakable friendship we hold forever.
My mom, Nancy Bunyan daughter of Tim and Lorena Bunyan, was cousin to Nora. Please accept my condolences on your loss. You and your family will be in my prayers!
So many great memories! Aunt Nora will always be in my prayers.