FIND AN OBITUARY
Service information is posted on our website only with approval from the family.
If you are seeking information not listed below, please contact us.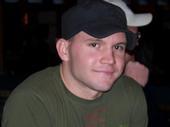 Shawn Allen Jensen
09/13/1982 — 04/03/2010
From Benton, City, WA, US | Born in Richland, WA
Shawn Allen Jensen
Shawn Allen Jensen September 13, 1982 to April 3, 2010
Our beloved Shawn died on April 3, at the too early age of 27 years, at his home in Benton City. We so much wanted him to stay with us longer. He truly was an inspiration to those he left behind and for all of those people he called "friend" your back was always covered. Except for the four years he was in the Marine Corps. Shawn spent most of his life in Benton City and Richland.
Shawn is survived by his son Gage of Benton City; mother, Linda of Benton City; father, Larry and step-mother Cheryl of Benton City; brothers, Kris from Richland and Ryan of Benton City; his grandparents, Roy and Vernie Bechtol of Coulee City; stepbrothers, Terry Baumgartner of Benton City and Ron Baumgartner Loni of Minneapolis, Minnesota. Shawn also leaves behind Aunt Connie and Uncle Brad McClure of Seattle; Aunt Judy and Uncle Phil Harper from Spokane; also Aunt Pat Haskins and family of Spokane and cousins; Laura, Joelle and Brian. No less importantly are nephews; Dylan, Matthew and Drake; nieces, Analiah, Grace and Danielle and many friends. He was preceded in death by his brother Cory, his Uncle Mike Jensen and nephew Leif.
But his son was his best friend. He was a father every child should have and Gage a child every parent should have. Shawn and Gage did so much in the time they had together. At the same time Shawn was a patient teacher and taught Gage good values, good manners, and how to treat other people with kindness and respect. They had lots of fun and loved to wrestle and hunt for bugs.
From his early childhood one of the things that stood out with Shawn was his competitive nature and his willingness to give no less that one hundred percent in what he set his mind to do, whether it be athletics, working, parting, or being your friend. This was really exhibited when he was in the Marine Corps., which was a goal of his from the early years of school. Although not joining until almost twenty three years of ages, he quickly excelled at becoming a leader. He insisted being assigned to the infantry because he felt that was where he could be most useful. During the four years he was in the Corps, he became firearms and Martial Arts Instructor, a Squad Leader, then a Platoon Leader and attained the rank of a Sergeant E-5. Shawn also proudly volunteered to go to Afghanistan , when one of the units already deployed there, needed replacements due to a high rate if casualties. When he told us of his plan to volunteer, we begged him not to. But he said it was his duty, and an honor, and that what he was meant to do. He felt it was his calling. Shawn received a combat action ribbon, Marine Corp good conduct medal, Afghanistan Campaign Medal w/1 Campaign Star, Global War on Terrorism Service Medal, 2 Navy Unit Commendations, National Defense Service Medal along with numerous other decorations and citations. Semper Fi!
Donations may be made to the Wounded Warriors Project, woundedwarriorproject.org
Loved with a Love beyond all telling, Missed with a grief beyond all tears, To the world maybe he was just one, But to us he was all the world.
A funeral service will be held on Friday, April 9, 2010 at 1:00pm at Memories at Sunset Event Center located on the beautiful grounds of Sunset Memorial Gardens in Richland, WA with a graveside to follow the service.
Shawn was like a brother to me. My heart just breaks for him. Shawn was a wonderful father, brother, uncle, son and friend. I will miss your laugh everyday. Thank you for being the great person you were. I love you.
Shawn was such a special Grandson. We have such special memories. Our thoughts and prayers are with you all. Much love, Mom and Dad – Grandma and Grandpa and GG & GG
Shawn you were such a great person and it's so hard to believe your gone. Nobody who has met you will ever forget you. My thoughts and prayers will continue to be with your family and friends.
Shawn – I always looked up to you and admired you for all you had done. You will be greatly missed but you have left me with memories I will have forever.
Linda, My thoughts and prayers are with you. My son, Dale, served in 2/1 with Shawn and spoke very highly of him. The guys all loved him. Dale will be there on Friday, along with some of the other Marines, to pay respect to their brother. May God bless you and give you comfort during this time and in the days to come.
Shawn was one of the finest individuals I have ever had the opportunity to work with. He was always motivated to exceed in everything he set his sights on and gave everything he had when assigned a task. He always went above and beyond what was asked of him with enthusiasm that I couldn't understand. He will be sorely missed by all who knew him and especially those who served with him. It was an honor to have known him and to have said that I served with a Marine like Sgt. Jensen. My condolences to those he left behind. Semper Fidelis
Shawn, or as we all knew him Jensen…Looked the part and was the part. A Marine that stood out among others as someone you looked up to. A squared away, confident leader is what I remember when I think about him. The type of guy you'd want along side you when "it" hit the fan! I just wish I would have gotten to know him better… You set the standard Jensen, and you'll always be remembered for the quality man you were on and off the field. Your family and your little boy should be proud to have had you in their lives. I know your Marine brothers are. Speaking not only for myself but for the whole 2/1 family…we'll miss you brother. Until we all meet again in a better place, Semper Fi!
You will be missed more than you will ever know. I feel you were the best person to ever walk into my Daughters life. You made her so happy and she loved you so very much. You will stay in our hearts for ever.
Shawn will always live in the hearts of those who loved him. His memory will never fade, due to all of the laughs and good times he shared with so many of us.
Linda: Oh, my dear marineparent.com friend…my heart goes out to you at this horrible time in your life. 4 1/2 years ago our boys started this life as Marines together and you helped me with all your emails and prayers. My prayers are all for you at this time. Shawn was a true "hero" never forget that!
Shawn was such a loving Dad–he loved Gage so much and it really showed. Shawn was much loved by his family and we were so proud of him. He was a hero to so many in so many different ways. Aunt Connie and Uncle Brad
Shawn You were an active little guy, always on the move. I still remember you on top of haystack at Whan Road. And then as an adult: handsome, respectful, friendly, and caring.
Linda, Larry, Kris, Ryan, Gage and other family–our thoughts and prayers are with you
I am just a local Army Mom who has you in my thoughts and prayers as you deal with this tragedy. I count Shawn as one of my many HEROES. Shawn proudly served his country and for that I am forever thankful.
May God grant you peace.
I have been trying to figure out what to say, but there just aren't words. You were one of the best people I have ever known, one of the few people who were always there no matter what. You were firm in your beliefs and never backed down from them. You always had a way of making everything okay. The world just isn't the same without you. I will miss you every day of my life.
Shawn you will be missed! You always had a smile whenever I ran into you in town. Linda, Kris, Ryan, Larry, Cheryl, Tishina, Gage, Dylan, & families: I am so sorry for your loss. If I can do anything please do not hesitate to call me anytime.
Shawn
I only knew you for a little while, our boys are best buds since pre-school. Paulie looked up to you, and wanted to become a Marine because you were. Our hearts are hurting very bad right now, I promise to help Gage through this, we will miss you for-ever..Love The Mcluckie family…ESP. Paulie…
Shawn and I were never close friends, just someone I remember from school. I'm sure he would not have remembered me but I wanted to honor his life by letting you know that I remembered him. My prayers are with you, that you might feel peace and know that you will see him again. I believe with all my heart that this is not the end.
Shawn, it was a pleasure to have known you for so long. You were such a great guy, with a big smile. You will never be forgotten. It was always so cute to see you and Gage interact with each other, he always talked so highly about his "Marine Daddy" to my boys and they thought you were the coolest just from the stories Gage would tell them, they only wished their Marine Uncle Javin would bring them cool things like you did Gage! Javin mentioned to me the 1st time you guys met on base in the lunch hall, how weird it was to meet someone we knew, and how you were such a nice guy. Javin being from another state and not knowing Shawn but Shawn recognizing Javin's last name and asked if he was related to Jeremy.You will be missed by all. God bless you Jensen Family. Ninnie & Gage I LOVE YOU
It was a pleasure for me to work with and know Shawn. He was an above average and outstanding Marine and a great leader to those Marines under him. He will be greatly missed by all of us.
We are truly sorry for your loss. Shawn was a wonderful person and a good friend to all. We will miss his smile and his laughter. Our thoughts are with your family during this time.
I only knew Shawn for a short time, but he made an impact on me. My deepest condolences go out to his family, and freinds.
Mr. and Mrs. James Getchell
Shawn was a very good person. My heart goes out to his family and friends. My prayers are with his family and son Gage.
I like so many have known Shawn for so many years, I met him though my younger brother Joe. When I had head that he joined the Corp, I was very worried, like it was another one of my brothers going into the service. I prayed for his safe return, and that God would keep a close watch on all that served our country. Shawn, losing you is very hard on so many of us. Anyone that met you instantly loved you and smiled. I am sorry that I could not be there to say goodbye, however I know that you are in God's Kingdom now, and that each and everyone of us will be able to see you again soon. Love you so much, and miss you more, Becky
Shawn you will always be in my heart. You were truly a great friend and can't wait to see you again.
Love yubrahan and tracy Mendoza
I want to pay my deepest respects to Shawn's family and friends. Shawn must have been an amazing young man, marine, and caring father. Having lost my brother, a Gulf War vet at age 26, I know there will be tough times ahead. I believe any of the local fire departments would be honored to grant Gage and his young friends a visit to a firehouse, if he should like to someday. Please feel welcome to call ahead and make arrangements to the fire department of your choice. I realize this may be of small comfort after such a tragedy as losing Shawn. But I want you to know Shawn is very well thought of. I wish Shawn's family and friends strength, love, and support for each other during this sad time. Veteran's have my utmost respect. I gladly will donate to wounded warriors, as asked.
I am terribly sorry to hear of this tragic event in the lives of the family and friends of Shawn. I am here for support for any of those who are friends or family. I knew Shawn and he was a great young man. My condolences go out to the family and all involved.
I am so sorry for all of you. When I read about Shawn, he truly seemed to be an amazing young man. A loss to family, community and our Nation. You are in my prayers.
Grand daughter of Glays and Fred Jeffers of Coulee City; daughter of Floy Kinsella
Dear Gage, Linda, Larry, Cheryl, Ryan and family,
Our hearts go out to you in deepest sympathy. We pray that your family will be blessed with the Lord's sweet healing love during this time of sorrow. May the happy memories of his life give you joy as the Savior comforts your hearts.
Love, Marshall and Sherry Hatch
Shawn, our hearts are heavy at your loss, you were an amazing young man, I'm glad we got to know you and that contagious laugh of yours will never be forgotten, like the lyrics of Vince Gill, GO REST HIGH ON THAT MOUNTAIN! Love you forever Shawnmiaster
Knowing Shawn through my older brother, he was always an extended older brother to me. An amazing person who will be greatly missed by all. My thoughts and prayers are with his family and friends. xo.
Shawn,
I will never forget the times we spent together, some of my best childhood memories were spent with you. It was a honor to know you and share the laughs we had. I am thankful I was able to hand Gage your military flag, an honor I will never forget. Thank you for the good times we shared and for the peoples lives you touched. Your memory will never fade for the ones of us that knew you…
Shawn, I knew you for what seems like forever and have shared so many memories. I am so thankful that we had gotten back in touch over the past year and will feel forever grateful for the warmth and caring I felt when talking with you. I will miss you everyday and wish we had more time. I look forward to seeing you and your beautiful smile again one day!
My sadness for your loss can hardly be expressed with words. I am so very sorry. I pray that God's abiding love and peace will comfort you in your sorrow.
According to the newspaper, you have much reason to be proud. Shawn was a fine example of our military. Although he had a short life, he accomplished far more than most! Thank you for sharing him.
With love and best wishes,