FIND AN OBITUARY
Service information is posted on our website only with approval from the family.
If you are seeking information not listed below, please contact us.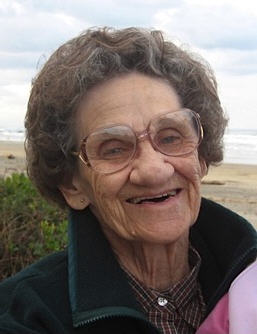 Eunice Ellen Debban
08/18/1925 — 02/16/2011
From Kennewick, WA, US | Born in Phillips, Nebraska
Eunice Ellen Debban
Eunice was born to Lela and Charles Arnett in Phillips, Nebraska, on August 18, 1925. After graduating from Phillips High School she joined the war effort at Hastings Naval Ammunition Depot where she worked at the Bomb and Mine manufacturing facility. While there she was unfortunate enough to be in a large explosion that destroyed several facilities and killed and injured many. Her oldest brother, Orville, recalled the elation he felt when he found her injured but a survivor. In happier times at the Depot, she met Herbert Herb J. Debban. They were married April 23, 1944.
A civil service employee until her retirement from the Grand Forks Air Force Base in Grand Forks, North Dakota, Eunice won numerous awards including top civilian employee. After retirement in 1978, she and Herb moved to Kennewick Washington. Eunice loved her Redeemer Lutheran Church, her family, her friends, gardening, fishing, and taking long walks.
Her husband, Herb, her brothers, Orville, Charles, Leland and George, predeceased her.
She is survived by her son Herbert Herb L. Debban, his wife Kathryn, Lenoir City, Tennessee; granddaughter Sara Thorn and her husband Terry Thorn, great granddaughters Renée and Audrey, Portland Oregon; grandson Kirk Debban, his wife Elise, and great-granddaughters Myla and Camille in Pearland, Texas. Known to them as "GG", she had a special relationship with her great-granddaughters and thrilled them with games of hide-and-seek, running through sprinklers, and quieter times playing games on the floor.
Eunice has three sisters who survive her, Dorothy Purdy in Phillips, Nebraska; Opal Ackerman in Jordan Valley, Oregon; and Wilma Debban in Hastings, Nebraska.
Eunice was fortunate to have a close and loving relationship with nephew Bruce Debban and his wife Barbara, Richland, along with their children Brent and Jeremy and their families. She loved playing with the children and "Euni" was a favorite pitcher for backyard ball games. She was very proud when one of the toddlers would seek her out of the group and hug her leg.
Eunice died on February 16, 2011, after a short illness. She died as she lived, surrounded by love. Family and friends miss her greatly.
Memorial services will be held at 3:00 PM Sunday, February 20, 2011 at Redeemer Lutheran Church, 520 Thayer Dr., Richland. Graveside services will be held prior, at 2:00 PM at Sunset Memorial Gardens.
Herb,
Our thought & prayers are with you & your family.
To Herb and Family, my prayers and condolence are with you during this sad time.
Herb & Kathy our thoughts and prayers embrace you @ this time of Joy and Sadness. Joy in that all pain and suffering/s are no more for your loved one and sadness that an era has passed on. May you find peace and comfort in fond memories. God Speed!
The IIE Department faculty and staff would like to express our deepest condolences during this time. Our thoughts and best wishes are with you and your family.
Herb and Kathy
Please know that our prayers and thoughts are with you in this time of your loss of a dearly loved Mom.
May the memories of all the love you shared with each other over the years comfort you. John and Betty.
Oh, Eunice, I miss you already! I have been blessed to know you. The years we worked together in our wonderful church, the way you were always ready to help anyone who needed it, and your sweet spirit. I pray for your dear family as we say goodbye to you for now. The Lord Jesus said to his disciples, "If you loved me, you would be glad for me because I am going to my Father." I am glad for you, my dear friend, but I sure do miss you. My love to your family and my prayers for them.
nancy
Kathy and Herb — I am deeply sorry for your loss of a loved one. Please know that I am thinking of you with the warmest of wishes and the kindest of thoughts;
My love and sympathy go with you, Irma McGuffey
Herb and Kathy,
I don't know if you remember me. I was a neighbor of Bruce and Barb's when they lived on Kimball street. I remember talking to "Aunt Eunice" at family gatherings many times over the years. She was always such a great listener and wanted to know what our family was doing and had stories to tell about people in her family. I thought she was always such an cheerful,upbeat person! I could tell she had a special love for children and animals. She also impressed me as being very strong and healthy. p I remember she used walk many miles every day. I am really glad that I had a chance to know Eunice and my heart goes out to all the Debban family in their time of sorrow.
Herb, my heartfelt sympathy goes out to you and your family. May God grant you peace and comfort during the days ahead.
Kathy and Herb, Our prayers and thoughts are with you at this time. Much Love.
Our thougths and prayers are with you.