FIND AN OBITUARY
Service information is posted on our website only with approval from the family.
If you are seeking information not listed below, please contact us.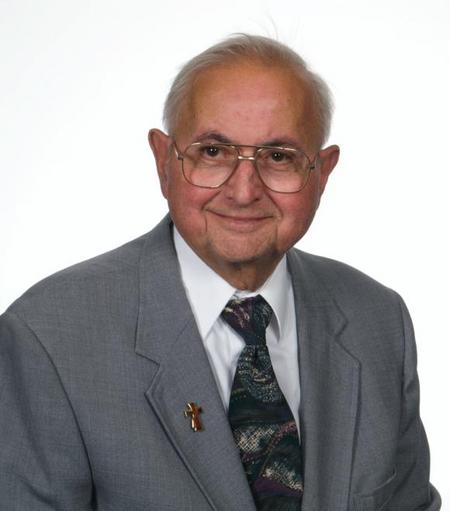 Alfred Rizzo, Sr
05/12/1929 — 03/11/2011
From Richland, WA, US | Born in Brooklyn, NY
Alfred Rizzo, Sr
Alfred Rizzo Sr. 81, of Richland, passed away at home on March 11, 2011; surrounded by family. He is survived by his wife Dolores; seven sons and their wives – Michael Robin, Gregory, Dominic Lindy, Vincent Barb, Alfred, Anthony Mary, Phillip Liane; 16 grandchildren and nine great grandchildren.
Alfred was born in May, 1929; in Brooklyn, NY. He graduated from The College of The City of New York with a Bachelors Degree in Mechanical Engineering. He later received a Master of Science and Engineering Degree from The Catholic University of America.
In 1952, he went to work as a Graduate Engineer at Allis-Chalmers; where he met Dolores Baumann. They were married in May of 1953; in Milwaukee, WI. He continued his career as a United States Naval Officer; where he achieved the rank of Lieutenant. Upon departing the United States Navy, he continued to serve the US Government with the Department of Energy. As a member of the Senior Executive Service, he relocated to Richland, WA in 1976 for the development and construction of the FFTF reactor. After 28 years of government service, Alfred retired in 1989. With that retirement, the Department of Energy's Richland office lost its Deputy Director – known affectionately at Hanford as the "Godfather."
During his retirement, Hanford's "Godfather" turned his eye to a higher cause. Alfred was ordained a Deacon in the Catholic Church Diocese of Yakima. He served God faithfully, contributing too many successful initiatives including, The Tri-Cities Food Bank, Tri-Cities Prep, Benton County Prison Ministry, Volunteers In Police Service, and The Knights of Columbus.
In his service for the Knights of Columbus, which began November 30th, 1958, Deacon Al was a believer in the holiness of every person. He was a strong advocate for holding retreats for the Knights and their families to strengthen family bonds. He was a Faithful Navigator for assembly 1174 in Richland and is a former Master Knight of the Fourth Degree for the Eastern section of the state of WA.
A rosary service and viewing will be held at Christ the King Catholic Church in Richland, on Sunday, March 20 at 8PM. Christ the King will host a full mass the following day March 21 at 11AM. A graveside service will follow at Einan's Funeral Home. A reception will follow the graveside service at The Richland Knights of Columbus Hall.
You are invited to sign the online guestbook at www.einansfuneralhome.com.
Donations can be made to Tri-Cities Prep and Tri-Cities area Food Banks.
It's a great loss. World was better place because of deacon Al. We are sure – God is very pleased to have him close. We will miss you, Dear Al, very much.
Prayers,
Robert, Svitlana & Maria Chmura
Our deepest sympathies to the family. Marian and I were out of town and were very sorry to have missed the mass for Al. Al was a friend, boss and mentor to me. He led by example and was always honorable and fair to all. He had the heart of a lion and the compassion of a saint.
Ken and Marian Bracken
Our thoughts and prayers are with the entire Rizzo family.
Renita Bander, Brian, Colin, Audrey, Joseph, and Isabel Warn
The Rizzo family was a big part of my growing up years and I have many fond memories of Al. The world is a sadder place without him. My thoughts go out to the entire family.
Our thought and prayers are with you and the family. God Bless
John and Judy Hadley
Our depest sympathies for your loss. Please know that he is at peace in the kingdom of God. We pray for your comfort and strength.
Tony, Mary, Dominic, Sophia…we love you! Juan, Betty, and Jerod Marin
Our sincere condolences to the family. What a great guy. So fun to be around and such an effective manager of people. Al "walked the walk" in his professional life and in his personal life. All of us who knew him are the better for it.
Al's contribution to the leadership of the TriCities Food Bank is deeply appreciated. His dedication to the hungry in the TriCities is a tribute to his love of God and his community.
Al and Delores were next door neighbors in MD and we have continued to be close friends since. Many treasured memories include sharing Christmas dinner with them and the boys – turkey tetrazzini, of course. On their visits back East, they would bring a brief case of photos to update us on the growth of the family. This later became a case on rollers. Al was dedicated to his profession and to his family, and was very loyal to his friends. All this was facilitated by having Delores as wife, mother and manager. I will remember Al always.
Harry Peebles
Rockville, MD
Al and Dolores were always some of the brightest and happiest faces to see when coming to Mass. Growing up at Christ the King, I would always see them so involved – a true team. Al's very positive presence will definitely be missed by all.
God Bless
Dan
My husband and I met Al and his family during the early 80's through our children whom at the time were teenage sweethearts.
Our families had shared many good laughs over wonderful meals. The Rizzo's have always made us feel like part of their own family and you couldn't have had finer friends. Al was always very special to both of us. Always there and ready to listen no matter how busy he may have been at the time.
Our friendship has grown over the years. We will miss him dearly and he will always remain in our hearts forever.
Carl and Diana
Our deepest and sincere condolences for your great loss.
We are thinking of you and sharing your sorrow.
Al, riposa in pace.
Gianna Maffeo and family
With deepest sympathies and wonderful memories of a truly extraordinary friend and colleague. Mike and Cindy
You are in our thoughts and prayers at this sad time. You have our heart felt sympathy. Wade,Doreen and family.
Our community, indeed our world, has lost a stalwart contributor to its betterment. His leadership in his profession, his giving to those less fortunate through the Food Bank, and his ministering as a Deacon all speak of a man of great character who touched many others in a positive fashion. We will miss you, Al.
Delores God is with you and your family in so many beautiful, subtle, and very personal ways right now. In the ensuing months when all seems so bleak, remember He is with you. Al is with you. And the prayers of many, including mine, are with you. Be at peace and know that you are loved. Amen
Al was a man of deep faith and a fighter. He had the ability to interact with people to encourage them to perform their best work, and to hold them accountable, and to also praise their successes. A model by which we all could stand to learn from.
Our deepest condolences to you, Dolores, and to the family.
Ron & Linda
A huge loss to the Knights, and to CTK. He made a difference.