FIND AN OBITUARY
Service information is posted on our website only with approval from the family.
If you are seeking information not listed below, please contact us.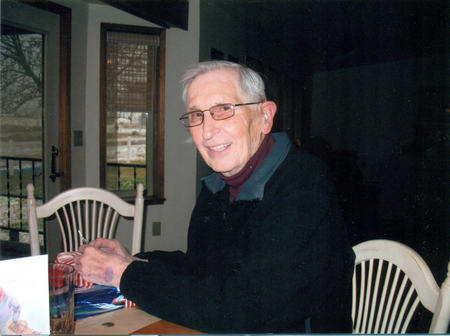 Robert 'Bob' Eugene Baker
01/22/1926 — 04/26/2011
From Kennewick, WA, US | Born in Dodge Center, MN
Robert 'Bob' Eugene Baker
Robert "Bob" Eugene Baker, age 85, passed way at his home on Tuesday, April 26, 20II, surrounded by his loving family.
Bob was born January 22, 1926, to George and Margaret Baker, in Dodge Center, Minnesota. He moved with his parents to Minot, North Dakota where he spent his early years before moving to Yakima, WA. Bob attended AC. Davis High School and took courses at several colleges. Bob was an intelligent man who was a life-long learner. He was a voracious reader on many subjects and liked to hear opinions for both sides of any issue. His opinion was ultimately the one that was correct however.
At the age of 17, Bob joined the Navy. He experienced many adventures while traveling to different countries all over the world, crossing the Atlantic numerous times and the Pacific twice while serving in the American and European Theatres. He was a Signal Man, Second Class, on the SS Henry Jocelyn, the Jose Bonifacio, the Jefferson Myers, and the SS Meteor. He also served at the armed guard center in Brooklyn, N.Y., Treasure Island, San Francisco, and the Port Director's Office in Pearl Harbor. The family has a real sense of history in a time of war from the many recollections Bob gave to us.
Bob worked at J.C. Penney before and after serving in the Navy, and it was there he met his wife, Virginia Lee Ide. They were married August 8, 1948. Together, they raised three children, Alison, Roberta Bobbi, and Mark. Working in the construction industry, they lived in many different locations in the Pacific Northwest. Bob always took pride in his children and their accomplishments and supported their efforts in any endeavor. He showed them by example how to go through life with a strong work ethic, tolerance, and a sense of humor. Bob and Virginia celebrated 58 years together before Virginia passed away in March of 2007.
Bob wore many hats in the construction industry - estimator, general contractor, project manager and he knew just about everything related to the construction business. He knew prices like the back of his hand and how to come in low on a bid. He had the respect and admiration of those in the business. After having worked for a number of construction companies throughout the Pacific Northwest, Bob and friend Boyd Roberts of Sunnyside, WA. started their own construction company, Baker Roberts, Inc. in 1989. Later, Bob started Baker and Associates, a construction consulting firm. Some of the projects of which Bob was involved in over the years were: Montgomery Wards in Yakima, Benton PUD, Kadlec Hospital, Dean Lee Honda, building and remodeling of many schools and hospitals in Washington and Oregon states, the Lloyd Center in Portland, contracts in Naknek, Cordova, Petersburg, and Kodiak Alaska, and contracts with almost all Washington State Prisons. He always had such a passion for each project. After retirement which didn't last long Bob worked at Kennewick General Hospital as Plant Operations Director. He finally retired for good at the age of 80 in 2006, as health concerns became an issue.
Bob was very active in Kiwanis Club, past-president 1983-84 of the Columbian Kiwanis Club and Lieutenant Governor for the Pacific Northwest District in 1998-99. He was very active in all the club activities. One of his favorite projects was working on the gazebo that was built at Kennewick General Hospital in 2002 as a place of solace for people who needed a quiet area. Bob also was a member of Rotary Club in Woodinville, WA.
Bob was a member of the Episcopalian Church for 30 years. He served on the Board of Directors and Chairman of the Department of Missions at St. Paul's Episcopalian Church in Kennewick. In 2008, he joined St. Joseph's Catholic Church.
Bob was a 17-year survivor of cancer. He lived very well for so many years by an amazing positive attitude. When his cancer became progressive, he received wonderful care at Seattle Cancer Care Alliance. He underwent several clinical trials there, always looking for the "cure." He loved the people there and received Christmas cards and emails from them even after his treatments were complete. Bob was especially thankful for his local physicians, Dr. Stanley Hales, and Dr. Thomas Rado, and held a deep respect and friendship for both of them. Both of his physicians said many times, "Bob, I just don't believe you -just when I think you aren't going to make it, you really surprise us."
There is one very special person that we credit for our father's extra years on this earth. In 2008, while attending a retired Merchant Marines luncheon, he met a woman, Edna Aslin. That began a courtship that culminated in their marriage on May 24, 2008. Bob and "Edie" shared so many memories in the short time they were together. They enjoyed trips and summer vacations with family at the beach house in Neskowin, OR. They cherished their time together with family and made every get-together special.
Bob was preceded in death by his mother and father, George and Margaret Baker, and by his first wife, Virginia Lee Baker.
Bob is survived by his wife, Edna, of Kennewick, two daughters, Alison Luis Cordero, Selah, WA. and Roberta "Bobbi"Chris McClure, Pasco, WA. one son, Mark BarbBaker, Kennewick, WA., and two step-sons, Matt Mary Aslin, Laguna Beach, CA., and Doug Aslin, Mercer Island, WA. He is also survived by his grandchildren, Ryan Rachael Childs, Jacob Differding, step-grandchildren, Jason Tavia Shields, Jessica Shields, Travis Clemmons, Aaron Aslin, Lindsay Aslin, Theresa Aslin, Emily Aslin, and Steven Aslin, four great-grandchildren, Regan Childs, Gavin Childs, Sydni Shields, and Benjamin Aslin, and many nieces and nephews, and a sister, Darline Bill Johnston of Gleed, WA.
The family would like to give a special thank you to Tri-Cities Chaplaincy Hospice Services for their assistance in allowing Bob the dignity to be at home with his family when he died.
In lieu of flowers, donations may be made to either the Tri-Cities Cancer Center or Tri- Cities Chaplaincy Hospice.
A Mass of Resurrection will be held at St. Joseph Catholic Church, Kennewick, WA, on Monday, May 2, 2011, at 11:00am.
Viewing will be held on Saturday, April 30, 2011, at Einan's Funeral Home from 5:00-7:00pm. Recitation of the Holy Rosary will be held on Sunday, May 1, 2011, at 5:00pm at Einan's Funeral Home. Inurnment will be held on Monday, May 2, 2011, at 3:00pm at Sunset Memorial Gardens in Richland.
He will be missed by all.
To: Mark and Barb
I am sorry for your loss. From what I read of 'Bob', he lived a rich and full life. He lived with few regrets. He was a fighter and never knew how to give up. These qualities are rare and you should be proud and honored to be his son and daughter-in-law. Life is short and with a blink of an eye it is over… We all have only certain number of days to live, so it would beneficial if each of us looked at Bobs life as an example of how to live it to the fullest. May God comfort and bless you.
Please know that my thoughts and prayers are with you all. Bob was a good friend and a joy to work with, and I will miss him very much. God Bless you all!
I enjoyed Bob's stories of WWII that he shared with us at Columbia Kiwanis. He was a great Kiwanian! My prayers and condolences to all of you. His smiling face will be missed.
Dear Edna,
We at Short Staywere all very surprised to learn of Mr Bakers passing. I will miss him and his hot chocolate. Please drop by you are very special to us.
Big hugs and lots of prayers
Maxie